Outside 108 Commercial Street, the scooters nose in like a shoal of robot fish. I make my way through the crowd. The sun has set and the towers around Liverpool Street loom over the roof of Spitalfields market. The guy on the door ticks my name off the list and I walk in and get handed a drink.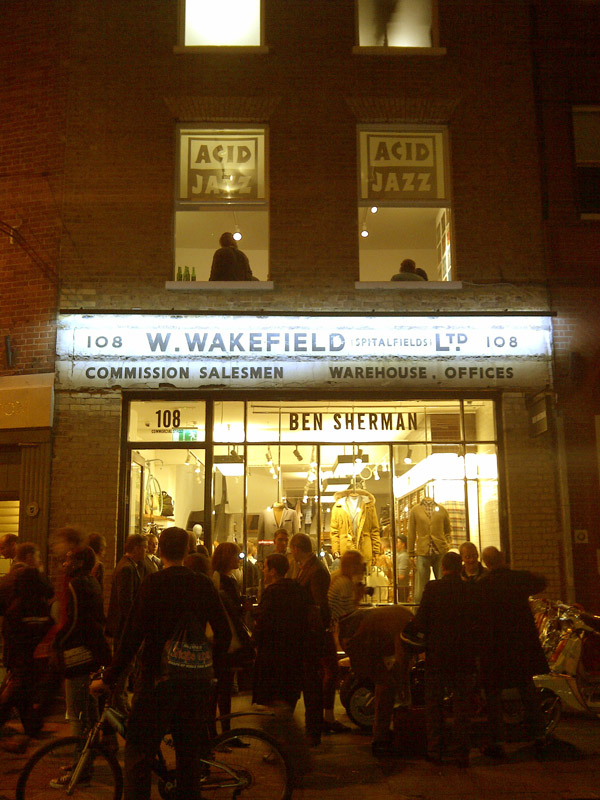 'Where are the records?' I ask the chap in the gingham button-down shirt behind the counter at the Ben Sherman store. 'Upstairs,' he replies, jerking his head.
I'm here to buy some vinyl from Acid Jazz Records' new pop-up shop, one of many events that are planned for the forthcoming year that will commemorate the 25th anniversary of the independent label.
The label's boss Eddie Piller is in the mood to celebrate, having ensured that Acid Jazz has remained one of the last proud and healthy independent record labels in the country. From the first floor window he sees more Lambrettas arrive and allows himself a wide smile.
Piller has been responsible for releasing the music of Jamiroquai, Paul Weller, The Brand New Heavies, Mother Earth, Lord Large, The Filthy Six, The Moons, Gregory Isaacs and Benjamin Zephaniah, to name but a few. It's an impressive list of success stories that stands as a testament to Piller's entrepreneurial skills and uncompromising musical taste.
Describing itself as 'London's finest purveyor of soul, funk, jazz and Mod', the label has weathered tough times as the bottom has fallen out of the music industry, but it has endured by ploughing its own course with integrity and vision, and is now also something of an artistic hub with musicians, writers, artists and photographers coming together through the scene.
I gaze around the pop-up. It's a party in full swing. Photographer Dean Chalkley is snapping the crowd with a digital camera in one hand as Paul Weller's bassist Andy Lewis spins the records, dancing behind the decks, oblivious of who's before him. It's a sea of desert boots and feather cuts and the odd pork pie hat. A smiling Dean Rudland poses for photos, and in the far corner FlowskiFlowz has set up his own store, a small pop-up within a pop-up, selling a collection of 7-inch records.
The store's walls are adorned with Acid Jazz LP covers from the past and present, collectable for the designs alone.
I fall into conversation with DJ Ian Dewhirst. 'Eddie's optimism and enthusiasm has never faltered in 25 years. It's been tough at times, but he has never given up,' he says.
And that, I think, as I hit the pavement and leave the party fashionably early, is the secret ingredient to this record label's success.
Keep going. Have faith. And never give up.
© Jason Holmes 2012 / jantholmes@yahoo.co.uk / @JasonAHolmes
www.huffingtonpost.co.uk/jason-holmes/you-dont-have-to-be-a-mod_b_1334195.html
Photograph by JAH