"For Madness, it was always about playing live, so if you're any good at that, you will always transcend the rest of the business. An artist will always, if he's lucky, get a percentage of the take on the door of a gig, whereas the record industry from the beginning has always been a tricky place to make money." So says Suggs, a man who knows only too well the pitfalls facing young bands attempting to crack the business of music.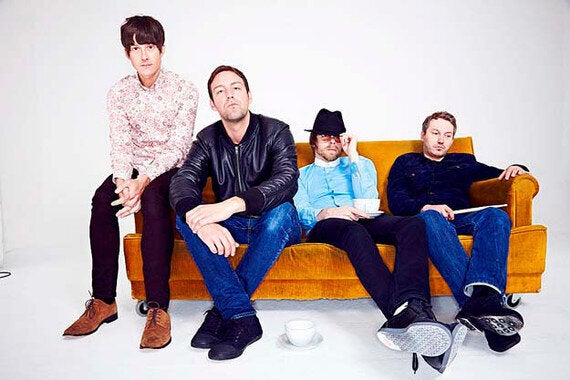 So into the blood red seats beneath the scaffolding, the stucco, the banks of monitors and spotlights they come, fans drifting into the Shepherd's Bush atmosphere like somnambulists driven out of the nightmare of the West End.
They're here for The Rifles (pictured above), an English band that has planted its flag in the business after eight years of hard graft. Currently midway through a UK and European tour, all four men understand the importance of the live circuit.
It's a different kind of folk, a music for the people which now, ironically, is shunned by the compilers of radio station playlists. But where the stations fail, live venues like the Shepherd's Bush Empire successfully capitalise when booking a band that can guarantee a sell-out crowd of three thousand.
Joel Stoker, The Rifles' songwriter and lead singer, is clear-sighted. "Our fanbase has been built by word of mouth which means it's a loyal one. We've never looked at the band as a business and I suppose, maybe stupidly in the past, we've left it to management to take care of business matters."
Comprising Lucas Crowther (guitar), Rob Pyne (bass) and Grant Marsh (drums), it's a line-up that knows what it wants - even if the good burghers of the industry don't - having consistently played to sizeable audiences since their inception.
"Our main issue has always been getting radio play," says Stoker, "and it's been a mission to overcome pigeon-holing."
The band's latest album None The Wiser was recorded at Black Barn Studios in Surrey and at Snap Studios in London's Finsbury Park. Signed to Cooking Vinyl, Stoker says "it's a label that caters to a lot of bands in our position with similar-sized fanbases. So far, so good because labels are often middlemen who want a cut of the proceeds. Bands now are taking matters into their own hands."
The age of the big deal is over, he says. "A lot of the established record labels are screwed because they're not earning money from record sales anymore and the '360' deal has appeared which means labels want a cut of money made on the live circuit and through merchandising. Which means, as a band, it's a good idea to keep out of their way."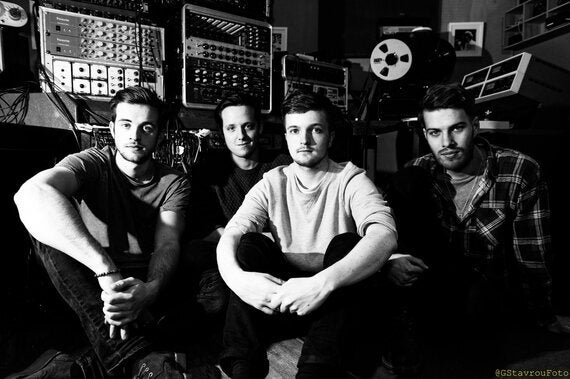 Which is what fledgling Brighton outfit Glass City Vice (pictured above) is wisely doing having come under the managerial wing of Damon Minchella (Ocean Colour Scene, Paul Weller, Trio Valore).
With recording completed of a four-track EP at Brendan Lynch's studio in West London which is due for imminent release, it's a question of who you know and what you do with the opportunities afforded you that counts.
"We've taken a more mature turn," says Josh Oliver, the band's frontman. With veteran producer, engineer and mixer Max Heyes at the desk, production values are high with the musicians apprised of the tough task at hand: arresting the bloodied ears of the apathetic masses.
"We take influences from everywhere," says Oliver. "We play alt-rock and it has to be accessible, but we're also in the process of unpolishing our sound." It's at this point that true grit is needed. "We're conscious of the long game and the need to keep writing. It's the only way."
With young bloods picking up where the old guard has carelessly left off and new voices trying their damnedest to be heard above the din of those hopelessly hooked on nostalgia - or something a little more dangerous to one's health like Coldplay ­- all things musical are looking up in a society in decline. But are we leaving behind an era of music best known for its benumbing, smug bourgeois sentimentality and ushering in something destabilising and larcenous much like that pivotal moment in the mid-'70s before punk crashed through and race riots filled our city streets?
These are all things of the past, we are assured, but the leaders of a country as economically and culturally bankrupt as our own have seen fit to welcome politicians of the fringe Right into the mainstream political system.
And here we are again: culturally disinherited and listening to 'Rivers of Blood: Part 2' on the wireless. Feeling nostalgic? I thought not. So rise up all artists and seize this dark moment because, as history has oft dictated, you rarely get a second chance.
Photo 1: courtesy of Josh Cooper at 9PR / photo 2: @GStavrouFoto