Longsight M13. It's an area of Manchester immortalised by the Ian Brown song co-written by Aziz Ibrahim. It has taken us 15 minutes to drive here from Manchester's Piccadilly Station where Aziz collected me after the journey up from Euston.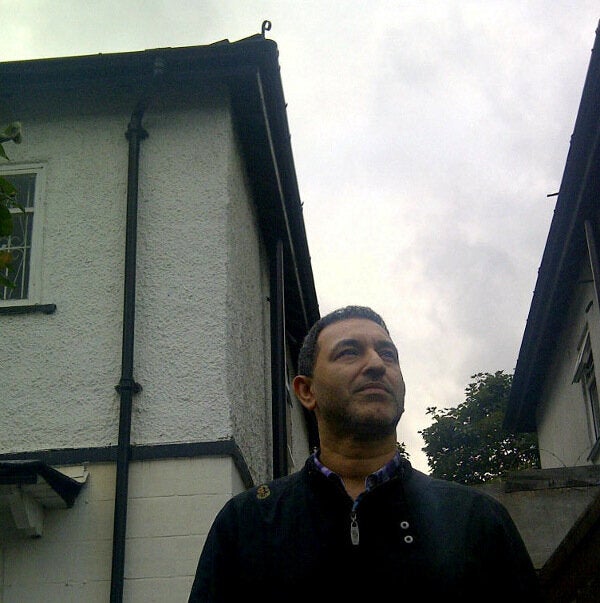 After a quick tour by car up the Curry Mile, Aziz points out Moss Side and the International Nightclub where The Stone Roses played in the early days (it's now a Turkish market), and then, against expectations, he takes me to the inner sanctum. A sacred place. And I am touched and taken aback in equal measure.
'We're in the heart of Longsight on the Anson Estate,' he says, sitting down on the sofa in his mother's front room while she cooks us lunch. 'There's still a lot of crime here, but there's a lot of life and community interaction.'
He lives in the same neighbourhood in which he grew up, which keeps his feet on the ground and his mind afloat. It was once said by Paul Weller that the soul of a man can be found in the place he is from. 'Exactly, and it influences your output and productivity. I found that the best stuff I wrote, like My Star and Corpses In Their Mouths [with Ian Brown] was here and in the house next door,' he says.
'Where you're sat is where Mick Hucknall, Ian Brown and Marillion have sat. All different genres of music and musicians have come here. And my mum has cooked them a nice curry. It's just normal life, isn't it?'
As a one-time member of The Stone Roses, he has also written with and played for Simply Red, Mike Joyce and Andy Rourke from The Smiths, his friend Paul Weller and The Players, among many others. Aziz met Stone Roses' frontman Ian Brown through Robbie Maddix, the drummer who replaced Reni, and was drafted in when John Squire became unavailable.
'I never saw myself as a unique individual. It was better [to work] in collaboration. It was the old-fashioned chemistry.'
But everything about Aziz is unique, from his playing to his identity as a Mancunian British Muslim in love with world music. One side of his persona is at home in the spotlight, while the other dwells peacefully in the solitude of self enquiry.
'When I was growing up, you got ganged up on at school because of your skin colour, or because you didn't support the same team. I'm a red, not a blue. There was racism in abundance and to overcome it I had to rise above it, which meant being a man.'
But prejudice still plagues him. 'To this day it's still happening. I was on a European tour with Steven Wilson of Porcupine Tree, but when it came to getting a work permit for the US leg, I was refused. Someone at the consulate said it was probably because of my name. I eventually got it three months later, but this set a precedent. Bands will now be thinking twice about employing Muslim musicians because, if what happened to me becomes the norm, it will jeopardise tours.'
Aziz is in perpetual demand for his mastery of the guitar and the sarod. 'It's all about conditioning. I grew up listening to Indian music. The melodies are microtonal with quarter notes and eighth tones. If you're conditioned to hear only black and white notes, then anything in between is out of tune. But it's not. I was conditioned to hear them.
'And at that point, I understood music of the world and realised I wanted to research it. Being able to find something that has not been written about, then to conduct my own research, is my joy.'
His late father came to England in 1959 from Lahore (where my own father was born) and first settled in Moss Side. He worked for Reuters in Manchester earning £5 a week. 'Asians came here to earn money to send back home. The Pakistani philosophy was to earn enough money to give you security, but that wouldn't be achieved if you became a musician.
'But as a second generation Pakistani born here, I released I wasn't going to starve. I saw early on I could do anything I wanted. When I realised I had an ability, I knew it would be a waste not to use it.'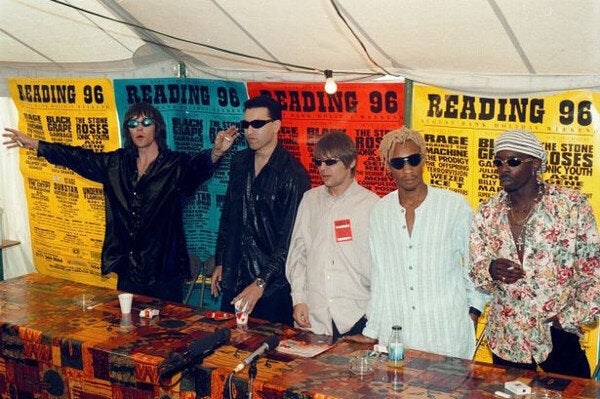 A blend of Pakistani and Mancunian influences is going to make for a very different blues; 'Asian blues', as Aziz calls it. 'I went to St Agnes primary school just over here,' he says, pointing across the road, 'and my tutor would play the acoustic guitar. I was mesmerised by this silver-stringed thing. There was nothing like it at home.'
At 12, he was probably the first Pakistani rockabilly. 'I played in secret, but when my parents found out they never stood in my way. I still get the guilt trip, but you are not your parents. You are you, and you have to find yourself.
'I'm an improviser. You have to be on this council estate. I can replicate sounds, like making a guitar sound like a sitar, and in doing so it becomes something new or unheard of. At that point you're pushing boundaries. I learned from British rock history, including the attitude and the statement, and I had to learn a style that I'd call my own.'
He describes his solo work as 'curry and lager'. That is, like the national dish, it's spicy but goes down well with a beer.
'I play instruments the same way I write lyrics: with honesty. I started writing about Longsight and why I was doing what I was doing and not running around with the gangs.'
Was he the moral compass of The Stone Roses? 'I wouldn't say that. I learned a lot from them about being honest with myself. If I've ever let myself down it's because I've compromised too much. Being in the Roses was a blessing. I've seen other big name bands bow down before them, and I realised it was because they were dirty sell-outs. But the Roses never were.'
An album co-written by Aziz, and which he rates as 'a classic', is Ian Brown's debut solo LP Unfinished Monkey Business (1998), collectable for its unadorned sound, the speed with which it came together and a lyrical honesty that served as a call to political arms, be your politics personal or of the party kind.
'I play the guitar because it's a symbol of rebellion,' says Aziz. 'This is a short life, so fill it with experience, and hopefully great experience.'
Inspired by history and music, Aziz is forever seeking a greater cognisance of the life he has chosen. Having toured throughout the Middle East, India and Asia for the British Council and held workshops on the philosophy of music, he is both musician and student.
'You've got to learn how to live first,' he says, looking out onto the street, a noble profile set against an unforgiving sky.
'Now is the most exciting time,' he says, looking back at me. 'I'm going to apply what I've nurtured. But I never chose music. It chose me.'
© Jason Holmes 2013 / jantholmes@yahoo.co.uk / @JasonAHolmes
Portrait of Aziz in Longsight by JAH
Photograph of The Stone Roses courtesy of GetReading.com
Popular in the Community