He stalks the ring with the ranginess and shoulder hunch of a young Henry Wharton but with the footwork of Rocky Graziano, his chin held close to his chest, eyes alert and quick.
This is Frank Buglioni, the 23-year-old north Londoner and super middleweight fighter training out of the TRAD TKO Boxing Gym in Canning Town. It's a professional gym, so it's all business as fighters hone their bodies into liquid iron. Light bleeds through the windows, shadows of heavy bags, speed balls and ring ropes flung across the bare concrete floor.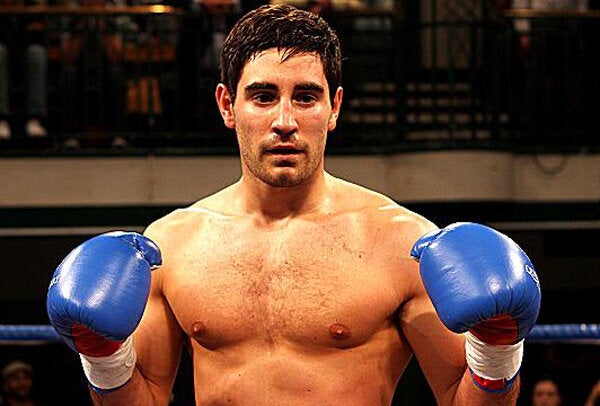 Word has it that this man has what it takes to go all the way, but it's early days in an unblemished pro-fight career of 7 wins out of 7 fights (5KOs). Frank's mind is on his work. He possesses a devotion that is necessary if he is to make a serious mark on the game, and his trainer, Mark Tibbs, agrees. 'We're not rushing Frank, because that can result in a fighter coming unstuck,' he says, as we watch him move around the ring. 'He's at the perfect age now. He's fought at amateur level and now comes into the professional ranks with the right fitness and mental attitude.
'Frank's got natural one-gear attack. He's an orthodox fighter who comes forward, but with me he's acquiring more gears, more ring craft. He will get better, because he wants to work and learn. As a trainer, I can't ask for more than that.'
This is the hurt business, but it is also the pursuit of supreme fitness through the utilisation of mental acuity wedded to a physical prowess that remains unmatched in any other sport.
'I'll be 24 in April,' Frank tells me afterwards, 'so I feel that time is on my side. My dad is Italian, born in Islington, and my mum is from Bermondsey. I worked as a building surveyor before going full-time with the boxing this year,' he says, smiling, his voice calm and measured.
'I'm stepping up to eight-round fights, so it's the right time to do it. My training now is more time-consuming.' Frank trains at the TRAD TKO gym four times a week, but six weeks before a fight he'll be here every day. 'Cardio work is very important and I'll also do strength and conditioning work with Mark. We usually do an hour-long run in the forest in Hainault over the weekend too.'
Frank's progress is under the careful stewardship of Frank Warren Promotions, his talent as a fighter first spotted at the Repton Boxing Club when he was an amateur. 'I'd sparred a couple of times with Billy Joe Saunders. I liked the time and advice that Mark [Tibbs] gave me, and the way the camp was set up, so I knew that when I turned pro it was going to be with Mark and Jimmy Tibbs.'
Affable outside the ring, Frank is capable of cool destruction inside it; as testament to this witness his first round stoppage of Paul Morby. 'I stopped over half of all my fights inside the distance when I was an amateur. I had power with both hands, and would come forward and throw a lot of shots, but since turning pro I've become faster and sharper.' He attributes this improvement to his coach. 'Mark has instilled in me greater speed, agility and movement.'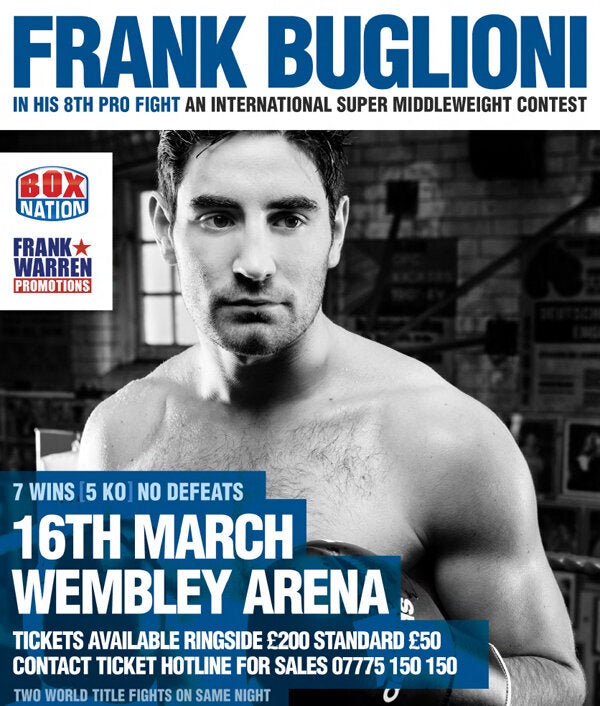 Fighting at super-middleweight means Frank can drop comfortably to 12 stone just before a fight, with diet remaining of the utmost importance in keeping his 6 ft 1-inch frame fighting fit. 'I eat a lot of pasta and rice. I don't shy away from the carbs because when you're training hard you need it. Lean meats too, like chicken, and of course fish. On a daily basis I eat plenty of fruit and vegetables, and I stay away from fizzy drinks, tea and coffee, and of course, alcohol.'
In boxing, success comes from the dedication of the man alone. 'How you live outside the ring will affect how you perform inside the ring,' says Frank.
The bulk of Frank's support comes from London. This being boxing, it's often a case of tribalism. 'There's a lot of talent and quite a few rivalries coming through in British boxing at the moment,' says Frank. 'I want to be challenging for belts at a domestic level in the next couple of years. Every fighter matures at a different rate, so there will be no rush for me because that's when you can get hurt in this game.'
He names Ricky Hatton, Nigel Benn, Joe Calzaghe and Carl Froch as boxers he respects, which seems logical, given that they collectively embody ferociousness and craft, two qualities intrinsic to Frank's fighting character. 'I was also a big Arturo Gatti fan, and stylistically I liked Oscar de la Hoya,' he says, 'and the rivalry of Sugar Ray Leonard, Marvin Hagler and Roberto Duran was superb. As for heavyweights, I was a fan of Mike Tyson.'
It would seem that the careful planning of Team Buglioni is paying off as Frank's career gains momentum. 'I take one fight at a time,' he says. 'I relax by spending time with my family and friends. We all try and sit down to dinner every night, which is a very Italian thing to do, because it's important to support one another.'
Spoken like a gentleman, for boxing is, after all, the noble art.
Frank Buglioni will feature live in the UK on Saturday 16 March on BoxNation (Sky Ch.437/Virgin Ch.546). Join at www.boxnation.com
Photographs courtesy of Frank Warren Promotions