Independent British film-makers are getting serious again, as the making of Kaufman's Game has proved. Jason Holmes caught up with the film's lead, Jye Frasca.
If David Mamet in The Secret Knowledge is correct in saying the film industry is bust, it's about time some seriousness was introduced to reinvigorate an art form which is, at best, just going through the motions.
Perhaps the bust came when Joe Public realised he'd had enough of schlock; all those throwaway Saturday afternoon films that lingered in the memory for half an hour, before vanishing forever.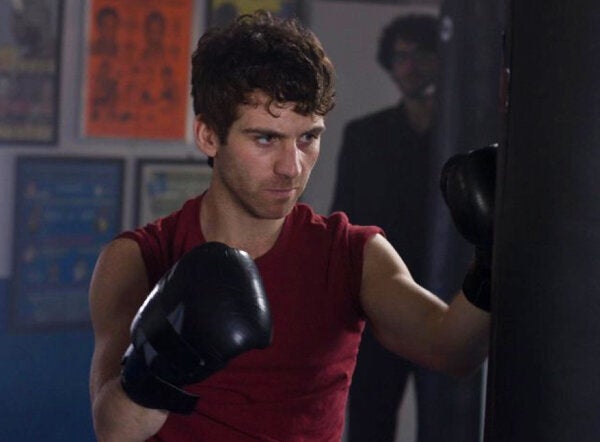 But the past 15 years has seen a resurgence of British independence with recent cinematic offerings like Dead Man's Shoes, London To Brighton, Somers Town, Outside Bet and Wuthering Heights all proving that the country's film minds, if not its film economy, are as lively as ever. This year also sees the release of Song For Marion, starring Terence Stamp and Vanessa Redgrave, Welcome To The Punch with James McAvoy and Kaufman's Game, which stars Jye Frasca and the gamine Amy Pemberton.
Those last two films share a noir vision of modern-day London where characters behave without moral compasses, instead embracing capitalistic expediency; that is, the acquisition of wealth and the settling of scores, the classic 'checks and balances' code of honour of the crime drama played out in films like The French Connection (1971), Thief (1981) and, more recently, The Departed (2006).
For Jye Frasca (pictured), Kaufman's Game is the 32-year-old Australian-born actor's first feature film, having worked in theatre for the past 15 years. "It's a dark role. There wasn't much room for levity when I was filming. I was able to be fearless. I think all the years I spent in theatre have paid off. They laid the ground work for taking on this role. Film acting is a very different discipline from theatre acting, and it was exhilarating to be tested."
The film can best be described as a gangster neo-noir. "It's also a psychological thriller. My character, Stanley, is an aspiring boxer who is lured into an underworld and begins to take steroids. He's put through a series of tests for a reason that is beyond anything he can imagine. That's all I can say of the plot. The film is in post-production and will hopefully get released in the summer," says Frasca.
Frasca says he utilises as many acting techniques as he can, acting as a 'sponge' to the myriad influences around him. So he employed the Method? "You could say that. I've studied the Meisner technique, but I don't limit myself. Film work has been a passion of mine since I was a boy, so to finally realise my ambition meant I had to focus and inhabit the role of Stanley as best as I could."
The film's young director Helier Bissell-Thomas is a 21-year-old solely focused on film-making, and has been honing his script-writing skills from the age of nine. "Helier had two short films premiered at the Raindance Film Festival last year," says Frasca. "He wrote the screenplay to Kaufman's Game when he was 19 and two years later he found the funding to make it with Ellipsis Films."
Therein lies dedication to your craft. "He's beyond his years," agrees Frasca, "and I felt a responsibility to him, so I worked as well and as hard as I could. The budget was small, so Helier was able to retain creative control. He was also very open to collaboration, which I think is essential for the [film-making] process to work."
As an ensemble piece, Frasca was auditioned and cast for the film in less than a week. "I responded to Helier's script on an emotional level, so I believe that is the reason I won the role, because Helier saw that he and I were on the same creative path"'
Filming last summer on locations across south London in Battersea, Wandsworth and Clapham had to be halted midway because of the bureaucratic red tape that affected London during the Olympics. "As an actor, you have to be mindful of doing the work you want to do, and when the opportunities are presented to you," says Frasca, "otherwise... well, you may never get another chance."
He is also in rehearsals for Fiesta, a theatrical reworking of Ernest Hemingway's Fiesta: The Sun Also Rises, at the Trafalgar Studios 2 on Whitehall for the whole of February. "I've got that discipline to work and keep up with all my acting classes, which is necessary to stay stretched and versatile," he says finally.
Which is an attitude that is required if the dramatic arts in London are to elevate themselves from the compartments in which, on occasion, they find themselves stuck. Writers, directors and actors should be willing to work across genres and styles for the betterment of their crafts, lest a situation arise whereby skills are lost and artistic passions pall.