It has been more than 60 years since Elizabeth David's A Book of Mediterranean Food was published, a tome which elevated British cuisine out of the gastronomic dark ages, and introduced to the British citizen an altogether healthier and more refined way of eating. So into the light of an international age Britain stepped. Our middle orders were happy, sated by David's tastes. But how far has the British palate actually been educated by her wisdom?
A restaurant which is emblematic of this country's current take on cuisine is One Blenheim Terrace, an establishment keen to return to an altogether more recidivistic ethos: that of home cooking.
Ed Shaerf, 27, the restaurant's patron, takes a seat at our table. 'I've loved cooking since I was 7 or 8 when I cooked with my mum, so that's where my love of retro food comes from. It is, simply put, home cooked food. Spaghetti Bolognese, chocolate mousse, a nice chicken soup and everything else.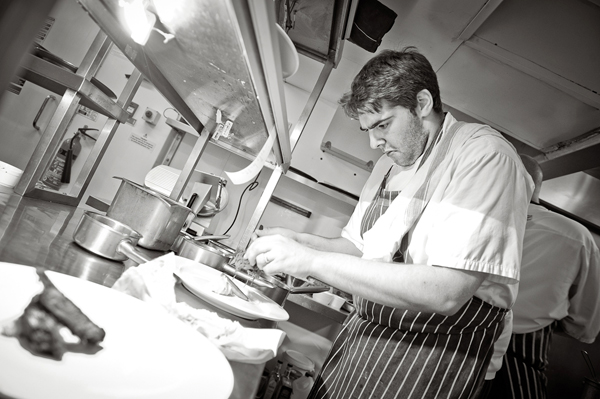 'When I was 15 I'd work in kitchens, doing anything from pot washing to helping prepare starters. At 17, I decided to go to Westminster College where, after three years, I received a professional chef's diploma in food and wine. The training was magnificent, very classical.
'So I thought, I could do this and give it a really good shot. Cooking is what I love.'
As a 50-seater, One Blenheim Terrace is a cozy restaurant which somehow manages to convey a sense of spaciousness. It is also, thankfully, devoid of the interior overdesign of numerous modern West End establishments.
'I want to cook the best I can with the ingredients we have,' says Ed. 'The grouse you've just had being a case in point. The menu is a balance of rustic and refined dishes, so we have dishes such as Bannockburn rib, roast venison loin, curried cod and a John Dory fillet.'
But how groundbreaking are such dishes as a soon-to-be introduced duck à l'orange as a soup, or liquid popcorn as a pre-dessert? The latter treat should be tried, if only for the hilarious look of confusion that may pass across your fellow diner's face, as it did with mine, Proustian memories of the cinema suddenly evoked.
But what is the difference between being a cook and a chef? 'I think the difference is the discipline and time constraint experienced by chefs. At home, I cook at my leisure, but in a restaurant, you're under pressure. It also has something to do with going through the pain barrier of doing long hours and earning bad money which makes you into a chef.'
By way of illustrating his commitment to what he calls 'the finest possible dishes', Ed says: 'I did a short stint at The Fat Duck, which was probably my biggest inspiration to open One Blenheim Terrace. I was at The Ivy at the time. The respect that [The Fat Duck] had for ingredients was second to none.
'At The Ivy, they buy in produce of fantastic quality and serve it very simply, but at The Fat Duck, I'd do something such as finely dice banana shallots, which meant taking off each petal individually, making sure they were square, while another guy spent two hours going through all the leaves with tweezers to pull out anything that wasn't perfectly square, and that all went into the snail porridge, and you wouldn't even know there was a shallot in there!'
Would David approve of such methods? It's a moot point.
'We must adapt and learn,' says Ed, 'and ensure our menus change. One Blenheim Terrace has been put into the Michelin Guide 2013, and my goal is to receive a Michelin star.'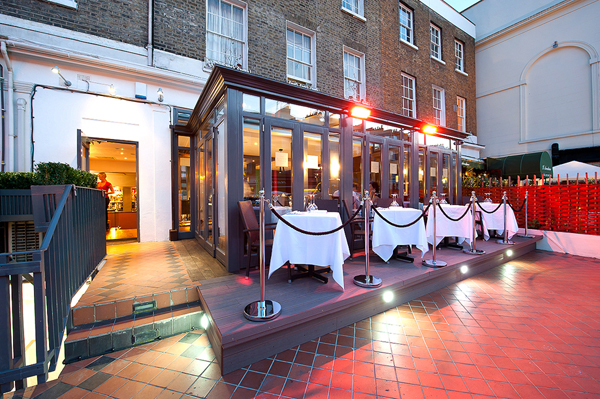 And what of the gastronomic flare in the kitchen? 'I believe we have the skill in the kitchen, for sure, to achieve a Michelin star. Our menu changes every six weeks in its entirety.'
To get a Michelin star, it all comes down to the food on the plates, the inherent quality. 'Yes,' he agrees, 'restaurant ambience counts for nothing. Consistent food excellence warrants a star, but it goes without saying that a restaurant must stay in business by turning a profit.'
All his staff answer to him, but to whom does Ed answer? 'I don't answer to anyone,' he laughs, 'but I do answer to my investor, and he trusts that we're moving in the right direction. Success and sustained excellence takes time. Were I to expand, I'd open outside London. The Hand & Flowers in Marlow, Tom Kerridge's establishment, which has just won its second Michelin star, has proved that a food destination can exist outside London.
'It's all about having the right team,' he says finally. 'I'm nothing without them.'
But, perhaps, it's time for chefs nationwide to revisit Elizabeth David and reassess. Less is more, surely?
© Jason Holmes 2012 / jantholmes@yahoo.co.uk / @JasonAHolmes
For more information, visit www.oneblenheimterrace.co.uk
Photographs courtesy of One Blenheim Terrace.