The world of boxing is populated by men who commit violence within the confines of a ring. These are the fighters. Men like Rocky Marciano, Muhammad Ali, Sugar Ray Robinson and Joe Frazier have lit up the lives of sports fans throughout the ages. But another breed of man exists; the man of foresight and organisation.
Meet this country's leading matchmaking exponent, Dean Powell (centre), for it is his efforts - unseen and sinuous - which have helped shape the modern fight game in the UK.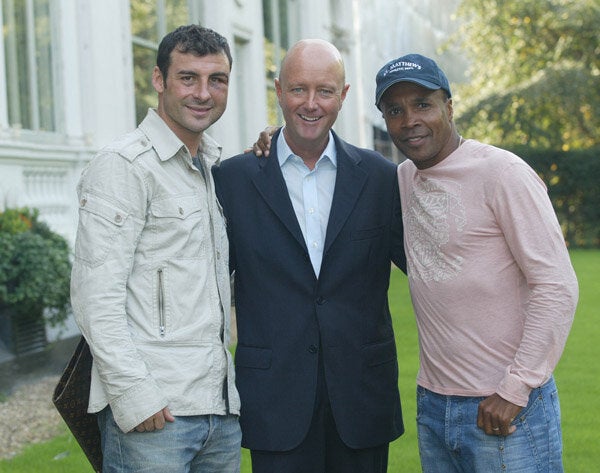 In Powell's eyes glints a steel. Periodically he checks the phone before him on the table. He possesses the unmistakable aura of the driven man, forever in demand. I ask him how he originally got into the game, when his phone rings. He takes the call. It's business. When he hangs up, I ask him if he's a 24-hour man, which makes him chuckle. 'When I first got started in boxing,' he says, 'Mickey Duff said to me, it's not always about ability, it's about availability.'
This year marks 25 years since Powell first made himself available to a sport he now lives and breathes. Few of his peers share the sheer breadth of his professional experience. He has held boxing licences as trainer, manager, matchmaker and international agent and has forged a unique global reputation as a man to trust, having worked with the likes of Lennox Lewis, Joe Calzaghe, Nigel Benn, the late, great Emanuel Steward and Thomas 'The Hitman' Hearns. Ergo, his word goes a very long way.
'When I first started out I was involved in the Dudley and Tipton Amateur Boxing Clubs in the Black Country, but then I moved to London in 1988 and lived in the Thomas a Becket gym on the Old Kent Road,' he says.
This solid grounding led him to his current role as matchmaker for Frank Warren Promotions, the biggest boxing promoter in Europe and one of the leading promoters worldwide. 'It's been a quarter of a century that I've been involved in professional boxing. People from all walks of life are involved in the sport. It unites people across the social spectrum. Yes, it has predominantly been a working class sport, but boxing still exists in the public school system and in the army. It cuts across society and always has. It has always appealed, and my love for the sport is as strong as ever.'
Powell is direct. He has acquired too much wisdom to mince words. The great old timer and matchmaker Mickey Duff was a big influence on Powell when he started out. 'Mickey taught me the trick is to get a fighter at the right time. There isn't a perfect age for a fighter to begin his career, because each man is an individual and matures accordingly. The skill as a trainer, and as a manager, is to recognise when this happens.' And the biggest mistake a matchmaker can make? 'Not knowing your boxer's strengths and weaknesses.'
Does he think that kids these days might have it too easy, which may explain why the fighters with the raw hunger of Mike Tyson, who emerged from the tough Brownsville area of Brooklyn, have yet to reappear? 'The good fighters at the moment are Mexicans because they're still having a tough time socially. They're fighting their way out of poverty, literally,' he says.
'But the sport at the moment needs a character like Tyson to inject real life into it because he had an aura about him. We also need a hero like Sugar Ray Leonard. These are priceless commodities because they bring excitement to the sport and create huge television audiences. You have to remember too, especially now, that boxing is not recession proof.'
The fight game, make no mistake, is also a global business which generates huge revenues, and has long been a nexus where big-money sport has met with showbusiness, much more so than football, baseball or tennis. A famous case in point being the Ali v Frazier fight in Madison Square Garden on 8 March 1971 when Burt Lancaster was the official fight commentator and Frank Sinatra was LIFE magazine's official photographer. Things can get strangely magnetic when two gladiators climb into a ring and fight for an hour.
'It takes three to five years to develop a fighter to get him into a position where he can challenge for a major title,' adds Powell. 'That period is crucial. The relationship between a fighter and his manager or trainer can be very intense. It's somewhat like a marriage, you know. It's hard when you've got to mop up somebody's blood.'
So perhaps the thrill for the public is to witness a fighter imperil his own health, his own existence. Maybe that's the real, dark appeal. 'Perhaps,' says Powell, 'but people don't realise that when a boxer steps into a ring and puts his pride, his self belief and his life on the line, going into one-to-one combat with another human being, he is revealing superhuman courage.
'It's perhaps the toughest and bravest thing any man can do,' he says. 'The best boxer I have ever seen is Sugar Ray Leonard, without a shadow of a doubt. I remember watching him win the gold medal in the Montreal Olympics in 1976. I was 10. It was spellbinding. And now,' says Powell chuckling again, with a small shake of the head, seemingly disbelieving of his good fortune, 'I am honoured that he has become a friend of mine.'
Again, the nexus that is boxing: to an outsider, the fight game is about animosity, real or feigned, but really it's the strangest and sweetest brotherhood there is.
Powell's phone rings again. He takes it. His eyes glint. May the next 25 years be as busy as the last.
Photograph (l-r) of Joe Calzaghe, Dean Powell and Sugar Ray Leonard by Lawrence Lustig
Related