He's come a long way, has Gilles Peterson, from his DJing residency at Dingwalls to his current incarnation as globe-trotting musicologist nonpareil. He's an educator, and few, if any, have done as much as he to elevate Brazilian (and world music) into the mainstream.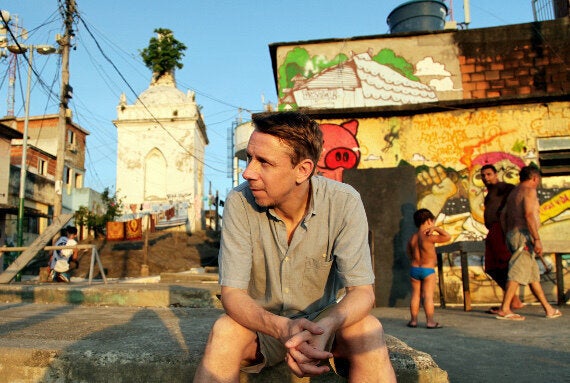 "I'm a Swiss-French boy from Normandy who got into jazz-funk music when I was 16," he tells me. "I went to soul weekenders and played Gilberto Gil and a couple of batucadas in clubs in South London, and suddenly I'm able to make a record like this, and..." But he doesn't need to finish the sentence. His smile says it all.
The record in question is Brasil Bam Bam Bam by the collective Sonzeira (or "killer sound"), released via Talkin' Loud/Virgin EMI and co-produced with Alexandre Kassin. It's a journey through the myriad flavours of Brazilian music. As the collective name for the group of Brazilian artists who feature on the album, Sonzeira is something of a supergroup with Gilles acting as producer for the first time.
We're downstairs at Brownswood Recordings, Gilles' north London HQ where the mood is tranquil and the coffee good. Scattered and stacked on the floor are the tools of his trade: vinyl records. The shelves too - kept at a constant, correct temperature - are filled with the fruits of his tireless record hunting. He's a man possessed. Hooked. In pursuit of the thirteenth note.
Brasil Bam Bam Bam's back story began last year when Gilles had a meeting at Universal Music Group with Ted Cockle to discuss the redigitalisation of the Talkin' Loud catalogue, the record label which Gilles founded in 1990 at Phonogram. "I spent 12 years there. It's a shame we don't have a digitalised archive of all the music that was put out. But Ted wanted to know what else I had on my mind, so I mentioned my desire to make a Brazilian record, and he agreed to it. Timing-wise, with the World Cup, it made sense. But I always envisaged it being more of a cultural project. I had carte blanche."
Gilles has put together several compilations of Brazilian music over the years, but he says the turning point for him to get "a little deeper" was when he went to Cuba and recorded the Havana Cultura albums. "That episode gave me confidence to go into the front line as a producer."
The record needed to be delivered by February 2014. Cogs had to be put in motion, and fast. "I went over to Brazil last October with the producer Floating Points. I knew I was going to see Marcos Valle, and that he was going to be part of the project, but I felt that wasn't going to be enough. I went to the rehearsal of Orquestra Imperial, which is Kassin's Rio collective, and that's how we met."
Things took off from that point. Brazilian music encompasses regional styles influenced by Amerindian, European and African forms and grew vibrantly out of the country's complex history. It's a seductive sound, with influences so manifold and layered that Gilles has, with an almost religious conviction, devoted a large part of his life to the uncovering of it.
"That first week in October was crucial. I threw away a number of ideas, such as making an entire album with Marcos Valle, or working with just one producer. I wanted to work with people who had been on this journey of mine from the beginning of my career. The only guests I wanted to have on the record were Marcos Valle and Elza Soares (the 'queen of samba'). The rest of the guests, more or less, just appeared." The open-door policy, via a fixer called Geraldinho (the manager of co-producer, Kassin), paid off handsomely.
"It was meant to be a one-off, but I'm already thinking about where we can go next with this concept." He wants the team to write more, and have fewer guests, for the follow-up record planned for next January.
Many Brazilian greats like Airto, Flora Purim and Sergio Mendes left Brazil for the US and never returned. Instead, therefore, Gilles was able to draw upon an undiluted wealth of talent from the environs of Rio. "The name of the record, Bam Bam Bam is a reference to the Jose Prates record, Tam Tam Tam. We've only touched the surface of Brazilian music with Sonzeira."
Of the new generation of music hunters, he says: "Over the past decade there's been a new generation who have gone far deeper. Labels like Analog Africa, Soundway, Sublime Frequencies and Honest Jon's constantly release amazing records from around the world. They're coming into it like high-end journalists meets hip-hop beat searchers meets archaeologists of sound."
Gilles leaps to his feet and shows me the very first Brazilian record he ever bought. "I used to holiday as a kid in Normandy with my grandmother, and I'd be left to my own devices. When I was 13, I stumbled across a record shop in Caen while she was getting the groceries. And I bought this," he says, flipping the vinyl from the old sleeve straight onto the turntable. "It's a straight-up batucada record, and bizarrely, is perfect for playing in the clubs, which I still do. It's the perfect DJ tool because it has breaks every 30 seconds."
He says there's a huge, appreciative bespoke audience. "Which is where Sonzeira comes in. The fact that you have a bloke who lives in Stoke Newington, me, who now wants to get the masters of a record that was made in 1958 from Ed Motta [the Brazilian musician who calls Gilles a "sophisticated magpie"] who lives in Rio de Janeiro, will lead to the release of a record that will probably sell 15,000 copies."
There will always be a large, voracious market for music as beautiful and infectious as this, while the musicologists and vinyl hunters continue to record and unearth gold. "It's been brave of Ted to finance a world music concept record like this," he says, "but the best thing about this record is that it's coming out in Brazil."
And as Seu Jorge, who appears on Brasil Bam Bam Bam, has remarked, Gilles has "got it right".
Portrait photograph of Gilles Peterson by Mauricio Hora