Popular music is not well. Were it a person, it could best be described as ashen faced with an irregular and weak pulse. But the priest has not yet arrived, ready to administer the last rites, and as the new year begins and the great songwriters of the past remain content to idle, our radios still blare the asinine cacophony of remote, desperate and fame-hungry 'artists' who, goggle-eyed, leer at us from posters and TV screens alike. And yet, hope springs eternal...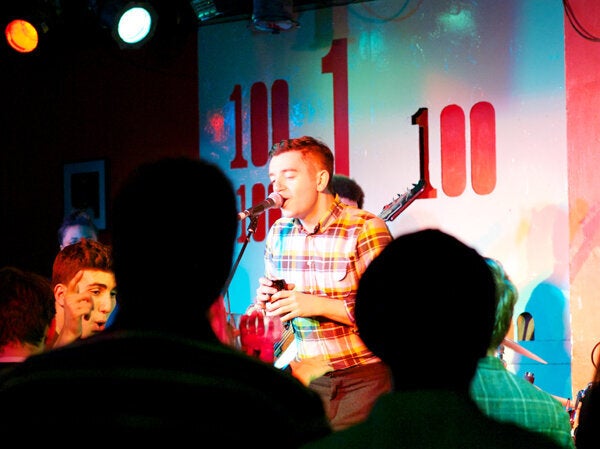 At a New Year's Eve gig at the 100 Club on Oxford Street, New Street Adventure took to the stage just gone midnight with a keen swagger and a clutch of soul and funk songs, penned by Nick Corbin, 26, (pictured above). With two female backing singers who help extend the band's sound, they are driven by a desire to write and play the music they love.
And therein lies the difference. A love of live music pervades the club, rather than the sweaty media ambition of the mainstream, whose godheads can be identified as the millionaire prefab boy bands who some of us have learned to avoid.
These days, we find ourselves in Orwellian territory, with the 'versificator' of Orwell's 1984 - that evil instrument of mass production used to subdue the masses via art and music - appearing to be at work in 2013.
But a fightback is being staged. New Street Adventure stands alongside a swelling rank of bands whose songs are crafted around the guitar. 'I write the songs and I also co-write with Ashley [Hayden, the bassist]. I'm quite particular about how I want things to sound. The musicians have different backgrounds, some jazz, some funk, others pop. We've got all the songs for an album and we're just starting to record it now in London and Brighton. It's all a question of affording studio time, and hopefully it'll be released this year,' says Nick.
Like many a songwriter of the past, Nick moved to London two years ago to try his luck, for in London one makes one's fortune, or so it goes. 'We got going as a band by December 2010. We called ourselves New Street Adventure after New Street train station in Birmingham, but the current band line up is 18 months old.'
The band's sound is very much that of southern England. It's upbeat and devoid of plod. 'Lyrically, I've been mainly influenced by the Arctic Monkeys, while I want to focus more on social commentary. And being original with words is essential. I've learned a lot lyrically by listening to the songs of Ian Dury. As an exponent of the English language, he was one of the best,' says Nick.
'At the moment, the music industry is, unfortunately, geared towards trying to make a quick buck, but there is most definitely room for a classic style of songwriting. I remember seeing Adele in 2007 at the Great Escape Festival, and she has proved that people want to hear well-written songs. Right now, the processed hits of the likes of Rhianna are popular. But we're still learning. We'll always be learning. I'm wary of us being pigeonholed, so it's important to keep our sound original. It's getting more complex and daring, I like to think.'
Recently signed to independent record label Acid Jazz, the band is now at the right stage to progress, but a healthy competition attends its every move.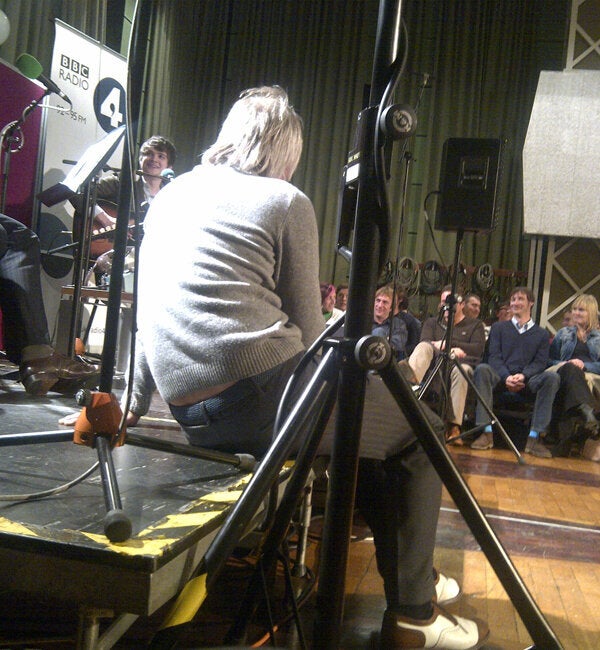 The Beat Movement, a non-nonsense Glasgow four-piece with a muscular stage presence whose sound is a refreshingly melodic new wave rock, is gaining a loyal following north of the border. Similarly, in Southampton, The Lost Boys are doing their thing with Daniel Ash at the helm, a young songwriter whose lyrical wit has proved strong enough for Paul Weller himself to take note. At a recent BBC Radio 4 interview, Weller gave over his guitar and the stage to a somewhat stunned Ash (pictured).
Meanwhile, The Sons, a Rickenbacker-led band with a post-punk punch, and an enigmatic outfit called Society, who recently released a slow-burning modern classic single in All That We've Become on Roundtable Records, are also making waves at a time when the music industry needs just such an injection of real grass roots talent.
And to ignore the efforts of Hull-born Sam Gray is to miss out on a singer fiercely wedded to the craft of writing and live performance. As Sam says, perhaps the way out of this fog of bore is simply a case of 'slinging yourself in front of a mic and just doing it'.
A dynamism such as this may well prove to be the only method by which life can be breathed into a music industry that has fallen into a dead faint.
Photograph of Nick Corbin by George Stavrou
Photograph of Daniel Ash and Paul Weller by JAH
Related