In a recent interview with Andrew Marr, the writer and broadcaster Clive James said he'd "be lost without poetry" and in doing so spoke for us all. We, like James, take refuge in words, bathing in the salve of their sound, of English used with precision and intent.
Poetry is embedded in our national communicativeness, so much so that most of us can compose or recite a limerick and whether we realise it or not we, like James, remain lovers of the greatest gift the English have bestowed upon the world: their language.
But what is English, this music of the tongue? Our Indo-European language rooted in old German, Latin and Norman French, and now the global lingua franca, flows with a unique molten aspect, is forever added to, transformed and constantly rethreaded to form the fabric that wraps us all safe in the knowledge that we speakers of it can express ideas fluidly, comprehensively, and in their expressing, sharpen our very thinking.
With National Poetry Day earlier this month and with the centenary of the start of World War 1 on its way in November, we are caught in a window of poetic remembrance, the war poetry of Wilfred Owen, Isaac Rosenberg, Siegfried Sassoon and Robert Graves now constituting what Christopher Hitchens called a "separate department of English literature".
The poem, it endures, assuming a function that roots us to the world at large as it has always done.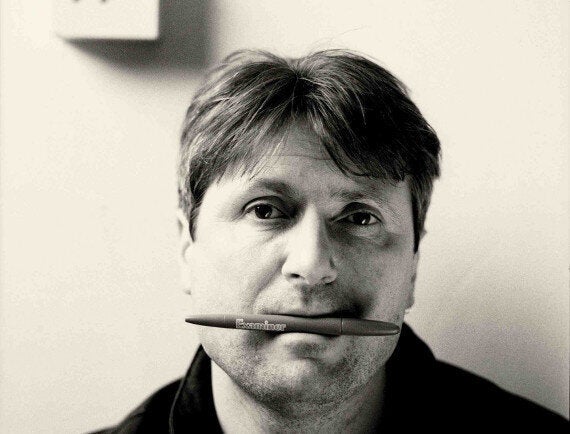 It's what Simon Armitage CBE (above) - one of this country's foremost poets - does for a living, having flown from his one-time career as a probation officer to immerse himself in the language of his fathers. He has written seven poems for a BBC documentary entitled The Great War: An Elegy to be aired on Armistice Day.
Armitage says he dabbled in poetry as a child but as he got older became "a more self conscious reader" and got interested in the "practice of poetry"; that is, he spent more time with people who read and talked about poetry. "It was a consequence of that, that I became a full-time addict.
"Poetry is about subtlety and signals, about nods and winks, so the minute somebody gets up and starts braying loudly in polemical terms is often the antithesis of what defines poetry," he says. "The loud hailer approach doesn't serve poetry well. Poetry is the art form that tries to think before it speaks."
With poetry, one can also say the unsayable and make it be heard, and with the UK's national curriculum embracing the form, Armitage adds: "Relatively speaking, poetry reading has been a marginalised activity of the British public. But this is one of the reasons I went into it. Most poets have made a conscious effort to step aside from something that's more mainstream."
His literary powers stretch to novel writing and theatrical drama, but he wants to concentrate on poetry because "it's a rare form that delights and excites me", he says, adding that poetry is a dissenting art. "I don't see poetry and theatre as being completely unconnected. In some ways I think of theatre as the origin of poetry."
Sue Townsend once described him as a celebrator of the real world, much like another English writer to whom Armitage has been compared: Alan Bennett. "We do different things, but I take that I've been compared with him as a huge compliment because he's one of this country's most gifted writers. He has strong political opinions which he transmits through continuous ongoing writing. He's almost a Samuel Pepys-type character. I love his common touch and if that's the area of comparison, then I appreciate it."
In 2008, Armitage also strayed tastefully and with wry humour into the rock world when he wrote a short prose poem for Paul Weller's 22 Dreams album booklet entitled The Missing Dream: "I was thrilled to do it," he says of the request, but is quick to make a distinction. "Pop songs aren't poems, they're lyrics. Poems exist just as language. They don't have vocal delivery, they don't have a backbeat or harmonies. They're just words. What you find when you take away the music from a song is that you have a bad poem, often with mixed metaphor and hypermetric syllables. But that's not a criticism of their art because lyric writing is incredibly difficult, but it's music that gives it its power."
Growing up reading Ted Hughes, Larkin, Thom Gunn, Sylvia Plath and the Beat Generation poets influenced him greatly. "I was drawn to the style. I'm not sure poets have anything different to say than novelists, but it's the manner in which things are said that makes them different. The attraction was the economy and compact nature of the language of poetry."
He still writes in a little notebook. Ideas are decanted. "One of the great challenges in poetry is the extent to which you can impose a new style. That's part of the mystery and the excitement.
"I see myself as British. But my work is definitely English because all the signals that it sends out are to do with inside information about the English. About the class structures and its geographies, its euphemisms, dialects and slang."
Armitage is a poet who is very aware of the privilege he enjoys in getting his work out there, and it's a privilege he doesn't take for granted. And nor should we because, were he or any other poet to be silenced, then the power of the English language itself would be diminished by a loss of its pre-eminent defenders.
Popular in the Community