Nip around the corner from the Elephant & Castle and walk on farther south where the air's a little calmer, and before you know it, you'll have arrived at the Threadneedleman, an unassuming shop caught in the crook of the road's arm.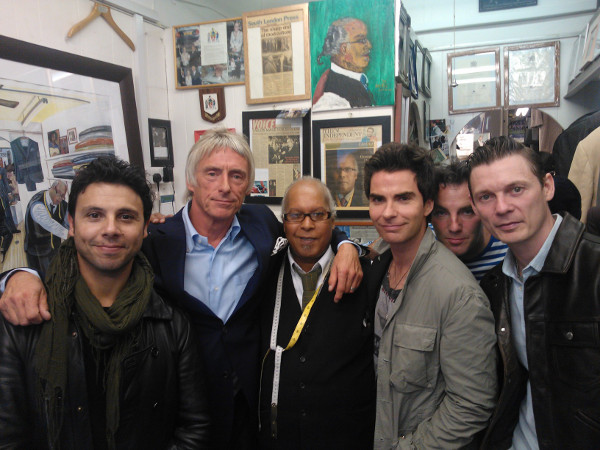 On the walls hang the framed photographs of stars who have rung the bell and stepped into this little shop on the Walworth Road in search of bespoke tailoring precision. Paintings by local artist Ed Gray occupy wall space above the swatch and sketch books, rolls of English cloth, ties (Peckham Rye, of course) measuring tapes and chalk. 
And against the wall runs the long rail which bows with the weight of garments in varying states of completion. There may be just enough room to swing a cat, but George Dyer has retained his hard-won cachet by staying put and not moving to larger premises, for his is no ordinary clientele base.
Suits worn by Suggs, David Haye, Martin Freeman, Johnny Harris, Robert Elms, Paul Weller and Kelly Jones (pictured above with George) have all been measured, cut and made in this bijou establishment. The shop is a hideaway from the West End, with local folk and big names from the entertainment world heading south of the river for coffee and chat.
'I want to make the best suit, and the plainer the suit, the better it is,' says George. 'The Sixties was the decade when the suit changed radically. It had to, so the kids of the day could make it their own. It was the era that made me who I am.'
The signature cut offered by George comprises subtle differences in a suit's focal points; the pockets, cuffs, lapels, vents and button holes. It's a razor sharp look that can intimidate with something the writer Jake Arnott calls 'decorative violence'.
But it's been a long road to reach this moment of synthesis. 'My dad was a trouser maker when he came here from Jamaica in 1959,' he says, 'and he was intent I should receive a good education. I did my schooling at Peckham Manor which I left just before my seventeenth birthday. Then, in 1973, I got an interview in a tailor's shop in Fleet Street called Dombey & Sons. I went there in my finery. In those days tailors were called Mister, so the cutter and fitter was Mr Dennis.
'So here's me, junior, coming along. Mr Dennis took me down into the stock room, a place I called "the dungeon". He said "Here's the kettle, and here's the broom", so I knew my place immediately.'
After a week of chores, Mr Dennis gave George a brush and told him to go through all the off-the-peg stock and brush them down and sleeve them. Here began his apprenticeship, the bedrock of many a great career. 
'Dombey & Sons had 38 shops all around London. I'd been at the Fleet Street branch for two months when the guvnor offered me a position at the London College of Fashion on a day release. I learned pattern construction, how to make pockets and button holes, and the rest, but also learnt about textiles and design. I'm sure the tutors nicked our designs.'
After three years, George received his City and Guilds in craft tailoring. For 12 years he worked for Dombey & Sons all over London, but when made redundant, went into business in a tailor's shop in Peckham with his friend Jimmy Nash.
'You must find something you love,' says George, 'and do it to the best of your ability. And don't worry about the money, because it will come.'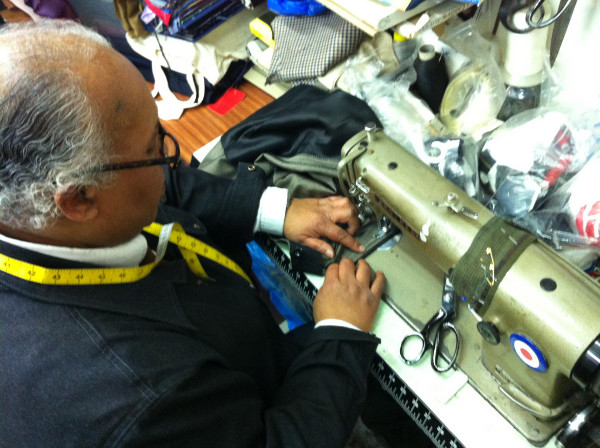 So he knew he needed to work for himself. 'Jimmy eventually went off to work in the City, and I didn't want that. I knew of a little tailor's shop on the Walworth Road run by Archie [the Greek], and Archie, who wasn't keeping the best of health, said that if I was interested I should make him an offer. So I did, and 18 years later I'm still here.' 
George makes four to five suits per week on average, and does his own cutting. 'I learned early on that if you can't cut, you'd have to use Tom, Dick or Harry to cut, and you wouldn't know if Tom, Dick or Harry were going to turn up on time!' 
The tailor he holds in the highest esteem is the Trinidadian master Andrew Ramroop of 19 Savile Row, and in terms of style icons, George admires Steve McQueen, Rudolph Valentino and Cary Grant. 'They were the best-dressed people. They were immaculate.'
When asked from where the name Threadneedleman came, George laughs. 'It's a take on the Jewish tailors of the City whose names, like Roseman or Bergman, were subliminally ingrained in me. I'd walk up Threadneedle Street in the City of London as a young tailor and see them.' 
But why is he also known as 'Freddie Needles', which is the alterations side of the bespoke business? 'I'm from south London,' he says, measuring tape draped across his shoulders, 'so in a south London accent, the "th" is pronounced as an "f". So Thread became Fred. So I became Fred...' 
Ask a silly question...
© Jason Holmes 2013 / jantholmes@yahoo.co.uk / @JasonAHolmes
Photographs by @TheMumper
For more information, visit: threadneedlemantailors.co.uk
See Suggs interviewing Fred, sorry George Dyer here @ www.youtube.com/watch?v=GKUIkcVNO2U