This magnificent line-up of seven refuses to ingratiate itself, because, why bother? Real fans of music know the difference between roots music and disposable pop, and the reality check of Stone Foundation is what we all need in this arid time.
Think of Sly and the Family Stone, Dexys Midnight Runners and The Specials. Then think again, because the clue's in the name. Their sound is a fine blend of all that has come to pass, from the blues and early R'n'B, all the way up through to soul and ska and the new wave, so theirs is a solid musical grounding.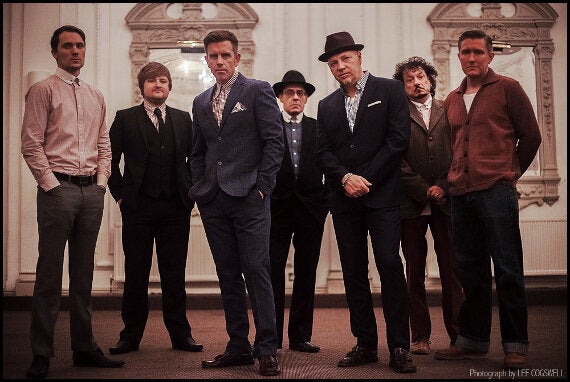 With Spencer Hague on trombone, Ian Arnold on keys, Neil Jones out front on lead vocals and guitar, Gary Rollins blowing sax, Neil Sheasby on bass, Lynn Thompson on trumpet and Phil Ford behind the drums (pictured above, left to right), Stone Foundation likes to crowd the stage, the sound and presence of the band almost threatening to crush it.
'Neil Sheasby and I started putting the band together about eight or nine years ago, but our current line-up is about five years old,' says Neil Jones. We're upstairs at the Bush Hall where they're supporting The Blow Monkeys, minutes before their sound check.
'With our album Small Town Soul we experimented and tried out different ideas, but we've been a song-based band from the start.'
They make for an interesting line-up, all pocket squares, tailored suits, Bass Weejuns and Oxfords. But make no mistake, the band is no throwback to better times, but rather a throw forward to a future improved. Hear them play live and you'll realise why.
With a melodic, Norman Whitfield-tinged brand of soul-funk-rock, they coolly proffer two fingers towards a clueless mainstream.
'We knew what we wanted,' Neil Sheasby tells me. 'We wanted the Hammond [organ] and the horns, but it took us a long while to assemble the people who would share our vision and who knew the sound we wanted.'
Jones and Sheasby originally bonded over hip hop records and a shared love of the old soul and funk breaks being used in the idiom.
'It took us about a year to talk things through and write songs and throw out ideas,' says Sheasby. 'Then we started looking for musicians.'
But they also began to work with heroes and heroines, to date having worked with Carleen Anderson (who appears on their soon-to-be released new album To Find The Spirit), Nolan Porter and Joe "Pep" Harris of The Undisputed Truth.
'All these people have inspired us,' says Sheasby. 'We have no time constraints on what we do. We just write, record and play, while we're trying to be creative with our influences. We're bringing something new to the mix.'
The band records up in Warwickshire, hidden away from the dumb zeal of the major labels. 'We've always worked around the constraints of the music industry,' says Sheasby. 'We've had to carve our own little niche. And we've made our own luck.'
With bands like The Blow Monkeys, The Specials and Madness having requested that Stone Foundation support them, they now know they're doing the right thing. 'They come to us,' says Jones. 'We know we're going in the right direction and liked-minded people have been coming to see us. It has all grown from there.'
Heavy-hitting support like this has been invaluable and has lent the band momentum, the word having gone out that something unique is afoot on the live circuit.
An hour later and the band are making the Bush Hall chandeliers sway, their on-stage energy impossible to counterfeit with Jones a live wire out front and centre, his voice reminiscent of northern soul legend Dean Parrish, the stage air misted with the sweat of exuberant graft.
Afterwards, Jones runs his hand through his hair and looks out at the stage. 'At the heart of everything, we play good roots music, whether it's the influence of the British soul bands from back in the day, or the American bands from across the water and from the jazz influences we're picking up on. We're trying to make the stuff we love.'
The band's collaboration with Nolan Porter has also been captured on film by documentary-maker Lee Cogswell, the short film Keep On Keepin' On revealing the alchemy that exists between genuine music lovers.
Yet Stone Foundation possesses more than just rock steady musicianship. Crucially, they have belief in themselves, and that's a treasure without a price, a treasure that young bands on the circuit today must summon up, acquire, stumble across, do what they will to attain, if they are to survive the long, gruelling course.