The passing of two decades has seen London change, its charged, febrile atmosphere but a memory as the streets - once trod by soul boys, Mods and jazz heads; stylists one and all - now lie choked by the red-trouser brigade who eye the world through their white acetate specs with all the avidity of our beloved and verminous pigeons. But a band of city natives has at last returned after a six-year absence.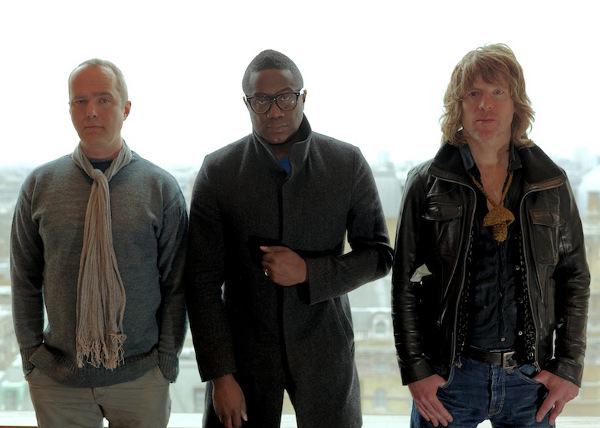 The Brand New Heavies, just back from a tour of South Africa and Europe, will release their new album Forward [HeavyTone Records] on 6 May. After almost three decades together, the nucleus of the band remains intact with Jan Kincaid on drums, Andrew Levy on bass and Simon Bartholomew on guitar.
'It's a strong record,' says Jan, 'and it's been worth the wait. We've got the right team around us. Regrets are a waste of time, so I don't have any. We've learnt from the past. Bitterness is bullshit.
'It's been way too long not having an album out, but we were putting out records when there was already a lot of change going on in the music industry, so our ability to adapt has long been built into our musical DNA.'
High up above the West End, the trio scan the rooftops and cast their collective mind back to the 1980s when Jan's bedroom was the cauldron in which they first concocted their funk stew.
'We recorded You Gotta Catch That Beat in Jan's bedroom with one microphone onto cassette,' says Simon.
The trio hit upon the idea of taking the cassette to DJ Barrie Sharpe at the Cat In The Hat club in Leicester Square. To their amazement he played it, Sharpe subsequently joining the jam sessions on percussion. Lascelles then joined on guitar, as did Diana Brown on vocals.
'Quite a few people ended up in my bedroom!' says Jan.
Femi Williams, later to find success with The Young Disciples, managed this early incarnation of the Heavies in 1986 which was named Diana Brown and the Brothers. DJs such as Norman Jay, Trevor Nelson and the Soul II Soul crew were regulars at the Cat In The Hat. This was at the beginning of the acid jazz movement. 'The whole scene lasted five years,' says Jan. 'We were part of the scene but were never an acid jazz act, despite eventually being on the Acid Jazz label.
'Our horizons were broader. The scene was real, but the name was invented. We were attending illegal warehouse parties where funk, soul, house and hip hop were being played. It was a subculture.'
'It was trans-class, trans-race, transsexual,' says Simon. '...We'd always wished we'd kept our genitalia.'
Andrew mulls this over. 'I've got mine in a glass jar somewhere, I think.'
The band signed to Acid Jazz Records in 1990 and released Brand New Heavies, an album with an emphasis on instrumental rather than vocal material. Subsequent songs like Dream Come True, Stay This Way, Dream On Dreamer and Never Stop came as proof that the hellish, over-produced pop din which had been vomited out of the Eighties counted for nought as real musicians asserted themselves once more.
'We're partnering up with people in different territories to distribute Forward,' says Jan. 'That's how you do it. As long as you've got your shit together, it's definitely the way forward because the whole business has changed, as has the way music is sold and marketed because of the internet. People are buying fewer albums now. You just have to adapt. We haven't stopped working.'
'...or stopped writing,' adds Andrew.
The Heavies have had 16 top 40 singles and have sold over two million albums to date, and Forward, featuring vocal contributions from N'Dea Davenport, Dawn Joseph and Simon and Jan, remains influenced by the songs that informed the band's original aesthetic, with artists such as Chic, Asha Puthli, Phyllis Hyman, Earth Wind and Fire and, of course, the 'Minister of the New Super Heavy Funk' James Brown influencing the flavour of tunes such as Addicted and Sunlight.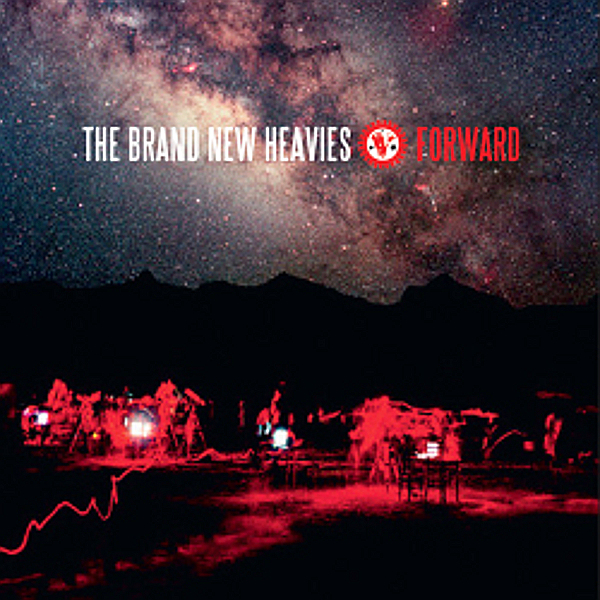 'We're three very different characters,' says Simon of his old friends. All three attended Drayton Manor High School in Ealing, west London.
'I've known Simon since we were four,' says Jan. 'We were all friends before we started playing music.'
And these men work very well indeed as a live band. 'That's how we've survived over the years. We've always been a powerful band on stage,' agrees Andrew.
Jan nods. 'We're a progressive band, open to new ideas. We've always followed that, and it's also an efficient way of working.'
There's no money in selling records in the industry today, but is it still an album game? 'It is,' says Simon, 'but now there's more money in touring.'
'But also publishing,' rejoins Andrew. 'You can live off publishing for years sometimes. We write and produce our own stuff, which is the reason we can live off what we do. But we never sat back after our initial success with Acid Jazz.'
When did they realise they worked as a three piece? 'It's quite telepathic, the way we play, but that comes from time playing together,' says Jan.
Time is what counts. Musical pretenders will always come and go, for the public's voracious appetite for aural garbage is historically immense, while talent, though on occasion overlooked, never fades.
So they're older and wiser, all three now family men, writing and playing for the love of it, and if the Heavies have instructed anything, it is this: if you're going to do anything in this life, make sure it's for love, because, frankly, anything else is fraud.
© Jason Holmes 2013 / jantholmes@yahoo.co.uk / @JasonAHolmes
Main photograph by George Stavrou (L-r: Jan Kincaid, Andrew Levy & Simon Bartholomew)
Artwork courtesy of DWL
Listen to the Heavies' new single Sunlight here: www.youtube.com/watch?v=goJbCyL5PO0
The Brand New Heavies will be playing a headline London show at Koko on 10 May. For more information, visit: www.thebrandnewheavies.net