Elfin vocalist Grace Lightman, 20, stands on the lip of the stage backed by four serious young musicians. The Hypnotic Eye make a photogenic combo, which may explain the evening's presence of several photographers who are eager to capture a band who look as if they've stepped straight out of the London of 1968.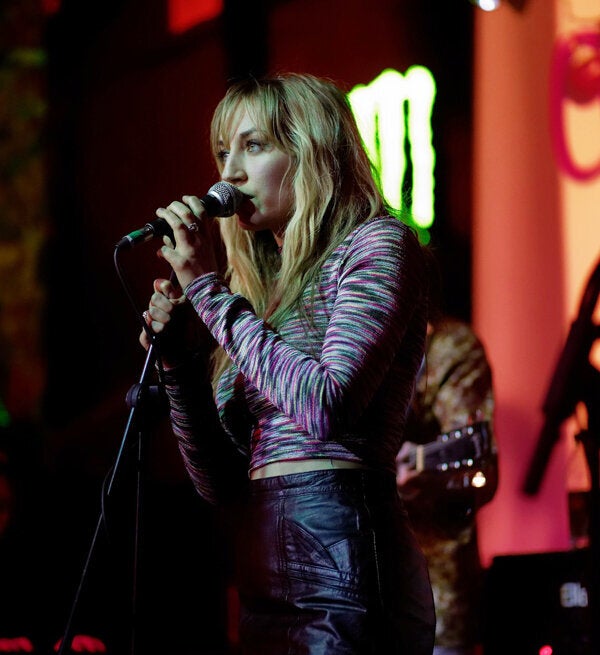 The five-piece band takes to the stage on a Saturday night in Camden's Purple Turtle and launches into a 40-minute set of classic three-minute pop songs, eschewing chat in favour of refreshing, consummate musicianship, for it's a well-drilled band, at ease as it belts out a blend of R'n'B, psychedelia, pop and rock.
But beneath the retro imagery, this 18-month-old group possesses real skill. Songwriter and guitarist Lindsay Murray puts this reviewer in mind of the late Brian Jones, while his playing is like that of Dave Davies. With Matt Edwards on bass, Will Ritson on drums and the elusive Oliver Tobin on keyboards, the rhythm section is almost as tight as two coats of paint.
Murray's previous band was called The New Truth, but he felt constrained by the set up. 'I'd written a bunch of new songs and wanted to try them with a new band,' he says after the gig. 'Grace was the first singer I auditioned. I knew the moment she opened her mouth it was the right choice. Also, Matt and Will had been in and out of bands in the south Wimbledon area since they were 15 so I really wanted these guys.'
Tobin, Ritson and Edwards are content to remain silent and allow Lightman and Murray to take turns to talk. 'We mainly perform the songs that Lindsay wrote before [The Hypnotic Eye] was formed,' says Lightman in a voice deeper than the one in which she sings. 'I sing Lindsay's lyrics, but the band's very much an open forum for ideas.'
The band's current album is called The Optical Sound Of The Hypnotic Eye and comprises 10 original tracks and two covers [Searching by The Omens and Readin' Your Will by The Human Expression]. Intent on retaining control, the band has produced everything independently with Murray and crew looking to record their third album at Electric Lady Studios in New York City, with further gigs lined up in Holland and Belgium later this year.
With the founder of independent label Weekender Records Justin Barwick having put up the money for the vinyl pressing of the band's second single, they are not without much-needed industry backing, with Mark Ronson having also expressed his admiration for them. 'I bumped into Bobby Gillespie [of Primal Scream] recently at Metropolis Studios [in Chiswick], and he told me to keep on keeping on, so it's all positive right now,' says Murray.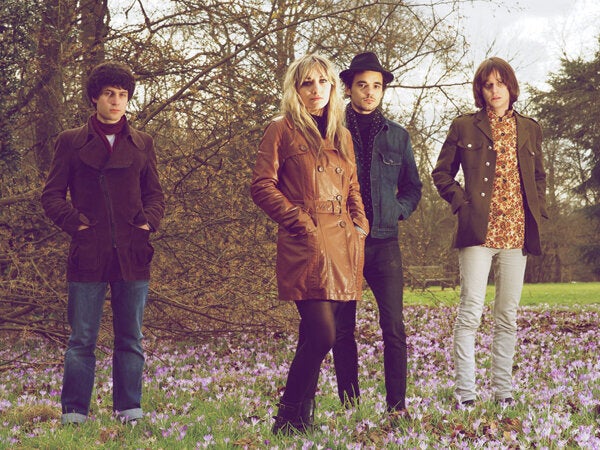 'My initial love was jazz,' he continues, 'and I've always been interested in the west London blues scene which threw up bands like The Rolling Stones and The Who. I've been immersed in Sixties music for many years because it's the kind of music which you can keep researching and listening to owing to the sheer output of all the many bands of that era.'
'I like gospel music,' adds Grace. 'Blues, soul, Motown. Reggae too. Black music has depth, which you can't find in other musical genres.'
'All our friends have been supportive of us, including The Horrors,' continues Murray through a heavy cold. 'Grace is a one-take singer and puts so much of her heart into her recordings, so time is the most important thing for us as a band. Our second album was captured in a matter of days in live takes. The time we have together as a band is well spent.'
The gig was seemingly performed without a trace of nerves. 'That's because they're not nerves!' Grace pipes up, wide-eyed, 'it's positive anxiety. I can only sing songs I believe in, because singing is the thing that makes me the most happy.'
And having raced through 17 songs in just over half an hour, perhaps the band's only problem is that their gigs end just as the crowd gets going. So, as experience and judgment dictates, it's time for expansion. Not enough of a good thing and all that...
Popular in the Community