As Paul Weller's long-time collaborator and one of the finest and most prolific drummers Britain has ever produced, Steve White is now looking to the future. Jason Holmes journeyed to Stockport to meet him
In Stockport on a Saturday afternoon in June the clouds make a low ceiling of the sky. In the cab from the train station, I wondered what the man who gave Paul Weller his post-Jam backbeat for 25 years would be like, and the man I meet in his local pub is a self-effacing 47-year-old south Londoner at ease with his vaulted placed in the UK music establishment.
'I still have so many ambitions as a drummer,' says Steve as we take our seats. 'I've played with Jimmy Page, The Who, Dr John, Ray Davies, Weller and Oasis, so on a commercial level I don't know what could top all that.'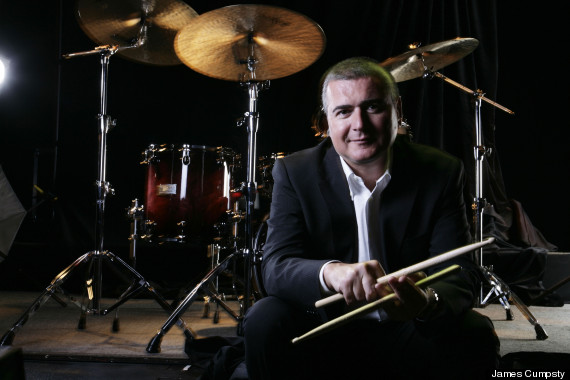 Steve White - despite an impressive back-catalogue, he's still looking to the future
But what a musical journey Steve White has had. He nods. So we begin at the beginning. 'Eaglesfield, my secondary school in London, had a tremendous reputation for music. It used to be called Shooters Hill Grammar. The teachers were real characters, each with a wealth of life experience. People like that make superb teachers, and they encouraged me at every step of the way.
'When I started to show an aptitude for drumming, they sent me forward to the CYM [Centre for Young Musicians] in Pimlico which was for young, gifted musicians, and I felt really out of my depth, because they were all orchestral kids, able to play the violin and the piano. But it was there that I met my friend Garry Wallis. He was a year older than me and we were looked upon as the bad pennies because we were from south London and didn't really know how to play Mozart.
'We were drum buddies. I'd go round to his mum's house on the Walworth Road and she'd make us a plate of cheese sandwiches and we'd go up to his room and sit with a practice pad all night, listening to Billy Cobham and Buddy Rich records.
'So when I left school, Bill Bruford, who had been the drummer for Yes, put me forward to study at PIT [drum school] in California, and I got the scholarship, while at the same getting the scholarship to go to the Berkeley School of Music. But the local education authority wouldn't fund me. Not for drumming. The lady there patronised me. It was for £10,000, but it may as well have been for a £1million.
'I walked out of school at that point. It was my first real taste of the class system. There was money for ballet dancers and violinists, but not for drummers.
'Three months ago in London, my old teacher Mr Langford pulled up alongside me in his car and called my name in his deep Welsh voice and told me that he still had my music O level practical recording which was of me playing the vibes on Billy Cobham's Red Baron. On drums was another kid called Al Clay who went on to become Hollywood music score legend Hans Zimmer's righthand man.'
Steve begins to dredge incident from his memory's depths, happy to remember. 'Later Al wanted to become a recording engineer and asked me what to do. So I told him to go up town on a Saturday afternoon with a list of recording studios from the Yellow Pages and knock on doors. We did this for about three weeks in 1982, and Al knocked at Trident Studios where Bowie and Rusty Egan were recording and Rusty Egan opened the hatch and said "What do you want?" and Al replied "I'm looking for a job", and then came the immortal question "Can you make tea?" And from that Al got a job. That was his start.'
Feeling the Squeeze
'I then got back in touch with my old mate Garry Wallis and asked him if there were any jobs going. He told me about a musical at the Albany Empire for which he was down to play the drums, but he went off to join Mod band The Truth, which allowed me in 1983 to step into the musical East Side Story which had been written by Glenn Tilbrook and Chris Difford of Squeeze. I did that for three months then was out of work for a week back home.
'At this point I just wanted to be making a living as a drummer. I was into jazz at this point, but it was very much a preserve of middle aged men back then in the early 1980s, so I'd go to south London venues like The Falcon or down the Old Kent Road to the Crown and Cushion where DJs like Robbie Vincent would play early Roy Ayers tracks.'
But then came Steve's big break. 'After East Side Story, A&R man at Polydor Dennis Munday was looking for a drummer who had a jazz sensibility and had been told by someone that there was this kid who he should try out, that being me.
'So I got a phone call at my mum's in Eltham where I was still living, and it was Dennis and he said "Steve White? You're not any relation to Mojo White, are you?" He was talking about my uncle Morris who was a big 1960s south London DJ and who had DJ'd for The Small Faces. So I immediately had an in with Dennis. He gave me an appointment and I didn't even ask who it was for. It was in west London at Simon Napier Bell's place. I walked in wearing a Cecil Gee polo shirt, a pair of light blue Lois jeans and a pair of Adidas Samba. I just had my sticks with me.
Encounter with Weller
'Then Mick [Talbot] walked in, and then Paul, who said "Sorry mate, we've got a drummer already, sorry to waste your time".
'I said "I'll be really quick, just have a listen to what I can do". I asked him what he was listening to and he said Blue Note, so I sat down and gave him a bit of Art Blakey and he said "...Nice one...what are you doing tomorrow?" I said "Nothing". Then he said "Go and see the big fella [Kenny Wheeler] and he'll tell you where to go. We're doing a radio session and you'll have to bring your drums".
'So my dad dropped me off at the session the next day at Maida Vale, and as I set up my drum kit Paul walked in and said "Here's the first song, it's called Headstart For Happiness, so just do a sort of shuffle on it. Then we're doing Up For Grabs which is a kind of swing thing and then there's a song called Paris Match".
'We did it and I stood at the back and kept my gob shut. Then Paul said "Yeah, smart. What are you doing in a couple of weeks' time? I might have a gig for you". So naturally I told him I'd be around.
'Kenny Wheeler [Weller's tour manager] told my parents "Well you know it's all about the sex, drugs and rock'n'roll and it's my job to make sure Steve gets his fair share of all of them. At this point there was still no formal contract between Paul and I and that was 25 May 1983.
'After that we recorded the A Paris EP and then Paul asked me what I was doing in the autumn. And right up until the end of our working relationship in 2008, any batch of work I did with Paul always involved him calling me and asking me what I was up to. Nothing was ever assumed and we never had a contract. Just a friendship. And I think that is why we were so successful.'
Burning ambition
So perhaps getting the Weller gig at the age of 17 was a complete shock? 'No, because I was always utterly determined to work,' says Steve. 'In those days, the world wasn't candy-coated. When I left school, the first thing my parents said, and quite rightly, was that I had to get a job to support myself. I knew that music was all I wanted to do. From the age of 9 when I first saw drums, I was fascinated by them. I had total support from my family, although they did worry because I practised all the time. They wondered if I was a bit...special,' says Steve, smirking.
These days Steve and his partner the actress Sally Lindsay split their time between London and Stockport. 'I go back down to London when I need to. Sally is filming a comedy series for Sky1 up here called Mount Pleasant so when that's finished we'll go back to London for the rest of the year. We're like nomads really,' he says. 'Sally and I met at a Players gig, which was my old band from a few years back, and it was through an old friend of mine called Tony Wood who's a major player in TV. He was executive producer of Coronation Street. He had asked a number of the Coronation Street crew if they would like to go to The Players gig, and Sally was one of them. That was in January and I went off on tour and came back in July, and we [the Paul Weller band] were playing at one of the Forestry Commission gigs out near Liverpool, so I invited her along, and that was it really.'
Golden age
Steve has criss-crossed the globe in his career, first with The Style Council from 1983 to 1988. After The Style Council was dropped by Polydor, Weller soon looked up his master drummer and they were once more making music as The Paul Weller Movement in 1990 which heralded the start of Weller's renaissance.
'I loved recording with Paul. The first three albums that were Paul Weller, Wild Wood and Stanley Road I see as one period of his career, and that was six years of my life. We were on the road for pretty much all of that period. We were on fire then. It was an amazing time.'
Steve's drumming style imbued Weller's studio recordings and live playing with a unique subtlety and polyrhythmic musical colouring that was one part Elvin Jones, one part Art Blakey, another part Keith Moon and one part all his own.
'Even when Paul was in the foulest of moods after the worst of days, I was always sure to respect his privacy. Sometimes people would be tiptoeing around him and he'd need someone to break the ice. After the crappest sound check, Paul would often look in the mirror and ask me "Ready for panto? Is my wig on straight?" And I'd go "...yeah".
'By the time of 22 Dreams, it was apparent Paul was ready for a change. By the nature of Paul's success, a lot of people have fallen by the wayside and the one thing I didn't want to do was end up like that. Our relationship was too special for that. My heart was not into the touring anymore and I had to take a step back, but I'm immensely proud of the work I have done with him.'
Touring appears to be a young man's game, I suggest. 'It's hard graft, but I loved it. The whole thing did get a lot more difficult after 9/11 though, and it became hard to justify spending time between gigs doing nothing. You can only watch Phoenix Nights so many times on a bus. We spent a fortune on DVDs for the film club we had at the back of the tour bus.'
Weller's respect and trust of his old friend was evident again when he called asking Steve to play on the 22 Dreams tour [2008]. 'I told him I just didn't think I was the right person for the job,' he says. 'I still see Paul. We're great friends and he and I have not said we'll never play together again.'
Steve looks grave when I ask him about how music downloading has affected the industry. 'The true horror of the downloading situation is that you have a whole generation of youngsters who think they shouldn't have to pay to hear music, and you'll never be able to put that genie back in the bottle. TV is now the media that breaks bands and quality doesn't come into the equation.'
As well as being the UK front man for the Mapex drum company, Steve is also managing Sam Gray and Abi Phillips, both of whom are singer songwriters. 'Sam's a classic songwriter in the Burt Bacharach mould. He has great melodies and knows how to craft a song,' says Steve. 'I tell him to keep writing. The same goes for Abi. She has integrity and staying power which is what you need because it is ruthless in the music business,' he says.
All in the songs
'I tell people, get your songs right first, and everything else will fall into place. Talent always wins out in the end, but like anything in life, if you're going to do it well, it's going to be bloody hard.'
Has it always been thus? Steve ruminates for a moment. 'The analogy is that the diamond is in the coal and by polishing it over the years, people will eventually see it. Not long ago I was talking to Paul and he said how lucky we were to have been able to make music when we did because now it's so difficult. Take Live Aid, for example. Live Aid had a wonderful sense of innocence about it. I'm not sure you could put on something like that now because cynicism is rampant.
'But what I got a real buzz from recently was when Sam's single was played on Radio 2 and it was 25 years to the day that I did my first live show with Paul. And to me, that's cool, But I'm not a sentimentalist,' adds Steve. 'I had 25 glorious years with Paul. Anything beyond seven years, such as The Beatles, is good. That's my benchmark. But to be honest, I don't think the journey's over yet.'
And a musical world without Whitey's mighty talking drums would be a very dull one indeed. More power to his elbows. Literally.