Petite and lithe, Carleen Anderson took the stage in a black gown and launched into a 90-minute set of jazz and gospel at the legendary London jazz club, and such was her vocal power, that in an instant we all forgot the ephemera of the day just gone.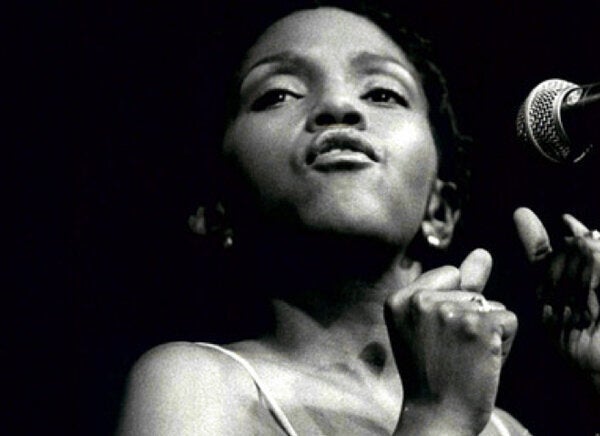 Carleen is without doubt one of the all-time great female vocalists and the crowd had come to Ronnie's to be mesmerised by her and the Ronnie Scott's All Stars, the house band, who matched her vocal prowess with a rarefied musicianship.
It was a damp Tuesday night in London, but Carleen scatted and roared, and gave her voice free rein on How High The Moon, Dizzy Gillespie's Caravan, Duke Ellington's It Don't Mean A Thing, and on a reworked rendition of Joe Sample's When The World Turns Blue. An unexpected and beautiful version of Foy Vance's Gabriel and the Vagabond saw her wrap the Celtic song in a warm, bluesy coat, and with Carleen stretching her voice as far as it could go, she drank long and deep from a cup of throat salve between songs.
The artistic director of the club and the quartet's pianist, James Pearson, underpinned her performance with virtuoso playing that was both subtle and, at times, Monkishly spiked, and when Carleen played Woman In Me (from her Blessed Burden album) on the Fender Rhodes, sitting back to back with Pearson on the baby grand, the crowd swayed as one.
The other star of the night, as far as this reviewer is concerned, was Al Cherry, the All Stars' southpaw guitarist, who insouciantly cut faultless jazz guitar solos from thin air, as on the electro-funked up version of Night In Tunisia. Music such as this is rare in London, and the audience understandably appeared to be somewhat amazed at such superb playing,
Once again, Carleen Anderson - with grace, humility and immense stamina - proved that she can deliver a set of raw genius. It is incumbent upon us all as fans of real music to seek out talent as pure as hers, for to ignore it, to schlep the rain swept streets worrying about the infinite and the intangible, is to waste precious time which can best be spent marvelling at the deeds of true artists. Carleen must be seen to be believed, and if you didn't catch her this time round, make sure you do next time, and for all time.
Photograph courtesy of www.carleenanderson.net
Related