In London town, musically speaking, it's 1959 all over again. Musicians are doing it live, for the love it, as they see fit, taking each day as it comes. They're certainly not doing it for the money, because there isn't any. Well, there's some, but at this current musical juncture, money lines the pockets of the exploiters of copyright and not those of its creators.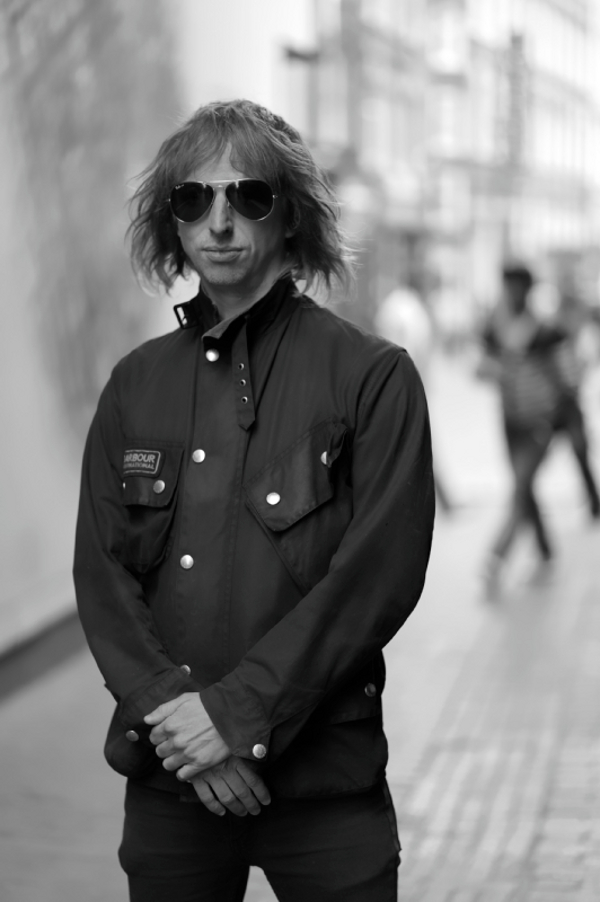 It's in Soho where they hang out, like in the old days, still the stamping ground for all music makers. But there's a difference: most of the old venues have been shut down, but still, one can come here and muse, and remember.
This is Frith Street. Tony Coote sits cocooned is his chair, words flowing between drags on his Camel Light. Coote's discography is low key and impressive, having played on Steve Cradock's Peace City West [Kundalini Music, 2012], Travel Wild-Travel Free [Kundalini Music, 2013], Matt Berry's Kill The Wolf [Acid Jazz, 2013] and Jonathan Jeremiah's A Solitary Man [Island Records, 2011], not to mention stage and recording sessions with the likes of Little Barrie, Tim Briffa, Liane Carroll, Pee Wee Elis, Maceo Parker, Fred Wesley, Keith Mansfield [who wrote the Grandstand theme tune], Jessie Ware, Mani and The Modfather himself, Paul Weller.
'I'd call myself a blues drummer,' he says. 'Keith Richards always said that blues and rock'n'roll was jazz with a heavy backbeat.'
Which is a fair point. Coote, happy to play within the rock, funk and jazz idioms, is currently kept busy as drummer for the Steve Cradock Band (Ocean Colour Scene and Paul Weller) and The Greg Foat Group (who are the resident house band at The Playboy Club, London).
'I started playing the drums when I was 11,' he says. 'I wanted to be a marching drummer, like in the army. But the first tune I played was the theme to Dallas. I think that set me off on the disco tip,' he laughs. 'Then from there, I cut my teeth playing along to James Brown and The Stone Roses.'
Clouds hang above us and taxis grumble, sniffing out fares. The beers are brought. It's early afternoon. Rupert Everett sits sadly a way off, alone with his memories at a pavement table, receiving the occasional glance from passing lovelies whose toothpaste legs are squeezed from pencil skirts.
'A lot of the recording I've done in the past five years has involved going into a studio and laying it down on tape, which means you've got to be playing all the time to remain sharp,' he says, by way of explaining his desire to play with as many people as possible.
There's no way of explaining, not adequately anyway, the choice of instrument you make as a lad. Some pick up guitars, others head straight for the keys, and some instinctively respond to the sound of the world's oldest instrument, the drum. There's also that common denominator linking all stickmen: the air of the outsider. He who hears the beat others cannot hear.
Coote rates Steve White, and Dudley Moore's side man Chris Karan, along with legendary players Clem Cattini and Elvin Jones as drummers of accomplishment and rare technique. 'I'd love to have a lesson from an old boy like Clem Cattini,' he says. 'I'm not above learning from the masters. Music is about taste. There are a lot of drummers out there in London, but they seem to want the fame but don't want to put in the work, the practice, the study. It's all about ears too, and learning instinctively.'
Coote - who cites Eddie Piller's Acid Jazz Records label an inspiration during the Eighties and Nineties - says his criterion for making music is a simple one, that as long as it's music and it's real and everybody's loving it, he'll play.
Then we're off to Walker's Court for the photo shoot, leaving the Soho hawkers, beggars, pigeons (and Rupert) to their own devices.
'I want to play all the time and be the best I can be,' he says, as the photographer gets busy with the Nikon. 'But musicians don't have the opportunities to do that, because now the money often isn't good enough, or there aren't enough music venues because they've shut down, and DJs have been drafted in because they're a cheaper form of entertainment. When the music union was strong, the stipulation was that a venue had to have 40 minutes of live music to 20 minutes of recorded music. So music has suffered.'
The photographer barks some more instructions and Coote readjusts his David Preston-clad feet. 'There's a real hunger in places like Glasgow, Stockholm, Gothenburg, Paris and further afield in mainland Europe for live funk, blues and rock,' he says.
And with a jaunt to Sweden to record with The Greg Foat Group and a new tour with Steve Cradock beginning in the autumn to support his new album Travel Wild-Travel Free, he'll be a busy man, which is how he likes it.
So things have changed in how music is brought before our fickle public. But the talent's still out there. It always will be.
© Jason Holmes 2013 / jantholmes@yahoo.co.uk / @JasonAHolmes
Photograph by George Stavrou / @GStavrouFoto
For more information, visit: tonycootedrummer.blogspot.co.uk / thegregfoatgroup.com / stevecradock.com