Descend these stairs into the dark chamber beneath one of London's main thoroughfares and upon the red walls you will see hanging the portraits of musical souls on the brink of being forgotten in this age of wilful ignorance, each one a portal to the past, handsomely mounted and crowding the wallspace in tribute to a time when society still had a fighting chance of preserving all that mattered.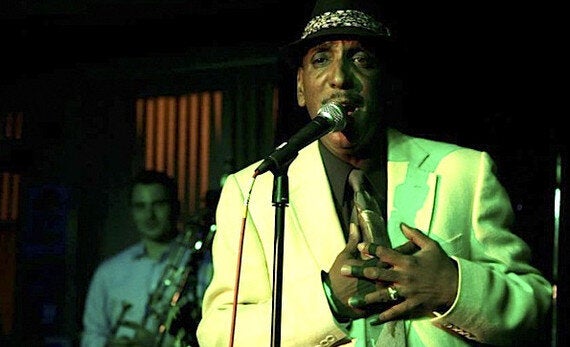 It's a roll-call at which one can only blink, your eyes crawling across the images of Muddy Waters, BB King, The Who, The Jam, The Sex Pistols, Stephane Grappelli, The Clash, Rod Stewart, The Kinks, Paul McCartney, Doris Troy, Terry Callier, The Spencer Davis Group, Metallica, Alice Copper, Johnny Depp, The Rolling Stones, Youssou N'Dour, Oasis, Lee Konitz, Muse.
Then the band's sound spindles through the fug of beery shouts and the spotlights lance the darkness of the 100 Club on Oxford Street, a venue that refuses to bow out from a city that swarms with the generic generation.
Tonight it's the turn of cult soul legend Nolan Porter to grace the stage having flown into the UK for a string of gigs as rare as the vinyl upon which he made his name. He's backed by Stone Foundation, one of the tightest outfits around with whom, he says, he shares "camaraderie and the same warped sense of humour".
"These guys have really stepped it up a notch since their tour of Japan," says Nolan, nodding over at the band as they sound check.
A writer or performer's interest in his work can be equated to the amount of time he has spent living in the real world insomuch as a writer who, having tasted success at an early age, will abandon the world of the common man and retreat to his ivory tower, only to discover that he has run out of energy and material, cut off and spent as an artistic force. Not so Nolan who, over the course of some 40 years, has retained the slow-burning vigour of the laid-back West Coast man.
Of Nolan, veteran DJ Peter Young says "he has a fanatical following of die-hard soul fans, but nobody outside that area of activity has heard of him, so I suppose you'd have to call him a cult figure".
Nolan made two sought-after albums in the early 1970s (No Apologies and Nolan) with legendary bands Little Feat and The Mothers of Invention, before dropping out of sight and letting, unbeknownst to him, his legend take shape. But soul fans in the UK picked up on Nolan's music via the northern soul scene, and, when Paul Weller covered his song If I Could Only Be Sure on his Studio 150 album in 2004, the musicologists came knocking, and in droves.
It's worth noting that José Feliciano's cover of Nolan's 1971 track I Like What You Give as well as Weller's deferentiality are moments when stars pay tribute to those who have influenced them.
"I had classical influences," he tells me in the dressing room before the gig, "and a little bit of gospel, and I just wanted to put it together.
"When I started out you had, say, a maximum of 100 artists who would dominate everything. But my break came when I met Gabriel Mekler of Steppenwolf who took me under his wing.
"I was making music in the late Sixties when the Civil Rights movement was in full swing," he says, "so it was a time of musical inspiration."
Mekler was a songwriter, musician and record producer who had helmed albums for Steppenwolf, Three Dog Night and Janis Joplin. "We became good friends. We rehearsed and practised for about a year to help me develop my style. He liked my voice and we listened to Otis Redding and Mick Jagger, primarily.
"Like the Laurel Canyon scene, a lot of artists just hung out together in the late Sixties. It was a local scene where people just wanted to play music. And luckily I got Frank Zappa's musicians, The Mothers Of Invention," he laughs. He subsequently married Frank's sister too. "R'n'b was big back then, but there was also a lot of cross-over. The issue with black radio stations of the time was that it wasn't that they didn't like me, they just didn't know where to place me."
It's mid gig and sweat streaks his cheeks as his face takes on the varnished, ecstatic look of the chapel icon. His shirt is open at the neck, the knotted sinews of his throat like roots of a bayou cypress.
He was born in 1949 in Los Angeles, a city of low-rise sprawl; it's a physicality which has influenced the soundscape of records made in LA, the production values of which stand in counterpoint to the industrial fulmination of the East Coast.
As a West Coast man, Nolan's sound possesses an unusual starkness and clarity, no doubt also influenced by the freer melding of sounds that could once be found in concentration in Laurel Canyon where hippies and soul men once smoked from the same peace pipe.
He's a compelling character because of this: "Back then you could meet John Lennon at the Troubadour three times a week... in the afternoon," he laughs. "Rick James too, who happened to be a fantastic timbales player. But now, with Stone Foundation, this is my highpoint. Now is the time to begin again."
A few years ago a friend of Nolan, a guy he has known since he was 18, gave him the heads up concerning his burgeoning cult status in the UK: "He said 'Nolan, they're playing some of your tunes at these things called all-nighters. You've got to check this out.'"
So he did, and what he found, like Sixto Rodriguez, is that redemption, when it comes, comes unexpectedly and under the sugared sun of an Indian summer. Age becomes Nolan Porter as it should us all. When we get there.
Follow Nolan and the band @StoneFoundation
Popular in the Community