At some point along our cycling journey we will all dream of getting our 'special' bike. It will be your ultimate machine that you'll treasure and enjoy riding until you can no longer ride. It will be carefully stored away for a few months of the year to protect it from the ravages of winter. It will be cleaned methodically after each ride. It goes without saying that in the eye of the beholder it will also be an aesthetic beauty.
The choice of bikes available these days can be overwhelming. There are undoubtedly some cracking bikes available from the usual top end marquee names. Pay enough money and you can ride the same bike as your heroes. But if we're after a special bike we're looking for more of a connection to a bike than simply the same bike ridden by your hero. Something more personal and unique. I'm not sure the answer lies in an off the shelf bike, so I caught up with my local bike builder, Tom Sturdy of Sturdy Cycles. Tom, an aeronautical engineering and biomechanics graduate, now designs and builds bespoke bikes in the Brecon Beacons.
"Cyclists have to interact with their bike. That relationship is a constant for cyclists. You have to get on with your bike. That relationship becomes a lot stronger when it's been built specifically for you."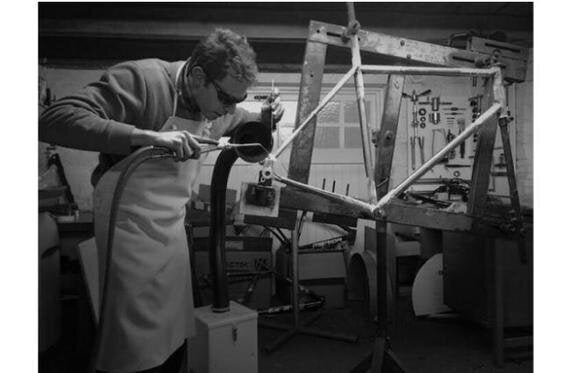 Over coffee we discussed some key features of what makes a good bike. Every road rider looks to weight as a critical measure of whether a bike will be good or not. The assumption tends to be that the lower the weight, the better the bike. Another common assumption that tends to be associated with weight is that carbon fibre is lighter and therefore a carbon fibre bike must be better. Tom is quick to dispel this myth.
"The material you make a bike from is secondary. It's not the material per se that makes a good bike. Its the design and thought process that has gone into the bike that makes it a good bike. It's this process that then dictates the material to be used. I happen to make bikes largely from steel because it is a very versatile material which allows me to make bespoke bikes. It also has certain qualities that I think benefit road bikes."
As every good bike rider knows, riding a bike is complicated. There is a lot going on and weight and materials themselves are not the determining factors of a good bike. As a bike coach I understand the benefits of a properly fitted bike, not only in terms of comfort but also performance, but as Tom points out, "it's one thing having the perfect body position and another having a bike designed and built specifically to that body position. With an off the shelf bike, although you may have a good position on the bike, the bike itself is not designed for your specific position."
The relationship between the bike and the rider is the most important 'thing', particularly for your special bike. Biomechanics become just as important as material and weight. Every rider is different and in an ideal world the bike should be dictated by your body and how it interacts with the machine. Riding a bike is largely in the realm of the subconscious. You shouldn't need to think about riding the bike, and explains why Tom tends to focus his design and build on this balance between human and machine.
What I hadn't quite appreciated before sitting down with Tom, was how much influence the design and build of a bike has on it's relationship with the rider. It's the design and build process that define a bike's characteristics. Having a bike designed and built to your personal riding specifications is something way beyond making sure the bike fits you.
It becomes an holistic process. Observing how someone rides, means Tom can design and build the bike to the rider. Not only will the bike fit you, but the choice of materials and how the various bits of tubing are fitted together etc will all be personal to you and how you ride. Tom's overriding goal is to make riding the bike easier for your body, without your body ever having to think about it.
Tom gave me a practical example of how this works in practice. Out came the turbo and Tom carefully slotted in one of his made up signature bikes. Thankfully it wasn't for me to knock out a few watts, but to demonstrate bottom bracket flex and stiffness. Without going into the physics, it turns out a certain amount of flex in the bottom bracket is good. The stiffness of the bottom bracket must be determined by the front triangle. Tom applies his knowledge of biomechanics and the riders particular riding characteristics to determine the design and build of the front triangle. So for example, how a rider pedals - slower cadence, grinding bigger gears, will determine the stiffness and flex that Tom builds into the front triangle. It's this combination of engineering and biomechanics that determines the bikes characteristics and how it will ride.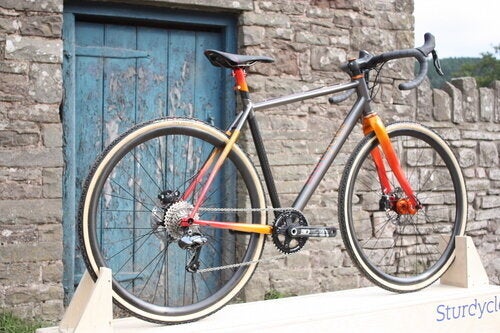 A custom bike build is all about matching the human to the machine which will undoubtedly produce a good bike. But a custom build also offers an unrivalled opportunity to form that all important relationship with your bike, from the time it appears as a 2D drawing to the time you ride it out of the workshop. Something precious.
Popular in the Community