However many bikes or cycling kit you own there is always more....more new models, more nutritional products, more high tech tools and even more cycling kit. Any doubts of this ballooning cycling industry were quickly dispelled by a visit to the Cycle Show 2015 - 283 bike companies all crammed into a hall of the the NEC. It was a perfect opportunity to see the latest tech, bikes and kit and answer the annual question of many....what to buy a cyclist for Christmas.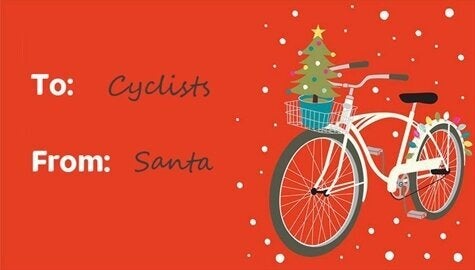 The biggest takeaway from the show was the sheer number and range of electric bikes. Everything from cargo bikes, cruisers, town bikes and even a folding bike. If you've got a hefty budget and looking for style, function & tech then the Zeyn from Momentum Bikes is simply stunning. Good looks and future technology all in one. For something completely different and a little 'back-to-the-future', how about a Bambu bike frame representing 50 hours of hand craftsmanship.
For bike commuters innovation was everywhere, and probably best exemplified by Vlec Cycles Pocket+ electric folding bike. With a range of 15-18 miles and an assisted max speed of 15 mph, there's no longer any excuse for driving in cities. If you prefer the more traditional sweaty commute, then the Wingman by Henty is a must. Carry your suit, smalls and smellies in a roll up messenger style bag. They even do a roll up waterproof 'tube' for the ultimate kit bag for races or sportives. To make sure you never get lost in the city again, invest in a Crumpled City map. Indestructible, soft and waterproof they can be crumpled, squashed and crushed into a ball.
Maybe your receiving cyclist is in need of a performance boost. Unless you're a professional, regular altitude training is out of reach, but what about your own personal hypoxia device - Altium-i10. No less exotic but a lot lighter on the wallet is the super food from Colombia, Lucho Dillitos by Bocadillo. Essentially guava paste in a solid form, it was a staple of Luis Herrera who won King of the Mountains jerseys in all three grand tours.
What about eliminating punctures altogether? Do you remember solid wheels on kids bikes? Now there's an adult version by a Korean company called Tannus. They produce a solid tyre in a range of sizes and colours. Something to brighten up those dull winter commutes.
By the time Christmas arrives, many cyclists have endured a month of the dreaded turbo. What could be worse than fixing your bike, that normally sprints along open roads, to a resisting drum. Suddenly your enjoyable sport/pastime is transformed into drudgery and purgatory. Cyclists with the mindsets of generation Z now have an escape in Zwift - a 3D online virtual race game. Race against thousands of others across the world with multiplayer online gaming functionality and then share your heroics via Strava.
Popular in the Community