People often ask me how Red Lippy Project came about. A few years ago, a close friend of mine found out that she had abnormal cervical cells after dodging her cervical screening for five years. Had she not gone to get tested, these cells could have developed into something much more sinister down the line, leaving her vulnerable to cervical cancer.
This really got me thinking: if these screenings are so readily available on the NHS, and cervical cancer can be detected early on with a simple smear test, why are so many women avoiding theirs?
I decided something needed to be done. I wanted to raise awareness of this issue, and create a movement that would not only benefit women and their health, but would also inspire them to get involved within their own communities.
I set about asking the help of my friend Linda Andersson and we started discussing how to engage the female public. Coming from the respective worlds of Beauty and Fashion, we wanted to create active participation that was visual and stimulating, but most importantly celebrate femininity in an empowering way. Red lipstick felt like a great place to start, and so we decided to set-up Red Lippy Project.
Our first year was more successful than we could ever have predicted! Emerging social media platforms like Instagram and Twitter made it much easier for women to start conversations about cervical screenings, as well as find out more information about how to go and get checked at your local GP. Within the first year we decided to take the next step and turn the Red Lippy Project into a registered charity with the hope that we would be able to reach out to even more women and girls in the future.
Our vision for Red Lippy Project is simple: to raise awareness of cervical screenings amongst young women, and remove the stigma around being tested by encouraging more open conversations. It is really important that young women don't feel afraid to talk about their health, as a simple conversation between friends or colleagues could be the difference between removing abnormal cervical cells, and developing a fatal illness.
This week is Cervical Screening Awareness Week, and Red Lippy Project have kicked it off with a multi-platform social media campaign called #FlipYourLips.
All you have to do is apply your favourite red lipstick, take a selfie of your lips, rotate it (or 'flip' it) and upload the photo onto Instagram, Twitter or Facebook using the hashtag #FlipYourLips. We want to spread this important message to as many women as possible, so be sure to nominate your friends, family and co-workers to do the same!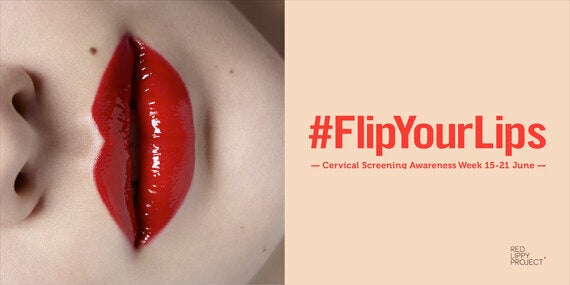 #FlipYourLips is a visual representation of women's health: it's provocative enough to get people talking, whilst still remaining elegant and beautiful. With the power of social media, we want #FlipYourLips to be a key reminder to go and book in for a cervical screening, and liberate girls all over the world to talk about their health openly and comfortably.
Red Lippy Project is only in its third year, but we are already making waves in the Beauty, Fashion and Health industries, thanks to the incredible support and collaboration from some truly amazing people. In the next few years, our aim is for Red Lippy Project to gather more and more momentum, and to gain the support of more charities, communities and businesses so that we can help spread this important message to as many women as possible.
We are starting in the UK but eventually we would like Red Lippy Project to be a global charity: a charity that is synonymous with cervical screenings and women's health. One day we would love to be able to fund vital cancer research and maybe even find a cure. But until then, cancer prevention is our main focus.
If we can get more women talking about cervical screenings through #FlipYourLips, then we will consider our job well done. And if we see an increase in the uptake of cervical screenings? Well that's even better.