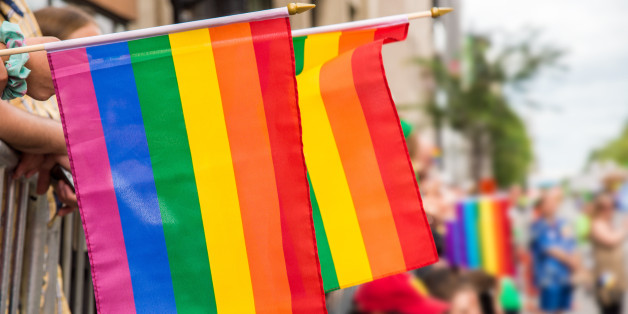 Marc Bruxelle via Getty Images
Things have come a long way. Public attitudes towards LGBTQ people have improved over the last few years and we're slowly seeing better representation of our country's diversity, both in the media and in politics.
Experiences for LGBTQ young people are altogether more positive than they were decades ago and some people have begun to question the need for a yearly event like this weekend's Pride in London to raise awareness of LGBTQ issues - we've achieved equality, they say.
This month marks five years since The Queen gave Royal Assent to the Marriage Equality Act, giving couples the right to marry the person they love, regardless of their gender. This year is also 50 years since the partial decriminalisation of homosexuality and this weekend we'll be celebrating 45 years of Pride in London.
Equality
Thousands of people - including Barnardo's service users, volunteers and staff - will congregate in central London on Saturday to parade through the streets to celebrate LGBTQ culture and the strides we have made in equality over the last five decades.
But things are far from perfect. Persecution of lesbian, gay and trans people continues around the globe and even here in the liberal UK things aren't always so rosy.
Children and young people, as well as adults, experience discrimination, bullying and hate crimes and it saddens me to think that, even in 2017, it can still be tough being an LGBTQ child.
As Phil Adlem, a Metropolitan Police officer who proposed to his partner during last year's parade, pointed out in a Guardian article last month, "for every person who wants to attend Pride there is a reason why it is still important".
Phil made headlines at the 2016 Pride parade when he dropped to one knee to propose in the middle of the parade. But among the thousands of well wishes and notes of support his romantic gesture elicited, there were hate-filled messages and even death threats.
It's attitudes like this that show why we still need Pride 45 years after the first official London rally was held.
Self harm and suicidal thoughts
For many children and young people, dealing with diversity issues and finding their own identity can be difficult. For some, struggling to understand their feelings and how they fit in can lead to self-harm, suicidal thoughts and low self-esteem. These factors can have a knock-on effect and even leave them vulnerable to sexual exploitation and poor educational achievement.
Barnardo's works with a diverse cross-section of children, young people and families provides a wide range of services to support LGBTQ young people.
And our Positive Identities service challenges the attitudes, perceptions and behaviour of schools, families, faith and wider communities towards LGBTQ people.
We understand the anxieties and concerns that LGBTQ young people experience and act as their champions. Whether they are being treated unfairly, being bullied or are a victim of a hate crime, we are right by their sides.
We also help parents, carers and professionals support LGBTQ young people, be their voice and help them address concerns if they think a child is being bullied. We led the way in campaigning for LGBTQ fostering and adoption and have helped many children to thrive in loving, safe family environments.
We also help to educate children and young people about equality, diversity and inclusion and to increase LGBTQ awareness.
Teachers told us they felt unsure what they were allowed to teach about lesbian, gay, bisexual and trans relationships and said they wouldn't be confident in their response if a child raised a question about gender or sexual identity in the classroom.
So we developed free LGBTQ resources to help them educate children about same sex relationships and gender and sexual identities as part of lessons on healthy relationships in sex and relationships classes.
Believe in children
We believe in all children and Barnardo's service users, volunteers and staff will be parading through London on Saturday, and at Pride events in Brighton, Belfast and Manchester in August, embracing and celebrating our diversity.
Pride's focus has shifted since that first rally in 1972; today it's more of a celebration. But, of course, it's about so much more than that.
While homophobic, biphobic and transphobic bullying and attacks still exist, while children and young people struggle with their gender identities or to understand how they fit into a heteronormative world, we will always need Pride.