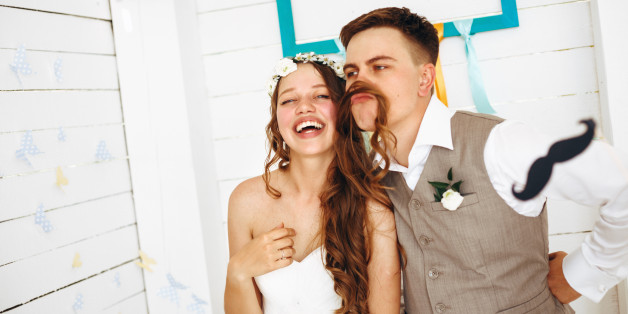 DariaZu via Getty Images
While wedding trends constantly evolve, the wedding industry isn't one that is particularly quick at changing itself. How often do you spend your summer weekends at weddings and by early September you feel like you've seen the same thing four or five times? Even as we become more liberal as a society there are certain traditions and customs we just don't seem to want to break.
Yet, it seems that we might on the cusp of a real sea-change when it comes to weddings, and it's millennials that are responsible for it.
What are they doing?
1. They are marrying older and away from the church
The overall marriage rate is reportedly in decline and part of this could be driven by the fact the millennial generation is marrying much later in life than their parents. Millennials are career-focused and they don't view marriage as big of a deal as previous generations did. If you look at the ONS figures, you can find the average age for men and women to get married is 36.7 and 34.3 years respectively. Around 40 years ago, the average stood at mid to late twenties.
While there are numerous additional factors that also play into this, politics and socio-economics are topics it's probably best to stay away from right now!
Not only are millennials getting married later, they are also skipping the church. Couples favour having a low-key ceremony at the registry office and focusing more on creating an elaborate experience for the wedding reception.
2. They are planning in social media
Millennials are big on social media and this is another important factor in modern weddings. When it comes to finding wedding music, food, themes and ideas, couples check social media. Instagram, Pinterest and Facebook are all major sources of inspiration for modern couples.
Couples are even setting up websites where people can learn more about the wedding day, allow guests to respond to the invitation and in some instances, even follow the wedding ceremony if the guests can't make it on the big day.
First contact with wedding planners and vendors is often done through social media. At Freak Music we have a huge number of people who contact us via Facebook first.
3. They are making weddings more personalised
Breaking traditions is evident in modern weddings. Millennials are determined to make the day look and feel just like them, and might even broadcast it live online for those friends who were unable to make it.
Whereas couples used to listen to their families and perhaps choose features just because it was commonplace, modern brides and grooms want weddings to be personalised and more about them. If the guests aren't happy that certain traditions aren't being followed, who cares?!
For millennials the wedding day is often all about the experience, rather than the actual act of getting married and what this means. The emphasis is on personalised themes and designs. Couples pick wedding bands that play their favourite music whether it's punk rock or pop and they serve signature drinks at the bar. The emphasis is creating something unique for themselves and their guests to enjoy - and more importantly, to make the couple feel the big day was truly about them.
4. They are adopting DIY tactics
Although wedding spending is slightly on the rise, millennial couples can be rather thrifty, for various reasons. They love including DIY elements in their wedding and skipping mass-produced products - once more highlighting their thirst for a personal wedding experience.
The days of the so-called cookie-cutter wedding is over. Invitations, place cards, wedding favours and the like are now handmade and personalised, often by the bridal party. This shows millennial couples are not just interested in customisation but also saving money in pursuing the smaller details.
5. They are adding technology to their big day
Finally, the Millennial generation is crazy for technology. Weddings include technology much more today in rather innovative ways. You have things like LED lights and light boards to entertain guests, photo booths are more digital and even wedding photography has adopted technology by using drones for amazing aerial photos. Having your own wedding app for the guests to use is not a big deal for the Millennials - indeed most of them will love the idea!
The eagerness of millennials to change the wedding game is good for the industry. It will force service providers to find new ways to engage and attract couples. A little ruffling in the sector will just liven it all up and ensure we all get to enjoy a new kind of wedding experience.