At the 89th Academy Awards, on a night dominated by jaw-dropping gaffes and protests about Trump, women were quietly making history at the Oscars.
Meryl Streep became the most nominated performer ever; Viola Davis the first black woman to win an Oscar, Emmy and Tony for acting and Joi McMillon the first black woman ever to earn a nomination for Film Editing. Yet for the seventh year in a row, not a single woman was nominated for an Academy Award for Best Director, and 80% of 2017 Oscar winners were men*. It is little wonder that #OscarsSoMale joined #OscarsSoWhite this year as a clarion call for diversity in Hollywood.
Image: Paul Smith/Featureflash/Shutterstock
While female actors will always be in demand for films - until they reach 30 that is - women remain poorly represented in roles behind the camera. Carrie Fisher described this disparity in her memoir The Princess Diarist, noting "It's a man's world and show business is a man's meal, with women generously sprinkled though it like overqualified spice." Her anecdote rings true - according to a recent study, women made up just 17% of "behind-the-scenes employment" on the top 100, 250 and 500 films of 2016, a figure which has actually declined since 2015 and is on a par with levels in 1998.
'Oscar' is the Academy's macho gold crusader, who zealously guards access to the five branches of the movie industry. As he stands astride the film reel clutching his sword, his message is clear - to be an actor, director, producer, technician or writer, you first have to get past me. When Hollywood's biggest-grossing films are mostly written by men, pitched to men, green-lit by men, produced, filmed and edited by men, it is little wonder so few women make it onto the Academy short lists - voted for by, you guessed it, 73% men.
Poor old Oscar. Although his design is stylishly Art Deco, as an industry icon he's beginning to look as outdated as the bronzed, oiled up strongman banging the gong for Rank Films.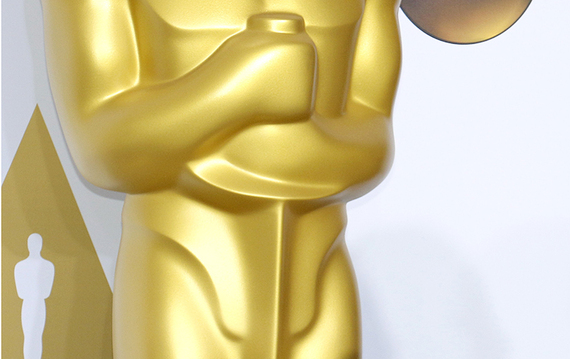 Image detail: Tinseltown/Shutterstock
The original Academy Award was designed by MGM Art Director Cecil Gibbons in 1928 and sculpted by George Stanley. Legend has it that Mexican actor, director and screenwriter Emilio Fernández posed naked as the model for the trophy, given its famous nickname when the Academy librarian, Margaret Herrick, remarked it reminded her of her Uncle Oscar. Just 13.5 inches high and weighing 8.5 pounds, Oscar is a relic of the bad old days; of the infamous casting couch and omnipotent male studio bosses, producers and directors, who bullied their stars and treated them like chattel. The little gold statuette is a powerful symbol of the continuing male dominance in Hollywood.
Although over 3,000 gold statuettes have been handed out since 1929, perhaps it's time for Academy Award winners to clutch something a little more refined than a statue of a naked macho man with a sword for a penis. As a representative of the movie industry's highest and most prestigious accolade, Oscar should be sent back to wardrobe and given a complete Hollywood makeover.
*Oscars 2017 Stats: Of 216 nominees, 47 were women; of 44 winners, just 9 were women. Source: Oscars.org