Spring has finally sprung and farms everywhere are operating at full throttle, in a bid to handle the change in weather and the abundance of new life being introduced to the world! A month or two ago, I had the uniquely incredible opportunity to experience lambing for the first time. It made me realise that despite the long, unforgiving hours of hard work that go into running and maintaining every farm, there is also plenty to celebrate. So much so, I have compiled a list of five reasons why I'm proud to be a farmer and, more to the point, why I love farming!
Whether it's for your own family, or for the greater network of families which comprise our society, nothing brings greater satisfaction than seeing the fruits of one's labour being produced into food. Whatever your farming discipline, there's no doubt that after spending the best part of 9-12 months waiting for, and nurturing, a 'harvest', the best part is getting to sample the goods! I love the bacon and sausages we make from our free range Tamworth Pork, eating the fresh eggs our chickens lay every day and preparing the new 'star' of our Christmas dinner - one of our delicious KellyBronze Turkeys. Which farmer wouldn't love that?
Admittedly, the jury might still be out on this one but, as the immensely enthusiastic farmer of a smallholding, I genuinely enjoy mucking out. I can't say this is the job I most look forward to, however, once I get going, there's something incredibly therapeutic about being in the pens, on my lonesome, having a nostalgic listen to a JLS album, whilst cleaning out the animals. If you have thousands of acres to sow or harvest, the principle is the same, particularly if you have a busy household; you'll never get peace and quiet like it.
Everybody loves a bit of mud. For a farmer, it just goes with the territory. Besides needing a reliable tractor, the most important piece of equipment a farmer needs, is most definitely his Wellies! I remember going to visit Adam Henson at his Cotswolds Farm Park, at the height of the 2014 winter, disastrously armed with a pair of questionably 'fashionable' Wellies. My father and I must have been a laughing stock to Adam. Needless to say, I had learnt my lesson when it took the best part of 24 hours to defrost my 'tootsies' after that day of filming. My current boots - Aigle Parcours - are insulated with 4.5mm of neoprene. They promised to keep my feet warm to the tune of -20 degrees Celsius and while I've purposefully not attempted to farm at those temperatures, I can most safely say my feet have thoroughly enjoyed every winter thus far. I love those boots! They might set you back a pretty penny but my no.1 piece of farming advice: get yourself a great pair of Wellington boots and don't be afraid to test them out.
Even though they say family and business shouldn't mix, farming families have been doing it for years! No matter how big or small the operation, it's a great testament when a successful business can be handed down a generation. Having my own small part of the Kentish countryside brings me immense joy and that joy is already beginning to translate to my young son, Ace. At 2 ½ years old, he literally cannot get enough when he comes down on the farm with me. He really gets stuck in, never wants to leave and, if it weren't for his age, he'd actually be a great asset! The reality is that he's more of a liability at the moment (the poor chickens) but he means well and the farm is an incredible medium through which he can learn. At least the future's potentially bright for our farm and that is incredibly exciting.
Of all my 4 years of experience as a farmer, the thing that makes me happiest is being a part of the wider community. It's the best industry in the world! The help and support I've received from all types of farmers, willing to share their expertise in order to give me my own little foothold in a global industry, will never be forgotten. It makes me proud to be a farmer and proud to be a spokesperson for the industry. I hope to continue that spirit of giving and sharing, as my own ventures grow and become established.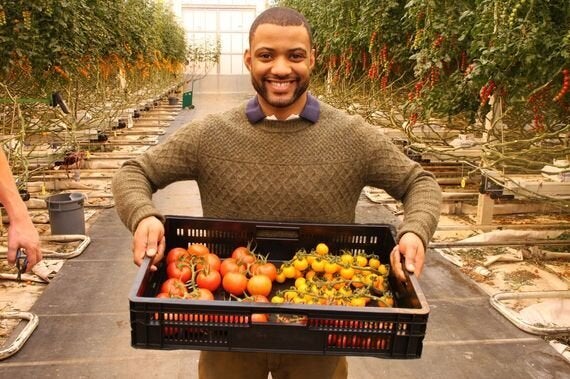 The spring series of 'Down On the Farm' begins Friday 28th April at 5pm on CBeebies (Freeview HD 74; Freesat HD 608; Sky Channel 614/624; Virgin Media 711)
JB sells a signature range of KellyBronze turkey products at www.kellybronzefarmers.com/JB