Setting off on my third fundraising cycling trip for Norwood wasn't a hard choice. One year previously I had embarked into the unknown with a group of strangers to Sri Lanka and had come back a changed person. It was only natural that in my often hectic world full of responsibility I would want to immerse myself in another culture and temporarily remove my 'Dad' and 'Work' heads to do what us parents or career minded individuals sometimes find difficult - I wanted to temporarily step off the hamster wheel and remind myself, what makes Jeff... Jeff?
Thanks to my kind sponsors the first objective had been achieved before I got on the connecting flight to Nairobi because to come on these bike rides you have to raise a minimum amount of pounds. Now all that was left was for me to physically complete the challenge, it couldn't be that hard, 450kms on a mountain bike in five days. Or could it?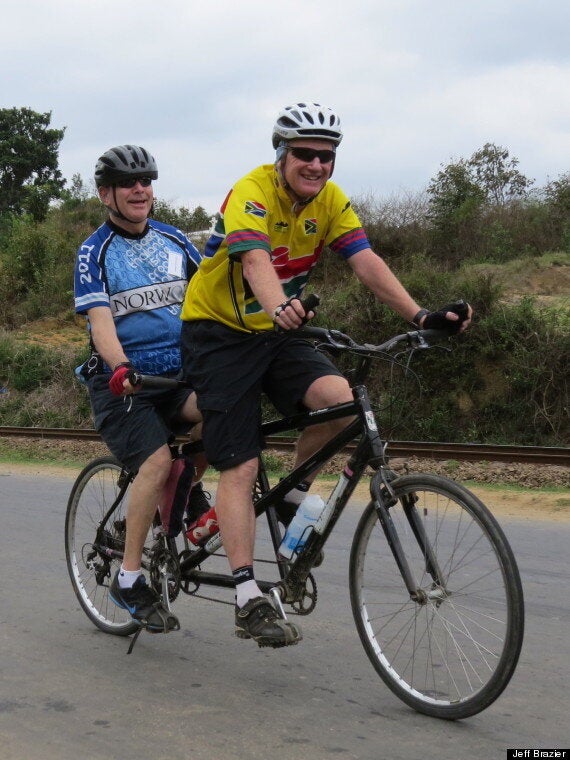 Before I focus on the reality of these bike rides I'm going to explain why they mean so much to me, firstly I wouldn't have anywhere near as much love for these events if it wasn't for the fact that the very individuals that the charity supports actually join us on the back of tandem bikes. To cycle alongside them, to encourage them up the steep hills and ultimately to see the guys realise that they can and they HAVE completed the challenge just heightens my sense of satisfaction for every bead of sweat on the uncertain path to completion.
One of these guys Is Nick Ivil, he is 28, nearly 29, and has Down's Syndrome. Nick has become a favourite amongst the group for his hilarious one-liners and incessant charm with the ladies (we could all learn a thing or two from this guy). He loves uninhibitedly, showering his favourites in compliments and cycles like Sir Chris Hoy. Well, Nick and I bonded well in Sri Lanka and have continued our bromance now we're back. Seeing Nick deliriously happy amongst the team of 60 when off the bike, and in contrast so committed and driven to Olympic proportions whilst on it, just again heightens further any pleasure I might gain from getting over the finishing line personally which in comparison becomes almost insignificant.
Personally, ever since I lived on an island in the South Pacific for three months for Shipwrecked or lived in Sweden, Finland and Iceland when I was a young professional footballer, I have always appreciated an adventure away from home. I want to see the world, experience other cultures and with Norwood I have found the perfect way to do this.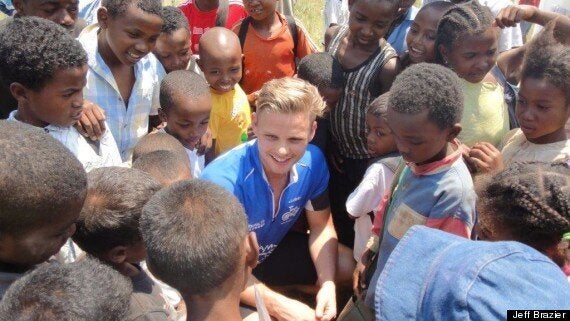 This week I took in around 300 miles of Madagascar at an average of 10 miles an hour, which is slow enough to not just observe the locals but to actually take in the sights and the sounds and the smells giving you the feeling that you have actually really been here. I visited a school and listened to the children sing, we also played some football, had dinner with the locals rather than some tourist restaurant and made a friend 'Antonio' at a water stop on our first sighting of the Indian Ocean. You could definitely say I'd not just seen Madagascar, but because of being on a bike, I'd actually experienced it.
So here's the reality of what these rides are actually about. This one was fairly unique in that half of the group at one point or another got ill. We were warned off the tap water, salad, open fruit, touching any food without having washed our hands but inevitably these rules proved too tricky to adhere to without fault. If you just had a dodgy stomach, as was the case for me, you were considered lucky. I hadn't been sick until the last day. The group grew suspicious of me as people were dropping like flies yet I remained fit to cycle. Maybe it was out of guilt that I decided to join the sick and injured in the strangest of circumstances.
We had stopped for our usual lunch of French stick, cheese, tomato, red onion if you're lucky - actually quite an agreeable dish given the impending fear surrounding the food. On the end of the table was a little container with some local chopped up fruit in it. I enquired as to its taste and the local guy with us told me It was a jack fruit and that it was very good. Ignoring the warnings in nothing but a moment of sheer complacency I tried a piece and actually found it quite enjoyable so like the glutton I'm often found to be, I dived in to a second, third and then a fourth piece. It wasn't until my last mouthful that I felt odd. I had a numbing sensation in my mouth and throat like I'd eaten a stinging nettle and then after 30 seconds or so my eyes and nose began to stream.
I called for water and the doctor because I could feel my body building up to reject what I had just eaten and within a minute I was convulsively retching by the side of the road. I'd had an allergic reaction! You know when you complete those medical forms and you have to declare what you are allergic to? I can now write jack fruit, alongside horses. What if a horse should attack me with a jack fruit in its mouth? Truly frightening.
Despite this I got back on the bike, my stomach filled with acid which jumped around on every bump of the dirt track we were navigating to get to the finishing line, not an experience I would like to relive but let's face it, the chances are slim.
Leaving the health and diet implications literally to the rear, the hotels were understandably basic, we didn't have hot water in most and you only got electricity in the evening. These aren't important factors because we accept en-mass that we're here to complete the leg-pounding challenge in order to justify the generous sponsorship, but one establishment was particularly 'interesting' and would challenge even the strongest spirited of Norwood fundraisers amongst us.
Right in the very centre of a shanty town is effectively where I stood, we were very much on their turf, I ventured out of the confines of the building and tentatively edged towards the football field. I couldn't resist to watch them play but my intrigue was matched with a niggling doubt. Were we welcome? Would the teenagers in their groups fancy the new camera I had brought at the airport and could I run with adequate speed in my flip flops?
In the few days since we arrived I was given no reason to view the Madagascans as anything other than the cheerful, inquisitive and friendly bunch I now know them to be. I was in fact being a little naive in my fear of what intentions underprivileged people in their underprivileged surroundings may have harboured.
The truth is, I watched the game sitting next to some kids who were just completely shocked and intrigued at my presence, I watched some younger kids play marbles then as I walked around the pitch feeling fairly confident at that point I got some great pictures of the care free community of children playing happily until the light faded.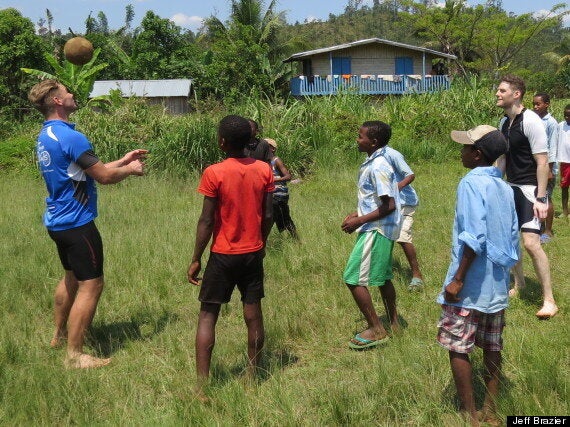 I would show them the images and they would all shriek with amazement at the sight of themselves, simple stuff but boy did it make you smile. I felt silly for ever feeling anything other than completely welcome, the worst hotel became the best and just to add not once was I begged for any cash, the community that had very little actually had everything they really needed, lessons to be learnt there!
The five things I was most grateful for
1 For a football nut such as myself, playing keep-ups for a good hour on a dusty school field with my new pal Ben and 30 excitable kids was as good as it gets. Football truly overcomes all language barriers, we didn't have a clue what each other were saying but we managed perfectly well as we tried our best to beat our highest score each time. I can't wait for my children to experience this one day. We are all one!
2 I cycled with friends I'd made previously and bonded with guys I had met for the first time on this trip, all good people. I find that you have to be a fairly decent soul to attract to such an event for the want to be charitable, adventurous or for the love of being on two wheels, these factors are what bring together a special team of modest, kind and motivated individuals, something I'm proud to be a part of. I particularly feel grateful to have met the Simmons sisters, Jo and Megan. In a group with an average age of 45 (being kind!) it was great to have a younger element, they are special girls from similar backgrounds and I'm glad our paths crossed.
3 I'm grateful that the charity involve the residents on these trips. The residents are those with learning difficulties that the charity support at the Norwood village and they join us on the backs of tandems having the time of their lives; inclusivity in motion. Just to see Nick, Ian, Michael and Lawrence all complete the challenge is every reason I'll ever need to come back and ride for Norwood again. These guys are our motivation to succeed, a constant reminder as to why we keep going no matter how steep the hill or runny the bottom!
4 Crossing the line warrants a celebration of epic proportions. We had an incredible evening that night and I was introduced to an aptly named card game called 'ring of fire'. To the uninitiated, it's a drinking game that requires you to pick a card, the value of which leading to an instruction, for example; an eight meant that you could call-out "grenade" and the last person to hit the floor would do a forfeit of the downing-a-drink variety. A jack would see you sing a song, a queen would mean you dare somebody to do something and so on so forth. The girls had plugged their playlist into the karaoke machine and with frequent interludes to bust a move and the constant roar of laughter, it all resulted in the kind of fun I love so much on a night out.
5 I lost count of the thousands of times I must have said 'salam' (hello) or 'mesotra' (thank you) to the families that we passed living in huts along the roadside and without exception and despite the fact that we probably made for a quite interesting spectacle, they would all wave and respond warmly to the fact that you had bothered to learn a word or two of their language. It makes you wonder... why don't people wave to me when I'm cycling to work through London? Joking aside, it was a nice change to communicate with strangers and receive their warmth back in response, something that seems to be disappearing in modern society. We really should be more open to conversing with people we don't know, it feels good to exchange good wishes and compliments!
On a final note, it's really easy to get involved with these fundraising bike rides and I won't stop doing them now. I take one week of the 52 in the year to do something I find rewarding and ultimately feel like I grow as an individual with each experience. The only way I could gain more satisfaction would be to see other first timers join us and find out for themselves why I speak so highly of the charity, the people and the achievement. Check out what the charity are all about at norwood.org.uk and for more information on these wonderful bike rides contact Ian Tate on 020 8420 6827 or Judith 020 8420 6811
I really hope you'll be a part of our team next year!