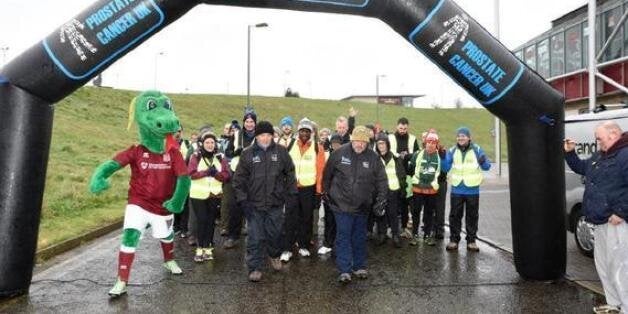 Ok, I admit it, walking ten marathons in ten days is proving a bit harder than I thought!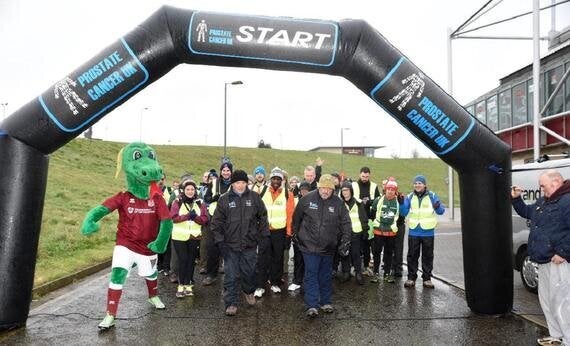 262 miles from Hartlepool to Wembley....32 football clubs to visit from Marske, York, Leeds, Doncaster, Scunthorpe to Sheffield, Derby and on and on.
I've run eight marathons in my time and climbed Kili so I did rather think 'How hard can walking a marathon be?' After four hours, you've finished running a marathon but after four hours walking you're not even half way, going nowhere slowly, and there's a lot of repetitiveness. Plus, your feet really hurt. And that's a constant reminder about why we're doing this..
I'm proud to say I've gone through my first pair of shoes - and my two littlest toes are a bit the worse for wear. It was fantastic to be joined on the walk by charity tramp champ Sir Ian Botham who gravely advised me not to wash my feet, so they'll harden up over the ten days... even if they stink. To be honest, I think that recommendation is the maestro teasing a tenderfoot, but thanks anyway Beefy!
The feet may be giving me gyp, but the legs aren't too bad. It's all about mental attitude and I'm staying focussed and fixing my mind on the job and that's helping me stay on course. The football clubs on route are being amazing - offering tired muscles physio and even ice baths.. But what's keeping me going is the cause and the fantastic turnout of well-wishers along the way, clapping, cheering, running up to put money in the Prostate Cancer UK collection buckets. And the amazing guys I'm meeting affected by prostate cancer - guys like Alan Stirling and Hugh Steven who've joined the squad, spreading the the word about men's risk of the disease that kills a man an hour.
We've had all kinds of people joining in and it has been very inspiring - everyone from Alistair Campbel, Scunny Bunny and Donny Dog to Nick Clegg and star trekker Beefy Botham and his dog Pinot, who were absolutely brilliant company. I walked a day with Dr Iain Frame, director of research at Prostate Cancer UK. His presence was a great reminder of why we're here. Not long ago, he took me on a visit to the labs where scientists funded by Prostate Cancer UK are at the sharp end of cracking this disease for good. Amazing work.
The weather's been OK but it is England, and we have had a Bank Holiday, so who wouldn't expect Storm Katie! I generally use the international break to jet off on holiday to Dubai. Instead, here I am, football club-hopping between Hartlepool and the sacred turf of Wembley. I was so tired one night, I went to sleep in my bath and woke up in freezing cold water. Then to cap it all, we had a fire alarm at 6am so no lie-in. But we're smashing it. Angela Culhane, the Prostate Cancer UK boss who did a day's marathon with us, made the big announcement at Sheffield United that we'd hit £200k. Brilliant news to put a spring in everyone's step.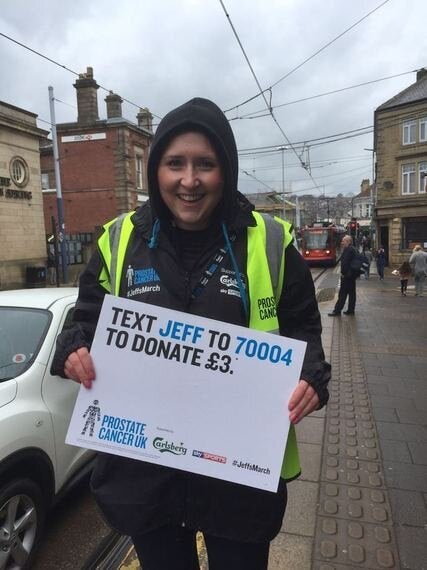 And now we're through the 200 mile mark and really on the road to Wembley. I'm totally chuffed about this generosity which will help fund research to improve diagnosis, but what's inspiring me each day is getting the message out there, alerting guys to the need to find out what their risk is. Are you over 50? Have you a close male relative been diagnosed with the disease? Are you black? These are all things that put a man more at risk and should make you think about talking it through with your doctor, or the specialist nurses on Prostate Cancer UK's hotline.
I deal in statistics - but the prostate cancer ones are totally shocking. One man dies every hour from this disease. That's six during Soccer Saturday every week.
Yes, my feet are killing me. But who cares if it will save even one man's life?