Fairtrade, higher-welfare, free-range, organic, nutritional, seasonal, locally-sourced... There's a lot to worry about these days when you're doing your weekly shop.
If, like me, you obsess over what's in your food, how it was made and where it has come from, you've probably heard about palm oil and that it's bad for the environment. You might even have tried to avoid it but quickly found that product labelling is confusing and alongside all those other things to worry about, like buying free-range, fair-trade or organic, certified sustainable palm oil might have slipped off your list of priorities.
That's why I was so pleased to hear about a new campaign which launches today and reveals that we actually have a choice between 'good' and 'bad' palm oil. Renowned artist Jessica Dance has created knitted foods which star in three short films, designed to raise awareness and encourage us to share with friends and family to let the industry know that they need to take action.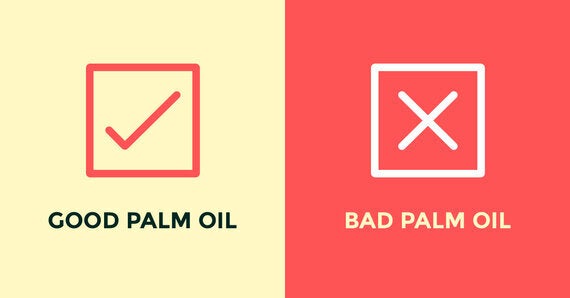 Why is it so important that we say yes to GOOD palm oil?
'Bad' palm oil isn't just a disaster for the environment. It's destroying the homes of animals like the orangutan and the Sumatran tiger and having a devastating impact on people too. It's an environmental, ethical and animal welfare nightmare all rolled into one!
You'll find palm oil in more than 50% of all the food we buy, such as everyday items like margarines, biscuits, breads, cereals, noodles and even shampoo, lipsticks and detergents - so there's every reason to be worried about it.
What can we do about the issue?
Well, there is such a thing as GOOD palm oil. It helps to protect forests and wildlife where it is grown and secures an income for farmers by making more palm oil from less land. However, good palm oil only accounts for 21% of all palm oil consumed globally, so that's why we all need to share the story of #GoodBadPalmOil and make sure that brands and retailers know that we, as consumers, care about this issue and expect them to take action.
You can help by sharing the short videos which form part of this new campaign from the Roundtable on Sustainable Palm Oil (RSPO).
Read more about the campaign, 'What's in your food?' here.
By 2020, RSPO wants ALL palm oil being used in our food to be sustainably sourced but we can only make that happen if you join us in putting pressure on the industry and letting them know we care.