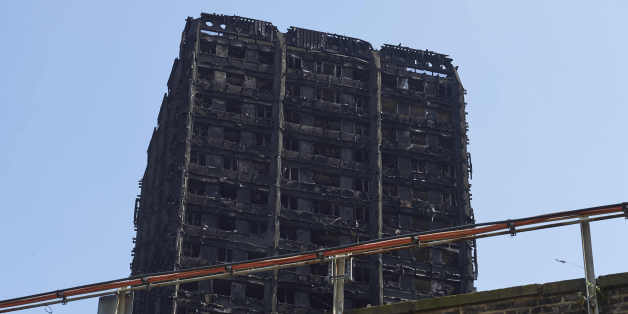 NIKLAS HALLE'N via Getty Images
The writer Stephen King wrote: "The most important things are the hardest to say. They are the things you get ashamed of, because words diminish them - words shrink things that seemed limitless when they were in your head to no more than living size when they're brought out. But it's more than that, isn't it? The most important things lie too close to wherever your secret heart is buried, like landmarks to a treasure your enemies would love to steal away. And you may make revelations that cost you dearly only to have people look at you in a funny way, not understanding what you've said at all, or why you thought it was so important that you almost cried while you were saying it. That's the worst, I think. When the secret stays locked within not for want of a teller but for want of an understanding ear."
For the past weeks I have been helping to organise this years' London Writers' Week as a benefit for the fund to help victims of the Grenfell Tower fire, supported by The Tabernacle, the theatre and arts venue located less than one mile from Grenfell Tower.
Here are some ideas we have so far on how writers or those who would like to use that skillset could help:
1. Via our work - the writer James Baldwin said: "You write in order to change the world, knowing perfectly well that you probably can't, but also knowing that literature is indispensable to the world... The world changes according to the way people see it, and if you alter, even by a millimeter, the way people look at reality, then you can change it. "
2. Via campaigning - playwright Fin Kennedy ran the "'n Battalions' campaign a couple of years ago which led to government changes. Can writers use their skillset to contribute to or help take the lead on writing and running campaigns?
3. Via letter writing - Amnesty International runs Write for Rights, a very successful letter writing campaign which has led to help for those whose basic human rights are being attacked. Can there be a letter writing campaign to put pressure on the groups responsible for this tragedy?
4. Research - writer Lucy Kerbel has researched gender equality successfully via her programme Advance, impacting on arts policies. Could writers go further by using that skillset to help with more general research as well? I am currently gathering data to assist with a request for a parliamentary inquiry for example.
5. Conferences and projects - playwright David Edgar runs the British Theatre Consortium which organises the British Theatre Conference, writer Stella Duffy created Fun Palaces. What conferences or projects need to come out of what is currently going on in London to question, advocate, memorialise and/or provide hope and how can writers contribute to this?
6. The law - at London Writers' Week, we hope lawyer Sophie Khan, who has argued that there needs to be an inquest rather than inquiry into the Grenfell Tower fire, will offer advice to writers about how they can use their skillset to help with the law and those who need defending.
Lyndon Johnson on founding the National Endowment for the Arts said: "Art is a nation's most precious heritage. For it is in our works of art that we reveal to ourselves and to others the inner vision which guides us as a nation. And where there is no vision, the people perish."
John F Kennedy said: "Aeschylus and Plato are remembered today long after the triumphs of Imperial Athens are gone. Dante outlived the ambitions of thirteenth century Florence. Goethe stands serenely above the politics of Germany, and I am certain that after the dust of centuries has passed over cities, we too will be remembered not for victories or defeats in battle or in politics, but for our contribution to the human spirit."
If writing is about reflecting on who we were, who we are, and who we can be, I have campaigned for the last ten years that our writers need to be drawn from all walks of life in order to ensure a range of reflections and viewpoints are heard. In addition, we also need to step up to the challenge of reflecting on who we are when the moment calls for it as well and put our skillset to good use when we can - we felt now, with everything that has gone on in London this year, was such as moment to do so, particularly as our co-director grew up in the area local to the Grenfell Tower and his nephew was born in Grenfell Tower.
We hope this year's London Writers' Week will raise money for the fund to help victims of the Grenfell Tower fire but also that the new sessions focused on how writers can help will generate ideas to be pursued after London Writers' Week.
There is also a donation ticket for those unable to attend the week in person - leading writers including novelist Kate Mosse are donating their advice which those interested in new writing can receive via email in return for their donation: http://londonwritersweek.com/event/london-writers-week-donation-ticket/
More information on London Writers' Week, the writing version of London Fashion Week, is available here: www.londonwritersweek.com