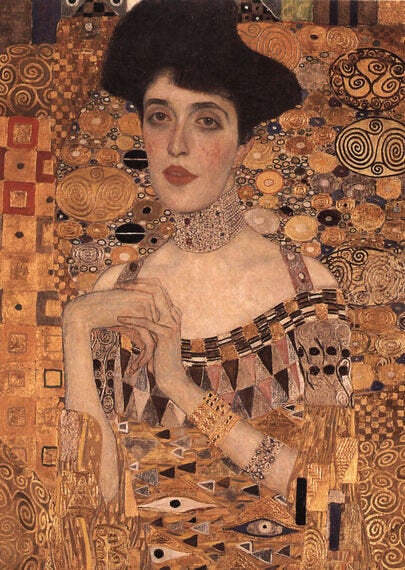 If you are anything like myself and many other art and design lovers, you may already be seduced by Gustav Klimt's sumptuous and romantic aesthetic. In fact, I am a little obsessed and have been ever since I was an impressionable teen.
His paintings conjure up images of striking muses reclining and posing semi clad, intertwining with rich, gilded touches, free-form swirls and writhing serpents. Klimt is rather famous for his use of heavy ornamentation and stylization of his otherwise realistic work. He is often known for using black and gold as well as jewel tones of ruby red, sapphire blue, emerald green and amethyst purple. He also incorporated classical Egyptian, Roman and Greek details as well as geometric shapes, which all creates a real feast for the eyes.
It is no wonder then that Klimt's images offer a plethora of inspiration to not only other artists but also contemporary designers.
In fact, the connection between Klimt and design is very deep indeed. He maybe inspires fashion design most obviously because so much of his work was based around the figure and his focused attention on elaborate decoration. Klimt was definitely no stranger to the concept of a designer muse as his close companion was Emilie Flöge, the bohemian fashion designer who influenced some of his works and for whom he often designed textiles.
In many of his paintings, his muse of choice was draped in swathes of fabric and this is specifically in keeping with the Art Nouveau period's uprising against restrictive clothing for women. Klimt painted in a period in which decadence and opulence was celebrated and his work could be described as an especially elaborate form of fashion illustration.
Klimt's strong influence was spotted earlier this year on the fashion runways of London and New York with looks ranging from decorative detailing and glamorous brocades, to exact prints taken from his work.
L'Wren Scott adopted his swirling patterns, printed on capes and coats for her Autumn/Winter '13 collection in London. Scott used Klimt's embossed textures duplicated on extravagant jacquard and brocades. Glamorous fishtail evening dresses brought his paintings to life while his flora and fauna detailing was interspersed on various garments.
Other designers showcased similar opulent displays in their collections. Clements Ribeiro sent models down their London catwalk in pretty Klimt-like floral prints. The design duo's bohemian and eclectic sense of elegance perfectly reflects Klimt's paintings. Dreamy flower embroidery and jewel embellishments adorned bespoke coats, collars and skirts while rich metallic colours were splashed across almost everything.
Tory Burch's Fall/Winter '13 collection heavily referenced the Art Nouveau era with beautiful brocades, bold colors and unique details. She presented the type of ornamentation that Klimt is most famous for, namely bold prints and lavish applications of gold, which were both used generously in her collection, even down to the accessories.
With all these exquisite Klimt-inspired designs out in the ether, we can now look forward to seeing plenty of covetable looks on the much more affordable high street too. I've already snapped up a number of pieces myself from Paul & Joe and Topshop.
So if you love Gustav Klimt's work as much as I and these fashion designers do, you are surely in for a treat this season!