I am compelled to attempt to please all the tastes and appetites of my family on a daily basis. I do want them to tell all who will listen that I am a fabulous and amazing cook so that my reputation shall travel far and wide and I will be headhunted for a little slot on This Morning. However the probability of this pipe dream of mine is looking decidedly and most definitely improbable. My children hate my cooking unless it is sausage and chips, pizza and chips or spaghetti bloody bolognese. There is so much fake retching most of the time that I fully expect to find a tonsil on top of an untouched fish pie or suchlike one day. They should win a BAFTA, the little but lovely brats. Snacks are the same. I would love to put out carrot and cucumber sticks with some cute little cherry tomatoes in pots for an after school snack or even to have alongside their tea. I can't explain the mumsy pleasure that would give me to see them filling their cheeks with vegetable and fruit goodness. "Grow strong and healthy my beauties", I would say whilst brimming with parent smugness. But alas my reality is far, far away from this idyllic vegetable and fruit Tupperware fest. In truth my children would laugh in my face whilst throwing the tomatoes at each other before kicking me in the shins repeatedly until I gave them some crisps. I hide vegetables where I can but my son just knows. All he has to do is look at it. "What's that ?" he hisses with a face to rival Monica Galetti from MasterChef. I don't know how but his ability is almost uncanny. Perhaps I should be proud of his talent and audition him in Little Big Shots but then all the land will know that my children pretend to vomit at my food.
I just have to keep my head down in these many moments, breathe slowly, open the wine, ignore the tears (my own) and revert to the no pudding rule if they don't eat at least half of their lovingly prepared meals with sneaky veg in the hope that it is enough to facilitate correct bone development and prevent open, running sores.
So I am exhausted and damn well fed up with it this week and have decided to be the maverick that I thought I was before I had children and realised my greatest pleasures would come in Tupperware pots full of fruit and nicely chopped vegetables. To hell with it I thought....let them eat beans on toast all week and I shall feast on this delicious lasagne filled with meat (not sausages), two lots of vegetables (retch loudly and throw myself on the floor), herbs ("Oh my god what's that green thing!") and cheese (only on pizza and in no circumstances in a sandwich you crazy woman .and it feels so, so good. I think I'm going to pretend I've made it them for tea whilst pointing at the spinach layer with one hand and holding a huge ice-cream sundae aloft in the other. How I will laugh...
This pork, mushroom and spinach lasagne is simply deeply delicious.The flavours marry perfectly together and I love it with a buttery jacket potato or wedges. Because of its adult only content it usually sits in the fridge all week and I cut slabs of it to heat through in the microwave for an easy meal. If I can be bothered to multi task further I add some corn on the cobs wrapped in foil, roasted in the oven and drizzled with butter. Yeah baby.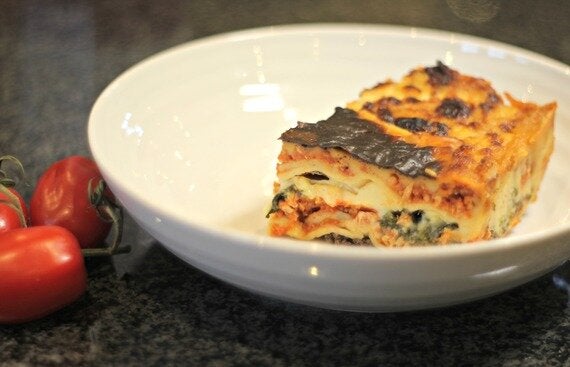 500 grams pork mince
500 ml tomato passata
3 cloves minced garlic
3 tbsps chopped fresh oregano
3 tbsps tomato ketchup
2 tbsps plain flour
200 grams chestnut mushrooms
30 mls olive oil
30 grams butter
1 clove minced garlic
300 grams spinach
knob butter
60 grams butter
60 grams plain flour
600 mls milk
200 grams mature cheddar
6 wholewheat precooked lasagne sheets
Fry the garlic gently in olive oil for a couple of minutes before frying off the pork mince. When the pork starts to give off some moisture then sprinkle over a couple of spoonfuls of plain flour and mix well.
Pour over the passata and add the chopped herbs and ketchup. Simmer for 15 mins and season to taste.Chop the mushrooms finely and fry gently in a saucepan with the garlic, oil and butter until soft.
Melt the butter for the cheese sauce in a large saucepan and add the flour and mix until it comes together.Add half the milk and whisk as it starts to bubble and thicken. At this point fear not as lumps will form with gay abandon, just keep whisking hard and they will disappear. Add the rest of the milk and whisk until its bubbling and not thickening anymore.
Add the cheese and stir well as it melts and simmer gently for 10 mins. Season to taste.
Wilt the spinach in a large saucepan with a knob of butter. If you haven't wilted spinach before then don't panic it will reduce significantly as it cooks. It only takes a couple of mins. Set aside. I use nuggets of frozen spinach which I thaw out and then squeeze the water from. I use 5 nuggets.
Start to layer the lasagne by putting the mushroom mixture on the bottom of a suitable lasagne dish.I use one 24 cm by 15 cm.Cover with lasagne sheets.I break 3 sheets up to fit my dish.I do have some left over which I throw away. Put a layer of ragu followed by cheese sauce and all the spinach. Top with the lasagne sheets and then ragu followed by a final layer of the cheese sauce.
Bake at 180C for about 45 minutes until brown in patches and bubbling on top.
Apply to liberated adult face