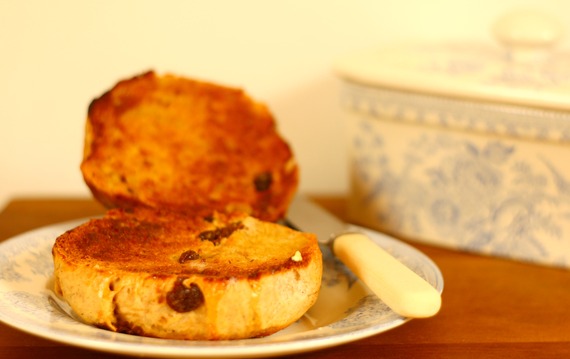 Tea Cakes - Author's own
I have a thing about baking with yeasted dough. I have an even bigger thing about baking with enriched dough. A bread dough enhanced and engorged with butter, milk and sugar feels so incredibly special, so decadent, even magical. I always feel like a child at Christmas when I bake with it, significantly excited and more than a little nervous with all the anticipation. Mostly my own when the children are at school. The giddy author of my own private kitchen dramas......so middle-class and middle-aged.
My gluttony goes a long way to explaining my euphoria when baking a brioche or a cinnamon roll, but of course half the pleasure is also in the sharing. Finding someone who enjoys the breads and buns as I do feels the same as giving a much desired Christmas present. Their squealing delight is your squealing delight.
The absolute bonus of these yeasted doughs is that nearly everyone loves them. A mountain of sugary doughnuts or iced buns will melt the heart and salivate the mouths of all but the strongest of slimming stalwarts. So it is with this knowledge that I try to only bake these breads for gatherings of many, safe in the assumption that eyes and stomachs will widen and all will be eaten within the hour, leaving nothing behind to give me the eye as I do the washing up. I simply cannot resist it's temptation, there is nothing, nothing that calls to me more. Quite an admission I know. As I said middle-class and middle-aged.
The warm fug of these spiced tea cakes wafting through my kitchen is tantamount to a huge enveloping cuddle from a large breasted lady who cuddles for a living and loves her job. They are outstanding served toasted and spread with butter. I am afraid I am a slatherer. Go on, do it.
Spiced Tea Cakes.
Ingredients
400 g strong white bread flour
10 g sea salt
14 g dried instant yeast
2 tsp ground cinnamon
1 tsp mixed spice
50 g caster sugar
50g butter-cubed
1 egg-beaten
80g sultanas
120ml milk-semi skinned
120ml water
Method
1- Tip the flour, salt, sugar and spices to one side of your mixing bowl and the yeast on the other.
2-Gently warm the butter, milk and water together. It is important to not let the mixture get too hot and if it does allow to cool. The butter does not need to be completely melted.
3-Pour 3/4 of the liquid onto the dry ingredients and mix to come together.Keep adding the rest of the liquid a little at a time. It may be that you wont need all of it or you may need a little extra. The dough should be soft and tacky until it is kneaded a little.I use a freestanding mixer with a dough hook to make all my bread as I am a lazy what not but feel free to work by hand on a work surface with a little vegetable on to stop it sticking.
4-When your dough is smooth and elastic put it into a clean oiled bowl and leave to double in size. It may take 1-3 hours to do this. I sometimes leave mine in the fridge over night before allowing to come up to room temperature and moving onto the next stage. It's the doubling in size that's important not the time frame.
5-Tip the sultanas on top of the dough whilst still in the bowl and work them in for a few minutes. Then tip it all out and knead to ensure even distribution.
6-Divide the dough into 8 pieces. I weigh the whole lot and then divide accordingly. Roll each chunk of dough into a ball. I use my hand formed into a bit of a triangle to produce the shape I want.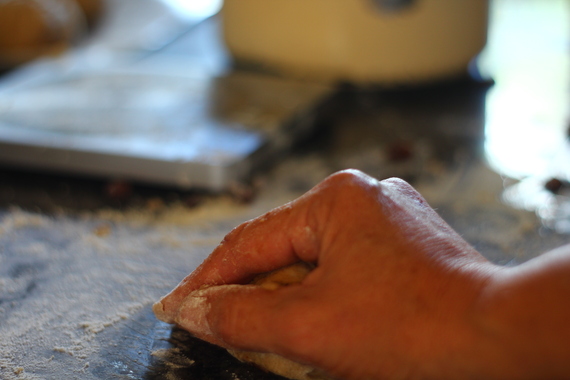 Author's own.
7-Place the tea cakes onto a lined baking tray. I use bakoglide but baking parchment is fine too. I press down to flatten them slightly.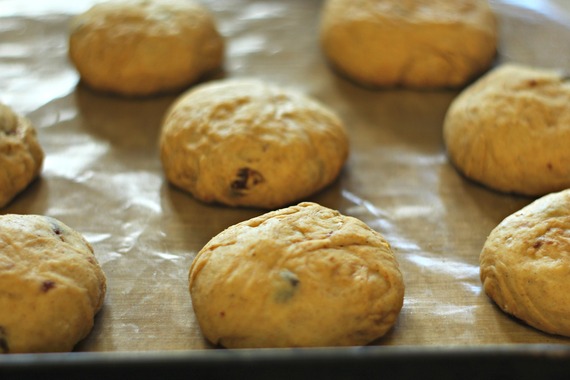 Author's own.
8-Pre-heat the oven to 200 C.
9-Brush the egg wash all over each tea cake and bake in the oven for 10-15 minutes.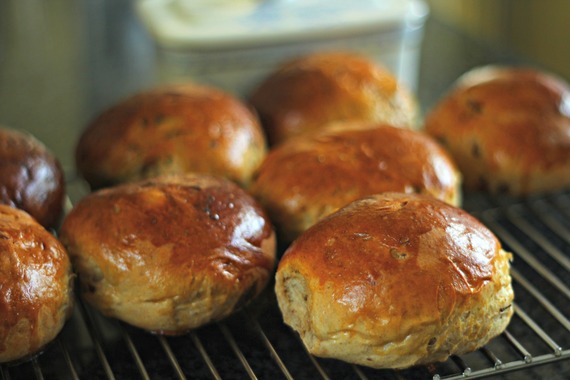 Author's own.
Follow me for further food and fun on/https://www.facebook.com/applytofaceblog/