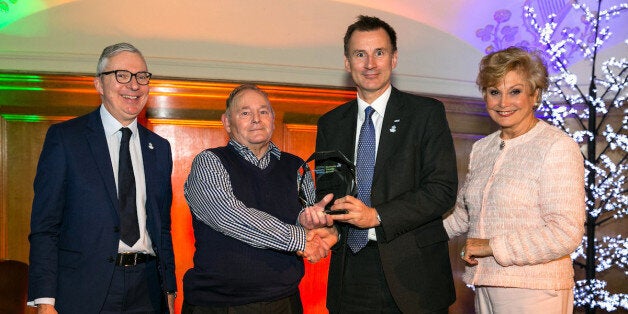 It has arguably been a bleak few weeks when it comes to news about dementia.
First, we heard that dementia has overtaken heart disease as England's biggest killer.
This was followed swiftly by the news that that the widely-anticipated Alzheimer's drug Solanezumab had not shown benefits for people with mild Alzheimer's.
This deeply disappointing news - when the need for an effective drug is clearly so great - was compounded by the fact that funding for social care was conspicuous in its absence during the Chancellor's Autumn Statement.
This all hammers home the Alzheimer's Society assertion that dementia is the biggest health issue facing society. With 850,000 people currently living with dementia in the UK and that figure set to rise to over a million by 2021, these developments represent a stark reminder of the challenges ahead. But we will not be daunted or deterred. Hope remains firmly on our horizon.
We saw hope personified last week at Alzheimer's Society's third annual Dementia Friendly Awards in Westminster, hosted by our friend and ambassador Angela Rippon. The awards recognise organisations, communities and individuals making outstanding contributions towards improving the lives and experiences of people with dementia.
There were awestruck moments of reflection, there was laughter, there was celebration and there were tears, as we heard stories of individuals and organisations working tirelessly to reduce stigma around dementia and make life better for the millions of people affected by it.
We received hundreds of entries, hearing how people are working in solidarity with their neighbours and creating opportunities to include people with dementia, so they can feel part of their community.
All over the country there is brilliance and innovation in dementia happening - from Ernie Malt, who is living with dementia, winning the Inspiring Individual award for setting up a Dementia Café in County Durham to Gatwick Airport winning the Innovation award for amazing awareness-raising work.
This year I was also delighted to see Dementia Friendly journalism recognised for the first time - we celebrated those like the Mirror's Warren Manger and Emma Clayton of the Bradford Telegraph & Argus who report fairly and accurately on dementia, using the right language and reporting in a way that reaches even further into society, breaking down walls and inspiring change.
What makes the winners so outstanding is the way they use imagination, energy and enthusiasm to inspire others such as Dementia Friends Champion of the Year Gina Awad who has worked tirelessly in the Exeter community to make the city dementia-friendly.
These are people who can strike a chord with someone who might be feeling isolated and alone and may have even thought there was no hope left. They have really gone that extra mile; they can see that life doesn't end with a dementia diagnosis.
But there is hope, and society is embracing it.
Since the inception of Dementia Friendly Communities in 2012 when the Prime Minister's Challenge on Dementia was launched, I have seen a phenomenal amount of activity.
Now some 28 million people live in almost 220 Dementia Friendly Communities. That progress is reflected in the quality and quantity of the people and organisations that have been nominated for these awards.
When faced with bad news, we must not lose hope. Despite recent events, the awards ceremony instilled in me even greater hope that we're on track to take on dementia through compassion, society and people.
Alzheimer's Society is more determined than ever to unite in the fight against dementia no matter what the obstacles.
But we need people from all walks of life to join us and that is why I hope people in villages, towns and cities, businesses and organisations across the land will embark on creating their own Dementia Friendly Communities or becoming Dementia Friends.
It is absolutely vital that we all pull together to build on the optimism and solid foundations now in place across the nation which I am confident will make life better for people with dementia and their loved ones.
Popular in the Community