I have a dream. It involves climate negotiators. They are bleary-eyed, exhausted, but happy. Nestled inside some grey building in the heart of Paris, they are weeping with relief at the result of all-night negotiations that leave climate campaigners like me elated, and the carbon-fuel lobbyists staring into the abyss, desolated.
It's a dream that could yet become a reality later this year at the climate talks being held in the French capital, as I argue in my new book, 'The Winning of the Carbon War'. For the last 25 years, I have fought hard against defenders of finite carbon fuels, careless of the impact they have on our world by clinging to coal, oil, and gas. And I have lost battle after battle against the dark side.
But in 2013, something changed and the tide began to turn. Now, in 2015, I'm genuinely hopeful the light side can win the war. Let me explain why.
The world has witnessed an extraordinary series of events that have combined to develop a 'tipping point' in the DECLINE of fossil fuel industries, driven by three emerging mega-trends.
First, the cost of deploying renewable energy systems is falling. In fact, 2013 saw new renewable energy generation overtake conventional fossil fuel and nuclear installations globally. According to UBS, a combination of a solar roof, an electric car, and a domestic battery tank will offer a 7% return on investment every year, with a 6 to 8-year capital payback, without subsidy support, by 2020. It's no wonder tech-giant Apple has announced plans to jump into the mass-production of electric cars, complementing its already impressive adoption of solar energy.
Secondly, the cost of delivering hydrocarbons is rising. Drilling for shale is losing its appeal, with US shale companies going bankrupt, drillers losing money and assets being written off by the multiple billions. Meanwhile, last year saw peak capex spending by the oil and gas industry, and the lowest rate of discovery of new reserves in 20 years. The situation is compounded by a Bank of England investigating whether or not fossil-fuel industries pose a threat to the stability of the capital markets and continuous divestment away from oil and gas being the ultimate trend. September 2014 saw the heirs to the fabled Rockefeller oil fortune, who control around $860m in assets, withdraw their funds from fossil fuel investments as part of a wider divestment movement involving 800 global investors promising to remove $50bn worth of support over the next five years.
Thirdly, the politics of climate abatement are showing signs of aligning. More than 100 countries now have a 2050 target to reach zero net greenhouse gas emissions. SO HAVE businesses such as Virgin and Unilever. In the UK, all three main political parties agree that a strong treaty is required in Paris, with the Prime Minister, Deputy Prime Minister and Opposition Leader co-signing a letter of intention.
Meanwhile, the deal struck between the US and China in Beijing, in November, is huge. China has for the first time committed to cap its carbon output by 2030 while generating at least 20% of its energy needs using clean energy sources, such as solar and wind. And with Barack Obama agreeing to double the pace of the cuts in US emissions, reducing them to between 26% and 28% below 2005 levels by 2025, the future looks bright. Even political parties are aligning in the US, with most Republicans claiming to favour a candidate that possesses strong climate policies.
Imagine yourself as the CEO of a big energy company, with these three mega-trends playing out around you right now. Your cost base is soaring. Your investors are becoming increasingly dissatisfied. Your clean-energy competitors are finding it easier to grow, thanks to plunging costs. Analysts are more and more bullish about the need and potential for a low-carbon clean energy future to be realized, buoyed by a clear shift in direction by policymakers and society's increasing refusal to continue to accept the activities of fossil fuel industries.
Any one of these challenges would be bad enough to confront and face on their own. Facing them all at once is going to be tough and could trigger the long-delayed managed retreat of the industry to the clean energy alternatives. You only have to look at the strategic decision taken by E.ON to see the sort of transition that could soon become the norm among the big energy players.
Of course, my dream might not come true; governments may fail to codify their intentions in international law in Paris this December. I've witnessed enough of these negotiations over the years to acknowledge that that is a real possibility. (And I have worded the title of my book precisely: it does not read "How we won the carbon war".
But it is clear that the Carbon War can now be won, and I am very excited to witness how things play out in the next ten crucial months.
'The Winning of the Carbon War' will be downloadable for free and released in a ten-part series month by month through to the last day of the Paris climate summit in December 2015. Follow the blog and download the book www.jeremyleggett.net/latestbook.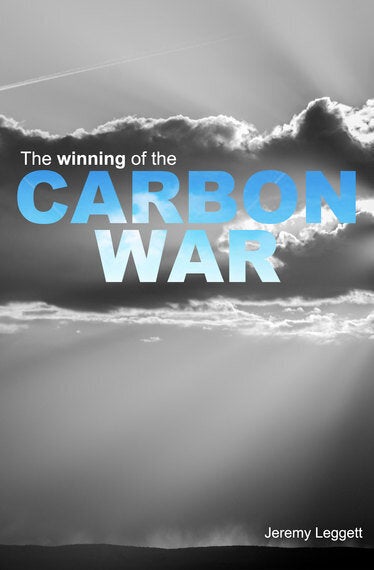 Related