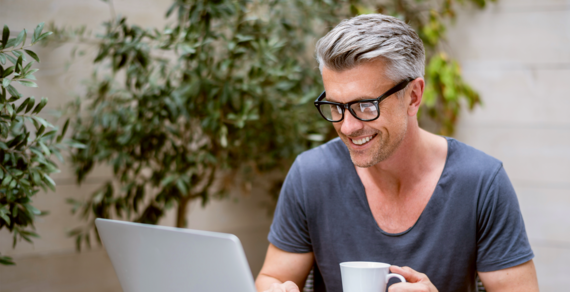 It's 2017. We buy clothes online, order food online, read articles and books online, follow strangers on social media (online). Yet, some people still think there is a certain stigma around those who find love online.
There are more than nine million people in the UK using online dating services. In fact, today online dating is a multi-million-pound industry. So why are we afraid to be proud of dating this way?
In the early stages of the millennium, free and casual dating sites hit the market -- predominantly aimed at the young, "hook-up" generations -- and became a major talking point.
The discussion of online dating flourished and with this came an abundance of services to help you find a partner via the Internet. A handful of serious dating sites and casual dating apps soon became household names and paved the way for the growing dating industry.
With the development of online dating, the stigma grew around why people needed to turn to the Internet to look for a partner - why could this not be done in "real" life.
The answer is: we all live such busy lives nowadays, which makes the expectation of being able to just walk into a bar, meeting someone and connecting on a deeper level completely unrealistic. If you walk into a bar, there is a very low chance that you will find someone compatible. However, if you were to use an online dating platform, such as EliteSingles, that pairs you with like-minded people, there is about an 80% chance you will find someone compatible. With the volume of single people now online, the odds are significantly better.
Technology will only continue to evolve. Today, telecommunication and the Internet of Things have developed so much that we have the possibility of self-driving cars, the cloud and advanced mobile technology. Online dating is just another addition to this list.
Online dating enables single people to take control of their love life, no matter their age, gender, sexual preference or previous relationship experience. It has enabled women to dispel gender norms by talking first and asking out men. It has brought together people who would never have met otherwise.
Those who form successful relationships are starting to recommend sites to their friends and family, encouraging the online dating sector to flourish. However, it's still too commonplace to see people who met through an online dating squirm and use a cover story when asked the question of "how did you two meet?"
But so many of us have friends or family members who are in happy, long-term relationships after meeting their significant other online. As more people share their stories, the taboo begins to fade. Increasingly, people are viewing online dating as a successful route to find love, after hearing it has worked for someone they know.
EliteSingles receives over 500,000 sign ups per month worldwide - that is an astronomical number of single people looking to find a long-term, meaningful relationship through the help of our dating platform alone. As customer demand continues to grow and dating platforms develop to bring a cohesive, successful service, we will see the increased prevalence of online dating.