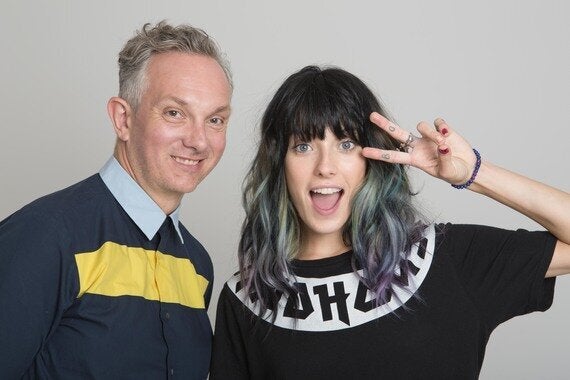 It's becoming more and more apparent that celebrities love a good dip dye, continuing to prove this vibrant trend is far from a fleeting fad. Whether it is glossy neutral tones or flashes of eccentricity, I think we can agree we have certainly seen a colour for every tip, mood and occasion. So with so many championing paint clad tips, why can't I seem to shake the overwhelming uncertainty when considering taking the plunge into the realm of mismatch hair? I think it all boils down to the daunting task of choosing the right shade to complement the complexion, style, hair tone and even at times an age appropriate look (we can't all rock the Viv Westwood.)
So before you get bogged down trawling the internet for a solution, I have done a little research to get you started. Here are a few tips to take the stress out of diving in and to ensure your new locks stay in luscious condition.
It's difficult to know what you want or what your options are until you've done a little research. I suggest keeping a virtual mood board of images that appeal to you, palettes that represent your personality and models/celebrities with a similar style, skin tone and hair colour. It is also important to have a clear idea of what look you aim to achieve before heading to the salon, as this isn't the best situation to be making rash decisions. If you are struggling to find images, Pinterest and We Heart It are great tools.
It Doesn't Have to be Forever
So you've conducted what feels like a lifetime's worth of research, seen every celeb barnet going and you're still not sure you want to take the plunge. Go temporary! There are numerous temporary products on the market that are marvellous for creating a dip dye effect, from chalks to short-term in salon colours, so calm your nerves by having a play around. I personally do not like the creams or chalks, as they tend to be messy, difficult to apply and the colour tends to lack vibrancy. If you are looking to go down the semi-permanent root, I would recommend iNSTAMATIC by Color Touch*, as the palettes are as vibrant as any permanent treatment and they wash out in 10 washes.
*From £15 in all Wella salons and available nationwide
Be honest with yourself and ask "Is my hair in the best condition?"
I would suggest having a good trim prior to colouring, as you do not want to put your tresses under any unnecessary stress. I would even go as far as to say this is a must if you have darker hair, as you may need your ends pre-lightened in order to get the desired result. It is also important to factor in your lifestyle when choosing a style and colours. Is turning up to your corporate job with a rainbow mane going to ensure you are presented with a P45? If the answer is yes, then opt for natural shades over bright colours.
Prevention is the Best Cure
It's essential to remember you have dyed your hair, so treat it as so. You will be stripping your hair of moisture, so depending on the avenue you decide to take, colour of your natural hair and hair health before dying; will determine the condition afterwards.
Obviously the ends of your hair are the oldest, most fragile sections, so it's important after colouring to invest in a good hair mask to nourish the tips. I would suggest products with natural oils, such as argan, coconut or almond, as they inject moisture, protect split ends and eliminate frizz. My overall hero product, which is suitable for all hair types, is System Professional Keratin Restore Mask*. It is simple to use and contains Jojoba, Almond and Argan Oils which is perfect for nourishing the tips.
*RRP £20.50 and available in System Professional salons nationwide
If you're still unsure where to start, here is a selection of those who effortlessly rock dip dye.