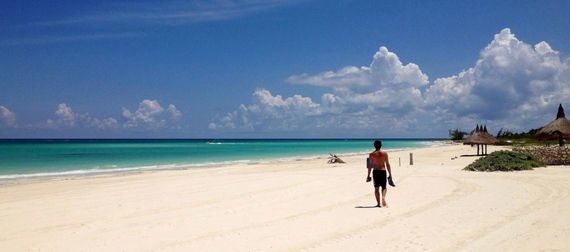 As temperatures begin to plummet in Blighty, it can only mean it's time to pack your bags and head to warmer climates, where spectacular beaches, exotic food and sunshine are a plenty.
So, where is warm enough to consider baring skin this winter? Australia? Fiji? They're all well and good, but if you don't fancy what can only be described as an eternity on a plane, see my roundup of perfect destinations that will get you there in half the time.
MARRAKESH - 3.5 Hours
Why Marrakesh?
If you like your vacations in form of a sensory overload then Marrakesh is your destination. Filled with an endless maze of markets, vibrant colours, exotic music and mystifying scents, Marrakesh in Morocco is for those who prefer city breaks. I would advise taking a second suitcase, as it is likely you would have spent all your money in the markets.

Where to spend NYE?
If the hustle and bustle of the city is wearing thin, then luxury private glamping in the desert of Agafay is a NYE option. Just a short hike from Marrakesh, you can relax and enjoy the mystery of the desert, whilst facing the snow-capped Atlas Mountains in the distance.
MIAMI - 9 Hours
Why Miami?
The temperature might be rapidly dropping in the UK, but Miami promises pleasant weather throughout the year. However, if you need more than sun and sand to convince you, Miami is also home to Art Basel, South Beach Wine and Food Festival and the Miami International Film Festival. That should be more than enough to scratch your culture itch.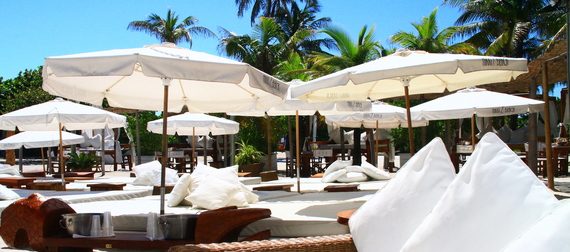 Where to spend NYE?
If you're attracted the finer things in life then Nikki Beach is the place for you. This worldwide institution has all bases covered this year, hosting a lavish glitz and glam inspired soiree (think Gatsby). So have your diamonds to the ready or don your sharpest suit, as this evening promises luxury in abundance, including exquisite haute cuisine, live entertainment and private beachfront fireworks to see you into the New Year.
With Nikki Beach taking all the work out of planning your party, all you have to do is enjoy the evening and welcome 2014 in style.
CAPE TOWN - 11 Hours
Why Cape Town?
Well it's pretty simple! Award winning wines, miles of impressive beaches and breathtaking nature. I would recommend a cable car up Table Mountain, where you will see an array of wildlife grazing on its vegetation. Also, in light of the recent passing of Nelson Mandela, a trip to Robben Island to pay your respects is a must.

Where to spend NYE?
Why not spend this NYE on a mountain? Pack a picnic and hop on the cable car at Table Mountain to spend your last moments on 2013 amongst nature. This natural wonder offers an outstanding panoramic view of Cape Town, including front row seats to the midnight firework display at V&A Waterfront. Perfect for a romantic evening or a New Year's with the little ones.
RIO DE JANEIRO - 11.5 Hours
Why Rio?
Many songs have been written about Rio, from Copacabana to The Girl from Ipanema and I'm sure once you have spent just a little time here you will leave with a song in your heart too.
Rio has a perfect blend of culture, beach and party, plus with the city preparing for the forthcoming Olympics and World Cup it's sure to be amazing. Besides the obvious tourist haunts such as, Christ the Redeemer and Ipanema, why not soak up the beat of samba on Copacabana Beach or visit Tijuca Forest National Park, where you will find waterfalls and limestone caves. However, if you really want to get a glimpse of Brazilian life you must take a guided tour to the Favelas nestled on Rio's hilltops.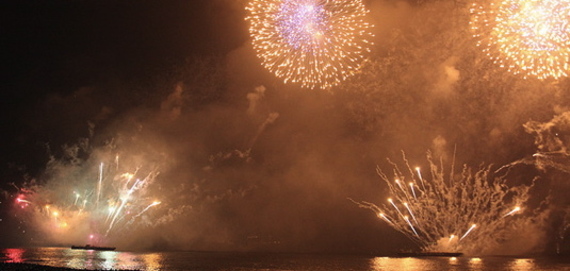 Where to spend NYE?
Famed for its street and beach parties, NYE in Rio is no different than carnival season. So if you like your party outdoors, join the millions who flock to Copacabana Beach to celebrate among a variety of live music, beautiful women and champagne. For those who are slightly superstitious, it is said if you wear white on NYE it will bring you luck in the New Year.
THAILAND - 12 Hours
Why Thailand?
A number of films from the Beach (Koh Phi Phi) to The Hangover Part II (Bangkok) have depicted the beauty and edginess of Thailand and they don't lie, it really is a fantastical place. One thing is for certain when visiting Thailand, you won't be short of a beach or two, with Koh Lipe, Koh Lanta and Koh Samui to name a few. Thailand is also famed for its diving spots; so if you fancy spreading your water wings, check out the sandy coves at Koh Tao.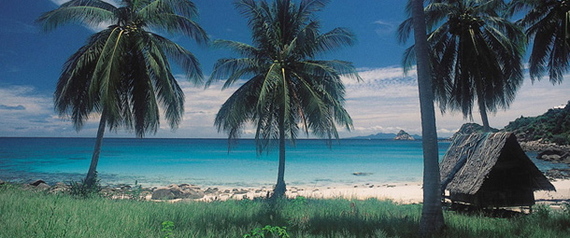 Where to spend NYE?
Koh Phangan is the place to be this year at the world's largest beach party, the Full Moon Party. It is said that a full moon effects human behaviour and any doubts will soon be quashed after attending this NYE celebration. The Full Moon Party delivers drinking to epic proportions, beach sports, bikini competition and killer tunes. This is a NYE for those with a wild soul.
Winter Sun Wardrobe and Beauty Essentials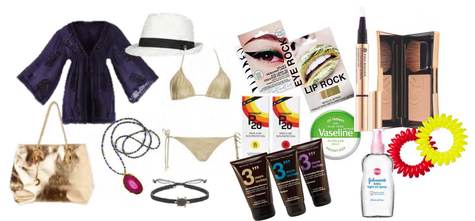 Wardrobe: Melissa Odabash Kaftan £94.50, Melissa Odabash Panama Hat £101, Ondademar Diana Bikini in Gold £142, Ondademar Metallic Beach Bag £95, Amanda Marcucci Hematite & Agate Necklace £119, Tai Turtle Bracelet £49.95. All at B London Boutique
Beauty: Eye Rock Designer Liner £5.99 & Lip Rock Lip Foils £6.99, Yves Rocher Radiant Youth Corrector Pen £22 & Youthful Glow Powder £28, Invisibobble £3.75 (for pack of three), Johnson's Baby Light Oil Spray 200ml £3.11, Vaseline Aloe Vera Lip Therapy £1.99, Michael Van Carke 3''' More Inches Travel Pack (including: prewash treatment, shampoo and conditioner) £24.50, P20 Once a Day Protector Suncream Spray 100ml £13.99