Everybody knows that a trip to the hospital can be expensive. Car parking fees, money for food and drink, and the cost of having time off work all add up. And for cancer patients and their families, this can go on for months, or even years at a time.
For parents of children who going through cancer treatment the impact of these extra costs, combined with the other hidden costs of childhood cancer, can be devastating at what is already a traumatic time.
My beautiful son Luke was diagnosed with cancer when he was two-years-old. During his treatment we found we needed extra nappies, to do extra washing, that he needed extra sun cream as his skin was prone to burn easily during chemo.
We found that Luke needed new clothes as his old ones got stained with vomit and blood - and there's no way of washing them promptly in hospital - which means even Vanish can't work it's magic!
And then there's the endless food that you buy on your child's whim in the hope that this is the food that will stay down, and give them some much needed energy. But it usually sits hardly touched because chemotherapy makes everything taste vile.
It became a massive struggle making ends meet - and we even had to sell my partner's van for some extra money.
We found we were eligible to claim certain benefits, which we did begrudgingly in the end. Tamsin, our social worker from children and young people's cancer support charity CLIC Sargent persuaded us that it was the right thing to do. Then she spent ages with us collecting all the information that we needed to fill the absolutely enormous forms in.
Shoppers and staff at Lidl stores have already raised £900,000 for the charity. It's a huge amount, and could fund the costs of CLIC Sargent's entire Homes from Home network for over a year. We stayed at two of these homes when Luke was ill. They provide free accommodation for families close to hospitals so that they can stay together during treatment, without the worry of expensive hotel bills.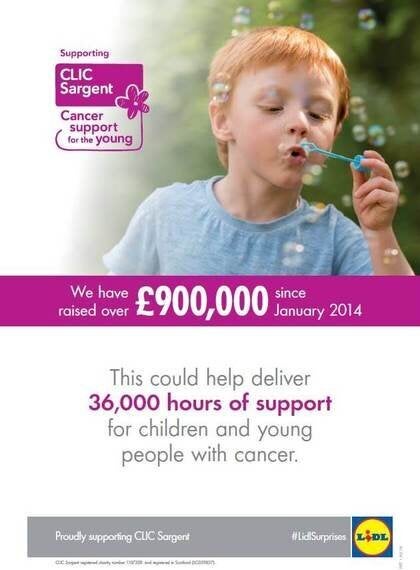 This September Lidl is the lead sponsor of CLIC Sargent's Childhood Cancer Awareness Month. During the month the charity will be raising awareness of the impact of the extra costs of childhood cancer, and campaigning for better financial support for families. They have just launched a survey for parents of children who have or have had cancer to find out more about their experiences.
But the financial implications don't end when treatment ends. For us, I don't think there are any benefits we could claim now, and I don't think we would; we feel that we have taken our fair share. We are happy to pay for petrol, car parking fees, treats to keep us going on our regular trips to three different hospital for Luke's check-ups.
Now that we are trying to look ahead and not just live day by day, there are things that I want Luke to be able to experience in case his future is limited. It is something we just don't talk about, it makes it all too real, but it's always in the back of our minds.
My financial situation limits what I can give to Luke. On one hand I want to hug both my boys, wrap them up in cotton wool and give them everything every day! On the other hand I want him to be normal and don't want to spoil him, we can continue to try to ignore the BIG elephant in the room...which makes me feel guilty for not doing enough, he has survived cancer, he deserves a treat surely!
The hardest part is there are no guidelines and you are driven by guilt. I feel the need to reward Luke for the amount of effort he put into staying alive. I also feel guilty for missing so much of his younger brother Euan's first months. I was there physically but my thoughts were with Luke. Euan needs the treats too, he has suffered in a different way. The costs aren't just financial.
Lidl UK has pledged to raise £1 million for children and young people's cancer support charity CLIC Sargent and is the lead sponsor of Childhood Cancer Awareness Month, which takes place in September 2016 www.clicsargent.org.uk
Related