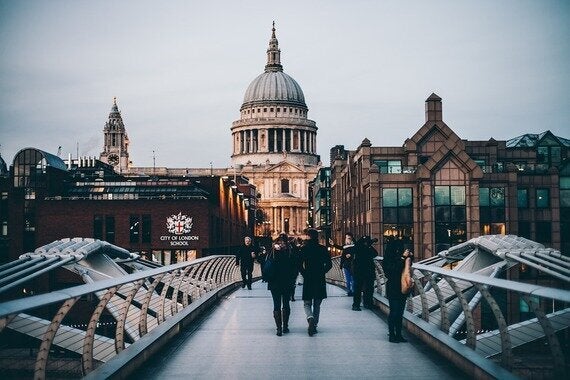 I was in London recently for Harry Potter And The Cursed Child; spoiler alert - it was fabulous! I came back to Leeds like a wizard who had just caught his first Golden Snitch. Giddier than a Weasley in Gambol and Japes Wizarding Joke Shop. As excitable as Hagrid when the loveable Fang runs through the forest and into his giant arms. Like a...well, you get the picture.
But that return also had an element of dread, the sort of dread only You Know Who would bring. You see, I love London, and every time I go I can't help but think I would love to live in this city.
My weekend down in the capital was magical, as if you hadn't already gathered. I spent time catching up with friends, strolling Broadway market, I even got to see my brother's studio Blond in Netil House. But it was also fueled with chatter of nightmare tube rides, cramped flats, and tight purse strings. The sort of stuff you read about life in London in the papers every day.
It is an ambition of mine to move up to the Big Smoke, but I kind of feel like that idea may already be up in smoke. Because at the end of the day, do I really want to live in a flat that's the size of Harry's cupboard for over double the cost?
You only need to look at the stats. They show that you can get a home in Bristol for 50% cheaper, in Manchester it works out at 70% of the price. In terms of my home city, buying a two bed house would set me back an average of £129,991, compare that to the capital and that's £779,157 - a 500% rise!
Right now, it's rent that really concerns me. According to research by Parklane Properties, you'd likely be paying around £600 per month in Leeds compared to £1,400 in London; add in council tax and utility bills and it's around an £835 saving. A saving that allows me to just drive down to London and watch The Cursed Child with Emma Watson sat only a few rows away!
It's disposable income I think I'd much rather have. I can head for a drink that won't cost £5-per-pint. I have the money to enjoy the gym - also at a snip of the cost - and my Uber ride home won't cost me the actual price of a Skoda Octavia.
What is most appealing about London however is the work. Most people's dream job lies in the capital, and I'm no different. It's the centre of trading in Britain and just about everything else, plus you'll expect to earn about 25% more. Although, even businesses are having the same struggles I am.
The cost of office space is astronomical and prices and demand are only increasing. That's seen a number of businesses move out of the capital. In retail, Tesco, Waitrose, and Aldi are outside London, while Asda are based just a 15-minute walk from my flat. And it's happening in other sectors too. Clive Davis, a director of financial recruiter Robert Half told The Telegraph, "Over the last three years we've seen a number companies we work for move significant hubs out of London - to places like Bristol, Newcastle, the Midlands and Manchester, and we're seeing strong job growth outside London."
Then there's the Brexit factor. It's been well reported that firms are on the lookout for a new financial hub; Morgan Stanley was rumoured to be shifting 2,000 jobs to Dublin, while Vodafone have cast doubts on whether they'll keep their headquarters in Paddington.
The beauty of London is there's something happening every night. From shows, to gigs, to the hundreds of bars you can never tire of. But if jobs are moving, my rent is increasing, and my wage only receiving an extra 25% kick, how could I even afford those anyway? After all, not even Harry can magic Sickles from anywhere - it's one of the exceptions to Gamp's Law of Elemental Transfiguration!