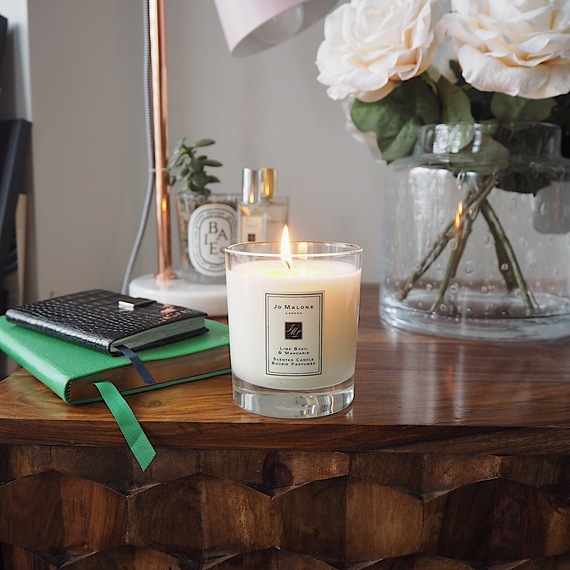 (photo credit- author's own)
Almost four years ago I was lying on a beach on the beautiful Croatian island of Hvar with my friend Lucy and had a sudden career revelation that ever since has changed my entire life for the better.
I was lying there in the scorching sunshine watching the fierce waves crashing onto the shoreline while I reflected on work (my mundane job) and happiness (how much I wanted to leave my tedious 9-5 office setup) and basically going on and on (yawn for Lucy) about what I really wanted to do with my life (ultimately to be my own boss), and right there and then in that wonderful moment and with a whole lot of support from said friend I decided that I was going to bite the bullet and start my own business, because, well why the hell not? You only live once, right? I vowed to hand my notice in as soon as we touched down in London and that's exactly what I did.
I can wholeheartedly say I have never looked back with regret, I genuinely feel lucky that every day I get to work for myself and have the freedom to do things my way. I earn more than I did when I was chained to my desk and have the joy of working with people that inspire me and who I love spending my time with. Above all, it has to be said that having a business centred around something I'm genuinely so ridiculously passionate about is nothing short of awesome. Ok I'll stop now I've got that out of my system!
These days, 'freelance life', as I call it, has become the norm, which even four years ago, when I started out, really wasn't! I'd get the ohs and ahs and worries from friends and family members that what I was about to embark on was a frivolous step into the unknown. But now, well, everyone's doing it! They're either doing it or talking about jacking in their job in to do it and reap the benefits of the freedom that freelance life offers. So with this in mind, I feel a lowdown on how to keep your freelance life uplifting, luxe and full of much needed zen is pretty important for lots of people out there who, like me live the 'freelance life'.
Love Your Office...
I believe that your at-home office, no matter how big or small in size needs to be three things; practical, inspiring and most importantly beautiful. Mine is pretty tiny and is hardly an office per se, rather an 'office area'. I have just a small space cornered off for my desk and office bits and pieces, but regardless of its size, it's my absolute favourite place in our home because it's mine and it's perfect and I spend 90% of my time there so it has no choice but to be lovely, and yours can be too! Check out Pinterest/interior obsessed bloggers on Instagram for ideas on how you want your office space to look and feel like and then search online for game-changing items that your freelance life needs.
Devine Desk...
I bought my gorgeous desk from Swoon Editions, it's a stunning rosewood piece called 'Zabel'. Despite it looking so gorgeous the delivery took forever! (probably around the 6/8 week mark) and in addition to the long waiting time for it to arrive I had endless problems with the delivery itself and the customer services team were absolutely useless, but nonetheless I do love my desk and Swoon do have a great selection of office/home that are worth taking a look at- just prepare yourself to wait for it!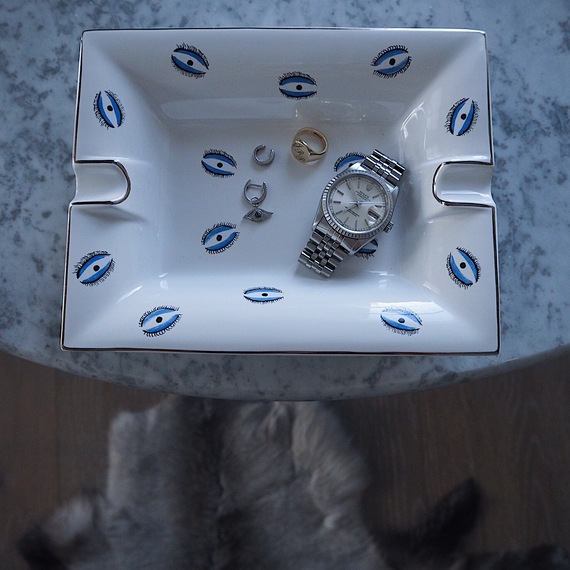 (photo credit- author's own)
Desk accessories such as my amazing Casacarta evil eye tray literally make my workspace come alive! I'm always taking my jewellery on and off throughout the day and need somewhere to store spare change and bits and bobs and this is the perfect desk tidy solution. Plus, it's so cool and unusual with the hand painted evil eye design it was impossible to resit! I'm so obsessed with the evil eye that as soon as I saw this tray on their Instagram page I had to have it! You can also spot my beloved Diamond evil eye charm hanging on my sparkly hoops both by Roxanne First (Instagram- @roxanne.frist)- her jewels are to die for, my collection is ever-growing and my ears, neck and fingers are covered in her stuff, I just can't get enough of it. My engagement ring is a bespoke design created by Roxy herself- her and my fiancé James worked together to design it and it's beyond beautiful, by far the most treasured item in my life.
Sassy Stationary...
For Christmas I was treated to a gorgeous Smythson notebook by my amazing client and close friend, Bridget O'Keeffe Founder of Blush + Blow blow dry bar in Fulham, and I use it everyday to plan my week and take to meetings to make notes- the way a notebook has the ability to motivate you is actually quite astonishing and every-time I go to use it makes me smile! Now I'm on the Smythson stationary wagon I'm totally hooked. I've got a pocket sized diary that I literally carry with me everywhere, it's the perfect size and looks pretty too- win, win! I think it's important to turn up to meetings with beautiful stationary. When you're selling your services, or yourself in many ways, it's essential your stationary is on-point, and I don't think you can really beat good old Smythson for wowzer stationary.
The Smell of Zen..
Obviously candles are an absolute must, there's not many items in life that give an instant feeling of zen, so in my book, the more the merrier and the more beautiful smelling the better!
My favourite candles of all time are without a doubt Jo Malone, I'm always burning them whilst working and at-home generally. It's the first thing I do in the morning when I start my working day when I'm drinking my coffee in the morning and checking my emails, and the first thing I do in the evenings too - it's become quite the ritual. When I'm working in the evenings, my candles make the process so much more bearable! My most loved scent has to be the Lime, Basil and Mandarin. So fresh and uplifting.