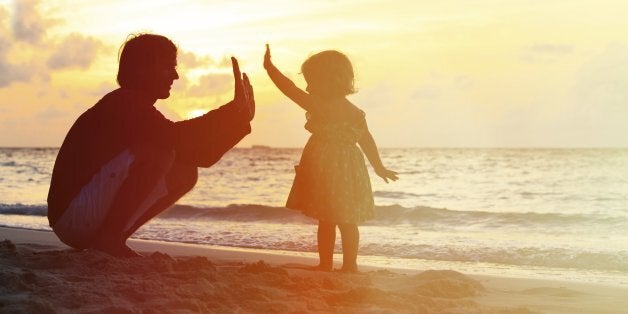 The subject of real-adult-people parents is a concept that sounds a little strange, but bear with me while I explain what I mean. It's something that I've noticed becoming an increasing conversation amongst my friends and colleagues: in our late twenties, our relationships with our parents are shifting. We view them as friends, as peers, as humans. Our brains are shifting into becoming actual real adults ourselves, and our thought patterns are changing towards those that brought us up, taught us to drive and loaned us all that money.
Realising your parent is an adult is that moment where they confide in you, or you visit them in hospital. It's realising that they are not invincible, but they need you as much as you completely, unequivocally need them. It's providing support as well as receiving it, paying for dinners because, actually, you can afford it and they deserve it. It's feeling really f*cking bad about that horrible teenage boyfriend and the time you drank way too much cider down the park and threw up all over the carpet. Sorry mum.
Realising our parents are actually real, honest, sensitive human beings and not just primary caregivers comes to everyone in different ways. For some, it's gradual; an easy shift into a relationship that becomes more balanced. For others, it'll actually never happen - mum and dad will always be mum and dad.
For others, the realization is sharp, premature and sometimes even cruel. I have a dear friend who, aged seventeen, became a carer for her mother suffering from early onset Alzheimer's. Her mum died in her late forties having suffered from the ravages of the disease for ten years, leaving her completely alone.
Watching my parents separate when I was 19 was potentially my first outpost into the world of adult-parents. At the time, all I wanted to focus on was my own hurt and sadness. In the years that followed, those two amazing people sat through Christmas dinners, graduations and birthdays, apart in marriage but together in their love for us. Looking at it now through less selfish eyes, it must have been absolutely awkward as hell for them and hurtful beyond words to watch a life they used to have, but they did it. They are both amazing and I'm incredibly lucky.
The moments of realization with my mum have materialized over the years. When I was a little girl I used to look through my parents wedding photos and ask her with indignation why she didn't wear a wedding dress. "Because it was snowing", she would tell me. A few years ago she admitted it was because she had no family (she lost her parents in her early twenties and her only sister lives in Italy), and thought going shopping for a big fancy dress wasn't a task to be carried out when you had no one to share it with. Typing that out as a 28 year old makes my heart physically ache.
With my dad, it was the moment I got a phone call from my uncle to tell me that he'd come off his bike on the Isle of Skye without a helmet and had been airlifted to Neurology in Glasgow with suspected severe head injuries. My uncle was crying and we all thought the worst. Rushing to hospital and supporting his frail frame as I took him back to his house when he was discharged with a fractured skull and hip was a real parent-adult moment for me. It took me a little while to get my head around the fact that the man who had run around with three of us all hanging off him and regularly cycled 100 miles in one go was anything less than okay.
Personally I'm incredibly glad that I now have a real-adult-people relationship with my parents. I have two unwavering support systems, and two great pals, that (I hope) love spending time with me as much as I love spending time with them. If you're lucky enough to have parents, pick up the phone and call them. Real-adult-people parents love that too.