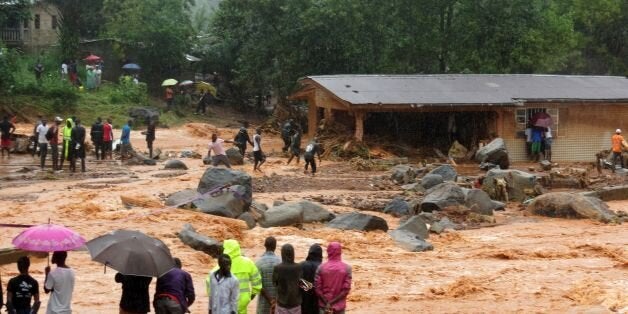 In the early morning of Monday 14th August, roads in the Sierra Leone capital of Freetown turned into rivers and houses were washed away after a heavy night of rain caused chaos. Hundreds of people were buried alive in a mudslide that swept through some of the poorest communities in Freetown. As the death toll continues to rise, the international community must respond.
The mudslides in Freetown have been described as the worst natural disaster to strike Sierra Leone, a country that has already suffered from a decade of civil war and an Ebola outbreak that took the lives of over 8,000 people.
The death toll currently stands at 312 but it is likely that not even a quarter of the bodies have been found. Yesterday the Red Cross worked with the Sierra Leone Office of National Security to collect dead bodies and take the wounded to hospital.
Those who were lucky to have survived this tragedy are left with simply nothing. Thousands are homeless. The Sierra Leone government have setup a response centre for those who have lost their homes but many people aren't thinking about where to go, they are just looking for their loved ones. Hundreds of bodies are in the morgue, waiting to be identified. The sheer enormity of the task is becoming apparent.
We must stand with Sierra Leone as they are faced with their next challenge. The Sierra Leone government resources are stretched thinly. Many people haven't had anything to eat or drink since yesterday. Urgent action is needed.
The international community and NGOs need to lead the response. Charity Street Child are setting up distribution points at the emergency refugee camps providing emergency food and drink.
But it is not just an immediate response that is required. The road to recovery is going to be a long one. These communities have been left with nothing. Beyond emergency aid relief, we need to help rebuild their communities and give them hope for the future.
Street Child's emergency appeal will provide emergency food and clothing to those impacted by flooding in Sierra Leone. To donate to Street Child's emergency appeal and support those who have been impacted by the mudslides, visit www.street-child.co.uk