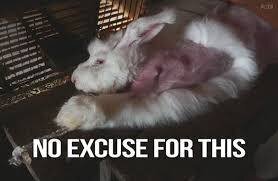 Last year PETA ran a campaign that highlighted the shocking way in which angora is harvested from rabbits. Angora 'wool' cannot be harvested humanely in the vast quantities needed for designer or high street fashion. Both plucking and shaving of live rabbits is stressful, scary and painful and ultimately unnecessary. Add to this, the awful living conditions these poor creatures have to endure and it culminates in a hideous existence just for the sake of fashion.
This sparked a huge public outcry and led to many large retailers stopping their use of angora in their products. A round of applause is needed for ASOS, Calvin Klein, Gap, New Look, Ted Baker and more for all taking a stand and halting their use of angora products.
The MOST recent wins for welfare have come from French Connection who have now decided they DO give a FCUK about rabbits and will stop using angora. The Arcadia Group who own Topshop have also announced just this week that they will also be stopping the use of angora once their current stock and commitments have been fulfilled. I'm still waiting for confirmation as to exactly when this will be but its a step forward.
However, this horrific torture still continues and many mainstream high street and designer fashion houses continue to source angora from farms that pluck and shear live rabbits whilst they are tied down, screaming and bleeding.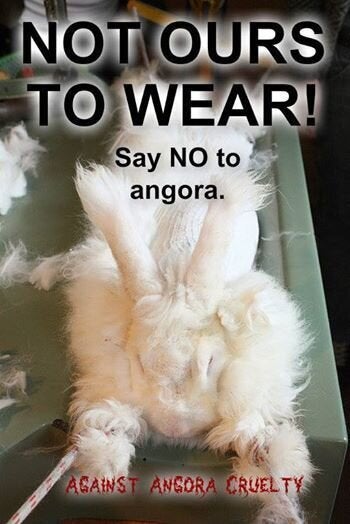 I uploaded an article on my personal blog with regards to the sad life these rabbits endure and how to make a difference. it highlights some of the worst offenders who refuse to enter into any communication with myself or many of the other people that are complaining to them daily. Many companies have tried to be clever and disable the word 'angora' in their search bar on their website. Meaning that it would appear that they do not stock angora clothes but if you dig deeper and look at individual items, then angora products are actually still being sold. Others have decided to change the materials listed to 'wool mix' in order to disguise the use of angora.
The following companies are still happy to sell angora products and are reluctant to enter into any dialogue with me or their customers:
So if like me, you think there is no need to torture animals for the sake of fashion, then please contact the worst companies using social media, emails and also boycott the stores. More advice on how to do this can be found here.