São Paulo is a city of contrasts: home to 30,000 millionaires and 15,000 people living on the streets; the sky full of private helicopters, the roads full of over-crowded buses.
In one half, you see the height of luxury: five star hotels, skyscrapers and swimming pools, with company bosses earning more than they would in London. In the other, you see the depths of poverty: families living on the banks of open sewers, and millions struggling to pay the rent working as cleaners and electricians.
And the biggest contrast of all: millions being spent on a shiny new football stadium for next year's World Cup, while the poorest communities are told there is no money for housing, health centres or schools.
Time and again on my visit, people told me: "With our hard earned money, they are building FIFA standard stadiums with FIFA standard grass; we'd like FIFA standard hospitals, education and homes."
When the São Paulo authorities tried to hike bus fares by 20 cents in June, it was the trigger for nationwide protests. Brazil's Independence Day on 7 September will see more.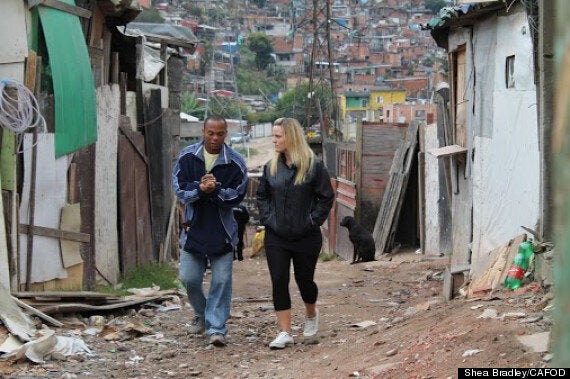 Jo Joyner is shown round one of São Paulo's favelas
There is no shortage of issues to protest. For the millions living in ramshackle favelas, it is exorbitant rents and high taxes; the absence of policing, sanitation and healthcare.
In Favela Eletropaulo - 1,000 families living amongst a forest of electricity pylons - I ask a community leader how ambulances can access the favela in an emergency. He says they wouldn't come anyway.
Rosaly has five children and is still building her home. She saves for months and then adds another room or precarious layer.
I am surprised to hear that she is a teacher, but most people are not prepared to put up with the poor conditions and classroom violence for such little pay. She tells me: "I don't need hand outs, I am working hard. I just want a home so that I have an address and all that comes with that, a place that removes the stigma so that my children can have better jobs."
A step up from Eletropaulo are the 'occupations' - disused buildings in the city which have been taken over by groups from the favelas.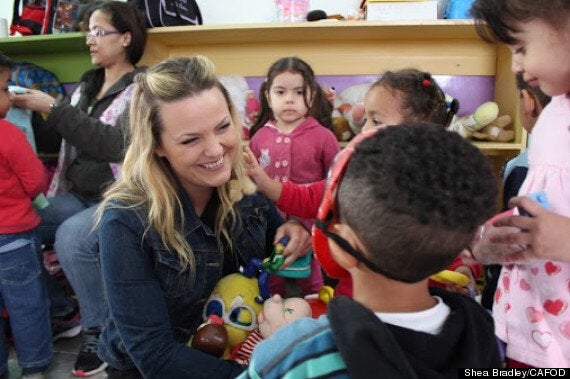 Jo meets some of the children in on of the 'occupations'
They are self-policing communes with strict but simple rules: no drugs, no alcohol, no violence towards women; every man works, every child goes to school, and everyone contributes to maintaining the building.
They have a library, a crèche and shops on each floor. They also have one entrance and exit, a porter and a natural limit to the number of residents. There is a sense of security and community impossible to maintain in the open landscape and relentless growth of a favela.
I meet a lady who was abandoned as a baby and grew up on the streets. After bringing up five children herself, she says God told her to join this occupation. She counts every one of the 462 steps up to her flat at the top of the building and though she is eligible for a lower level she says 'No, I am at the top now, where I belong'.
She is proud to tell me that every tiny trinket in her home she paid for herself, only possible because she is not having to pay rent.
There is one shared dream for the millions living in the favelas or the occupations: social housing. In Eletropaulo, that would mean being re-located to proper housing with subsidised rents; in the Lord Occupation, it would mean their existing flats being renovated and provided with electricity. For both, it would remove the ever-present threat of eviction.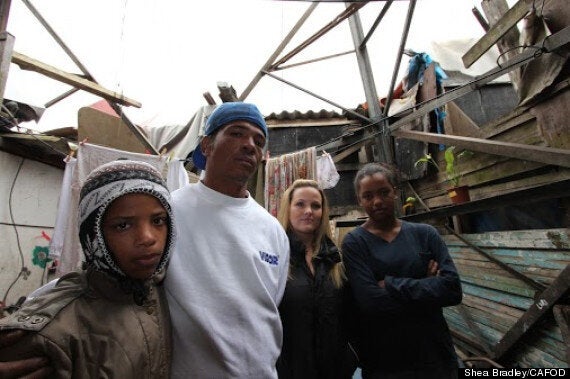 Jo meets some other favela residents - a world away from Albert Square
In a social housing project on the edge of the city, I meet two families of eight, both sharing shiny new two bedroom flats. They could not be happier. Compared to monthly rent of £140 in the favela - almost two-thirds the minimum wage - they now pay around £55 for rent and facilities. What matters, they say, is that they have been recognised; they can live with dignity.
Seventy-year-old Donna Maria is especially grateful that a medical centre has been built alongside the new apartments, albeit the first appointment she could get is in eight months.
When you see the difference this investment is making, you cry out for more. In one favela, I looked up the hill and saw corrugated iron shacks stretching as far as I could see. And that was just one of thousands in the city. How can the Brazilian authorities ever catch up with the shortage of housing they have allowed to happen?
They have other priorities. I visit the stadium where Brazil will kick off the World Cup next June. The costs keep on rising: more than £220million, half funded by state-provided loans.
It is an awesome site and the foreman is rightly proud. Maria from the local housing group is excited to be there.
But she says: "Brazil is the perfect country to host such games, but is right now the best time? Should we not be addressing our housing crisis, our health issues and education problems first, and then give us the World Cup?"
That afternoon, we go to a community crèche which she and other volunteers set up so that other women from the favela could go to work. As a result of their campaigning, it is now subsidised by the government and the crèche workers can pull a small wage. It's a small but mighty triumph.
The poverty in São Paulo can make you despair. But when you see the unyielding will and optimism of the women's cooperatives, community leaders, and housing groups - every day striving for change - despair is no response. We can only add our voice to theirs and support UK charities - like CAFOD - who are funding their work.
In the city of contrasts, these vulnerable communities are showing incredible strength: clinging on to the sense of community that they have built, fighting every day to be recognised, heard and supported, all for a better future for their children, and most of all - to live dignified lives.