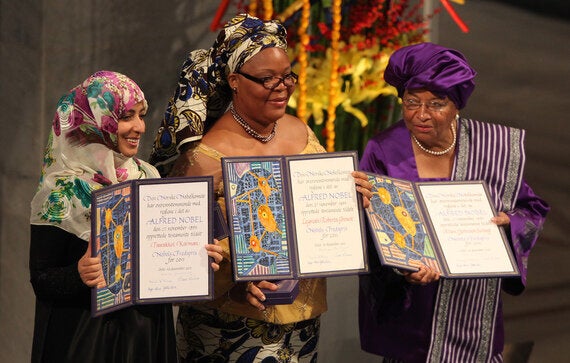 "When everything gets messed up, the women are asked to come in and clean up," jokes Oley Dibba-Wadda, Executive Director of the Geneva, Switzerland-based NGO Women Africa Solidarity (FAS). Otherwise a comment that reflects a sad and sexist reality, the irony is that some African countries boast a higher number of women involved in politics than their Western counterparts. Rwanda for example, has the greatest proportion of women in parliament in the world (64% of all legislative seats), while Liberia, Malawi and the Central African Republic have all had female presidents at one point in their history.
In the West, it is widely assumed that women in politics tend to have an overall positive effect on a country's governance. Nevertheless, to say women are immune to corruption and authoritarianism is as ignorant as saying that women belong in the kitchen and not in office. Women experience more difficulties entering politics in non-democratic and corrupt societies, as power is usually controlled by traditional male-dominated elites. In this type of environment, women are more likely to have gained power through male patronage, often through their husbands or their immediate family, and not at the ballot box.
Indeed, a study carried by researchers at Rice University shows that women are more likely to rise and thrive in democratic contexts. As the argument goes, in societies where corruption is frowned upon, women are less likely to engage in such practices than men. On the other hand, if corruption is the traditional modus operandi of a government, "no corruption gender gap" is observed. The increasing number of African women in politics is generally considered to be good for the continent. However, what a glace at African politics shows is that a more transparent and democratic political system allows women to bring positive change to their countries. Barring such minimal political rules, it is likely that women leaders will embrace a corrupt status quo and engage or even deepen existing authoritarian practices.
If anyone knows how to bring a country from wrack and ruin, it is Liberian president Ellen Johnson Sirleaf. A Harvard-educated and former World Bank economist, she became the first woman to be elected President in Africa's postcolonial history. Johnson Sirleaf inherited a nation shattered by more than a decade of a violent civil war that killed over 200,000 people and displaced a third of the population. Liberia was beset by famine, stifled by economic stagnation and thrashed by internal conflicts.
Not only was Johnson Sirleaf able to maintain stability in Liberia, but her diplomatic skills helped attract foreign investment and reduce the national debt. The Liberian president also became a staunch advocate for human rights, winning the Nobel Peace Price in 2011 for her non-violent struggle for women's rights. A decade after the civil war, the country's economy was growing at 9% and the foreign aid received doubled. The Ebola outbreak proved to be Liberia's greatest test, as it uncovered the long way the country still has to go in terms of health and infrastructure. Three months after having declared a national emergency, the Johnson Sirleaf acknowledged that the battle against Ebola was not won yet, but that an end is in sight. "This will end up as one of the biggest challenges I've had in a life of many challenges," she said. "And like all the other challenges, we will overcome this."
In countries such as Djibouti, where life-long 'elected' dictators are accountable only to their own family, women like the First Lady, Kadra Mahamoud Haid, use the existing corrupt structures to perpetuate the monopoly of power. Her spouse, President Ismail Omar Guelleh, has been in power since 1999, when he was handpicked to succeed his uncle. Since, he has won three consecutive elections, has repeatedly silenced the opposition and the media, and has used kinship ties to promote a faithful clique of followers in key posts. Unsurprisingly, the First Lady shares her husband's approach to power.
According to diplomatic cables, she played an important part in the banishment of the country's wealthiest businessman and political rival, Abdourahman Boreh. Boreh fled the country after he was accused of having received bribes from DP World, a Dubai-based port operator. Haid also commands a great deal of influence over the bureaucratic apparatus, securing key government positions for family members and friends. Now, with rumours of Guelleh's health fading, the First Lady is making sure that the president's successor stays within the family, prepping her son, Naguib Abdallah Kamil, to take the country's helm.
When compared with Zimbabwe's Grace Mugabe, Mrs Mahmoud Haid's nepotism and political manoeuvres seem fit for the little league. Her husband, President Robert Mugabe, has been in power for 34 years, at the age of 91, he has no clear successor. Mrs. Mugabe's overt involvement in politics as head of Zanu-PF's women's league has put her at the centre of Zimbabwe's political theatre, partially due to her strong criticisms against Vice President, Joice Mujuru. Profiting from the party's factionalism, Mrs Mugabe is trying her best to get rid of Mujuru, leading many analysts to believe that she is looking to take over the government after her husband retires. Luckily, even if Mrs Mugabe's campaign against the vice-president succeeds, the First Lady is highly unpopular and lacks political support.
Vice-President Mujuru has denied all accusations of corruption or involvement in an attempt to overthrow the government. Mrs Mugabe is not very far away from her husband's authoritarianism and corruption. Scandals of her abuse of power include assaulting a journalist and obscurely obtaining a PhD in 3 months. Mrs Mugabe's Marie-Antoinette-like behaviour and tastes include shopping sprees in Paris using public funds, while 70% of the population live under the poverty line. Such extravagant lifestyle is likely to play against her if she would ever decide to run for office democratically.
Mrs Mugabe's is the quintessential example of how female leadership does not guarantee a more transparent government. If women leaders are to have positive effect on the continent, it is necessary to break away from the deeply ingrained authoritarianism and culture of corruption that characterizes many governments in the region.
Whereas Liberia tells a gripping story of leadership and resilience in the face of insurmountable hardship, Djibouti and Zimbabwe bear witness to the continent's deep rooted corruption and its effects on women. Without democracy and accountability, women leaders will tend to mirror Mrs Mahmoud Haid and Mrs Mugabe who have simply adopted and reprodued, in turn, their husbands' autocratic practices. Good governance in Africa is not only the key to development but also to achieving true gender equality.
Related