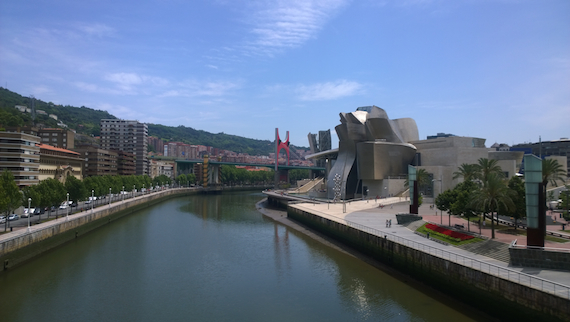 Guggenheim Museum, La Salve bridge. Photo: Paul Allen
Our recent visit to Bilbao was prompted by an invitation to the opening of a major Jean-Michel Basquiat exhibition at the Guggenheim. Now's the Time, which runs until 1 November 2015, is fantastic and is alone worth a visit to Bilbao. Featuring 100 paintings and drawings inspired by hip-hop, jazz, sport, comics and graffiti with politics, slavery, police brutality and racism as recurrent and sadly still relevant themes, the exhibition is brilliantly presented and includes a selection of Basquiat's collaborations with Andy Warhol, Keith Haring and others.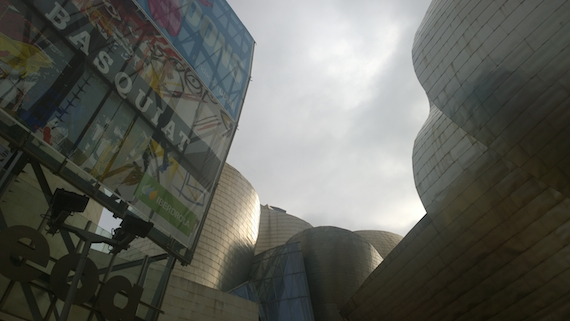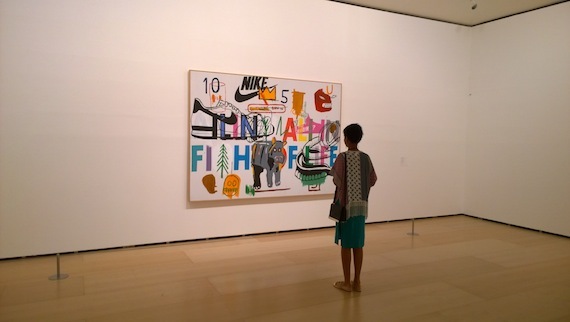 Basquiat/Warhol, Ailing Ali in Fight of Life, 1984. Photo: Paul Allen
The opening of the Frank Gehry-designed Guggenheim museum in 1997 marked a change in focus for a city formerly supported by significant iron, steel and shipbuilding industries. Coinciding with the Guggenheim opening, the docks area has been cleaned up and landscaped parks have added much needed green space along the river banks. Further down the right bank of the river, the old quarter, dating back to 1300, provides a fascinating contrast to the new Bilbao. Narrow streets give way to squares populated with cafes serving Basque tapas or 'pintxos'. Our pintxo tour finished at Bacaicoa on Plaza Miguel de Unamuno, where we were served grilled chorizo that was chosen as one of the 50 best in Spain in this year's tapas competition.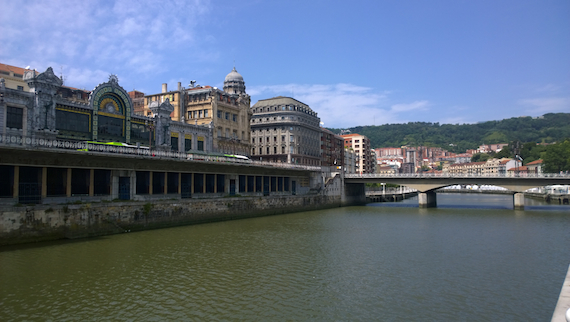 View of Train station on the Nervion river. Photo: Paul Allen
Pintxos aside, we were delighted to discover that Bilbao is a foodie's paradise, with five Michelin-starred restaurants and dozens more in the surrounding Basque Country. In fact the area can boast more Michelin-starred restaurants than anywhere else in Europe.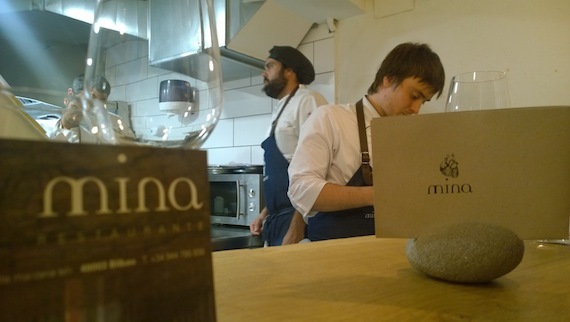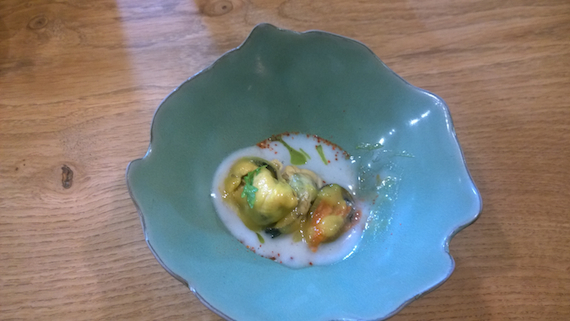 Mina chefs preparing mussels in curry coconut broth. Photos: Paul Allen
A worthy recipient of its Michelin star, Restaurante Mina serves only 25 people each evening in a beautifully converted warehouse on the river. We sat at the bar to watch the chefs preparing our tasting menu. Curried mussels in coconut broth and oysters in gin and tonic were followed with deliciously tender tuna belly with eggplant in a sticky sweet and savoury red tea and honey lime sauce. Turbot roasted with sweet tomato sauce and quail with balsamic pumpkin and pickled cherry were equally tasty, while the tamarind ice-cream on a bed of soft toffee offered a delicate, delicious finish to our meal. We always like to try everything on offer and we loved all the courses except for the optional tripe dish and I wasn't overly fond of the pickled tongue.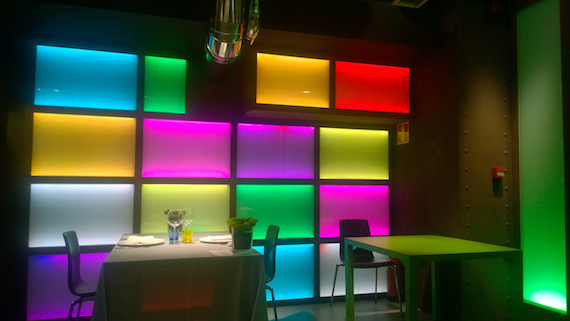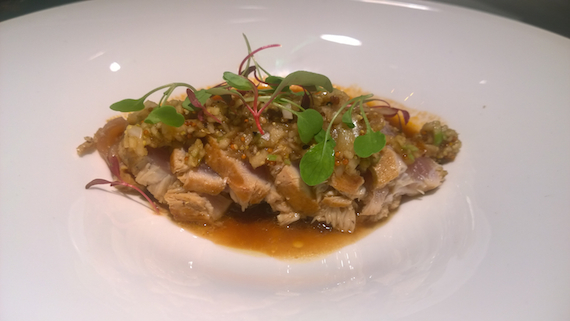 Restaurante Porrue's funky interior, Tuna tataki. Photos: Paul Allen
It is just a matter of time before Restaurante Porrue is added to Bilbao's fine roster of Michelin-starred restaurants. The gooseneck barnacles in tangy aguachile was a sublime dish as was the tuna tataki in a tart broth, a tribute to traditional tuna recipes of local fishermen. We finished with watermelon infused with cinnamon and sangria and pina colada mousse solidified by liquid nitrogen right at our table. Old school soul and blues at just the right volume hit the right note.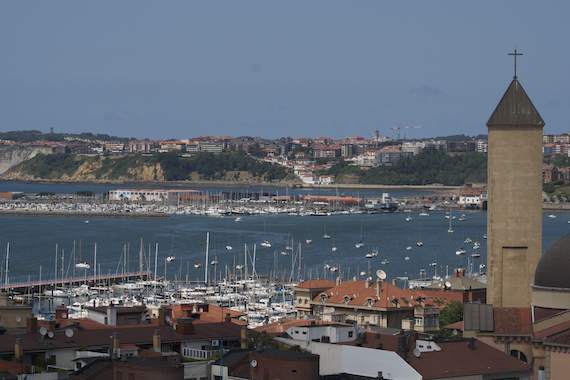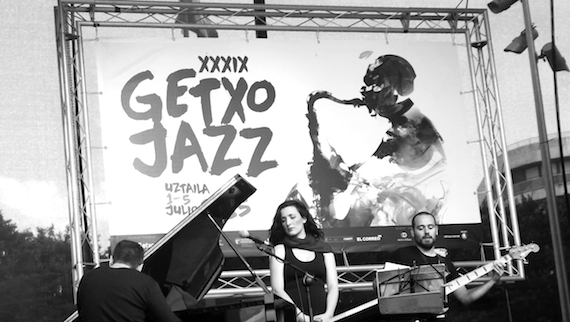 Getxo harbour and Onna Project. Photo: Paul Allen
An afternoon beach chill out is easily achieved with the coast accessible from Bilbao by metro. We were relaxing on the beach in nearby Getxo in less than 30 minutes. And an unexpected bonus was to discover that the town's annual jazz festival had just started. This year's very respectable lineup featured the Onna Project, Stanley Clarke, Stanley Jordan, Joe Lovano and Madeleine Peyroux.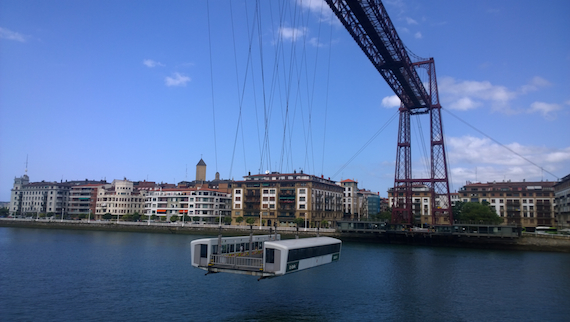 Puente Colgante, near Getxo. Photo: Paul Allen
Not to be missed nearby is the Vizcaya Bridge (Puente Colgante), now a UNESCO World Heritage site. Puente Colgante ('the hanging bridge') is the oldest 'transporter' bridge in the world. This remarkable bridge opened in 1893 to transport passengers (and today 6 cars as well) across the Nervion river in a 'gondola' suspended by steel cables. Brave visitors who are seeking stunning views can take the lift 45 metres to the top and walk across a footbridge to the other side.

The 50s:Fashion in France, Museo des Bellas Artes. Photo:Paul Allen
Back in town, we spent most of our final day exploring Museo des Bellas Artes. Alongside works by El Greco and Goya was an excellent French fashion exhibition covering the 1950s which runs until the end of August. A newer section of the museum houses a fine selection of contemporary works by Basque artists and household names like Bacon and Tapies.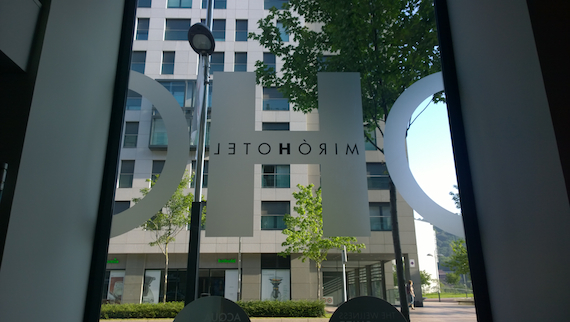 Hotel Miro across from the Guggenheim. Photo: Paul Allen
We stayed at Hotel Miro, in a prime location across the road from the Guggenheim and also around the corner from the Fine Arts Museum. With 50 rooms, the Miro has a more personal feel than larger hotels and is a model of minimalist chic designed by Antonio Miro, well-known for his successful concept stores that mix homeware and clothing.