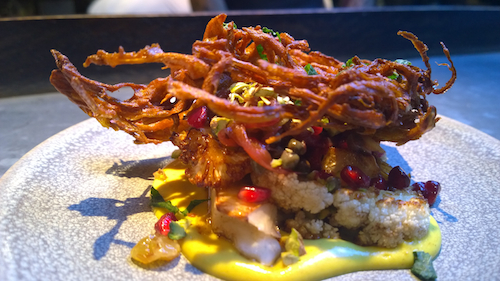 Cauliflower perfection at 64 Degrees restaurant. Photo: Paul Allen
At less than an hour by train from London, Brighton has long been one of our favourite mini-break destinations. We make a point of visiting each May for the Brighton arts festivals. We love the fun vibe of a town known for its decadence since the party animal Prince Regent made 18th-century Brighton his playground. However, we were a tad skeptical when we heard that Brighton had knocked London out of top spot as the UK's number one restaurant and bar destination by Conde Nast Traveller readers. So we set out to eat and drink our way around Brighton for a weekend to see if the award was justified.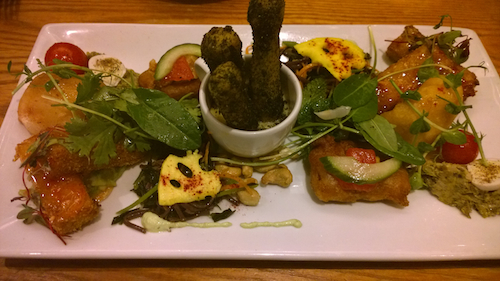 Sharing platter at Terre a Terre. Photo: Paul Allen
We arrived Friday evening and got stuck right in at the ever-popular veggie restaurant Terre-a-Terre. I'm not sure what I enjoyed more, the pomegranate cosmo, the sharing platter, my aubergine main course, flavoured with tahini, sesame and white miso, or the churros with vodka soaked cherries, salted caramel and chocolate sauce for dessert. With food like this, we weren't surprised to hear that the restaurant's regular clientele includes a London lady in her 70s who eats there once a month, and a New York man, who makes an appearance at least four times a year. And I'm guessing that locals like Paul McGann of Withnail & I fame, who was at the table beside ours, are also regular guests.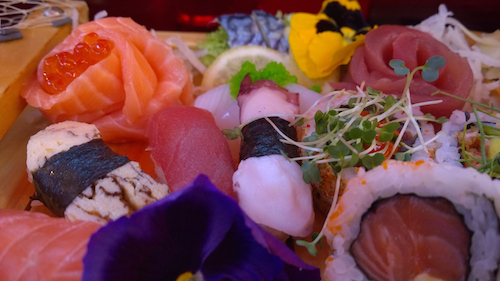 Sushi at Moshimo. Photo: Paul Allen
Next morning after a tasty but thankfully modest breakfast, of bagels, yoghurt and fresh juice, delivered to our funky room at Fab Guest House, we set off for our first full day of wining and dining. First up was deliciously crispy spicy squid and a lovely array of sushi at Moshimo, all nicely washed down by a Saki trio. Jovial owner Karl Jones told us that Moshimo has never served fish on the watch list (for instance bluefin tuna) and in 2009, he, along with his co-owner Nicholas Röhl, and the actress Greta Scacchi set up Fish Love, a charity supporting sustainable fishing. The charity is funded by the restaurant and relies on the support in ad campaigns of sympathetic photographers like Rankin and celebrities like Jerry Hall, Lizzy Jagger, Gillian Anderson, Helena Bonham Carter and Goldie, to name just a few, who have been willing to pose with fish with their kit off. And rumour has it that Annie Leibovitz has agreed to photograph David Beckham in a future campaign.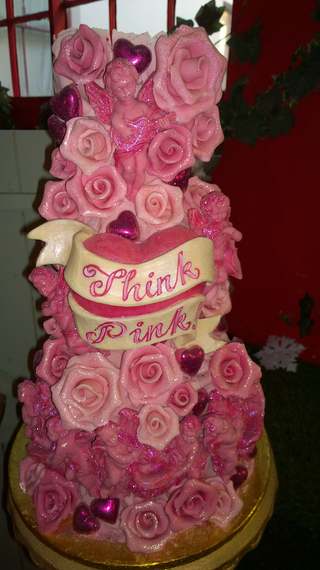 Chocolate sculpture at ChoccyWoccyDoodah. Photo: Paul Allen
Nestled among the antique shops on the narrow lanes of Brighton's historic district is ChoccyWoccyDoodah, a chocolate shop which lives up to its crazy name. Giant chocolate Elvis sculptures pose beside chocolate mermaids, birds, animals and the most astonishing towers of cascading chocolate roses. The shop has a massive following, probably due in part to its show on Good Food Channel, now in its sixth season, where celebrities join staff at themed events involving lots of cake and chocolate.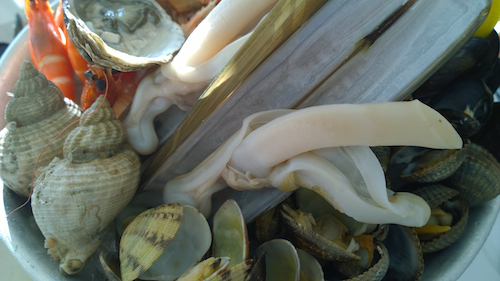 Crab seafood platter at GB1. Photo: Paul Allen
My sugar high was tempered slightly at GB1, the restaurant at the famous Grand hotel on the front. Specialising in seafood, GB1 offers reasonably priced sharing platters starting at £28. We basked in sunlight at a window table overlooking the sea and feasted on the crab platter which includes a generous selection of shellfish from prawns to oysters, all washed down by champagne, of course.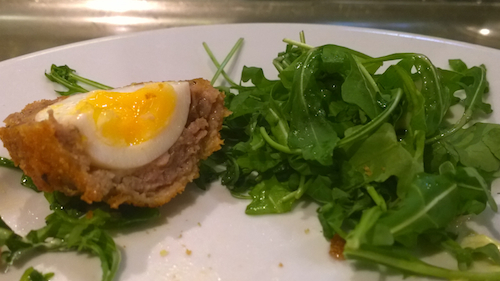 Scotch egg at Pub du Vin. Photo: Paul Allen
Just to ensure our bellies were adequately lined before heading out to Court Garden Vineyard for a tour and wine tasting, we popped into the cozy Pub du Vin for what might have been the best scotch egg I've ever had. Forget the soggy, tasteless creations served at most pubs. These scotch eggs are made to order and arrived piping hot with delicate sausage moist on the inside, crisp on the outside, encasing a gooey egg.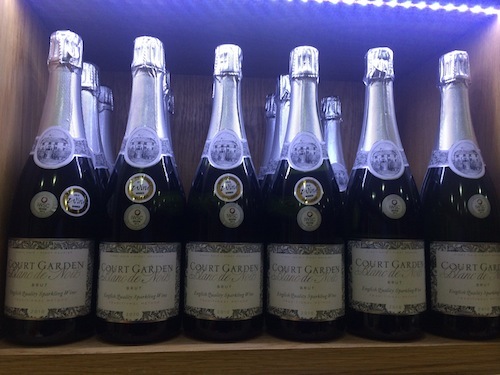 Award-winning sparkling wine from Court Garden Vineyard
Just outside of Brighton in Ditchling, family-run Court Garden Vineyard, has achieved numerous awards for its sparkling wines in its short history. Established in 2005 by the Corney family, Court Garden has done much to dispel the notion that English wine is not as good as French wine, namely champagne. Our charming host, Howard Corney, said that 'English sparkling wine is enjoying considerable success at the moment, with much interest and investment in new vineyards and wineries.' At the end of the tour, to prove the point, we did a blind tasting of Dom Perignon champagne and a sparkling from Court Garden. Although we guessed which was the champagne, we were surprised that we much preferred the Court Garden sparkling. We left weighed down with several bottles and a plan to reorder online in the not too distant future.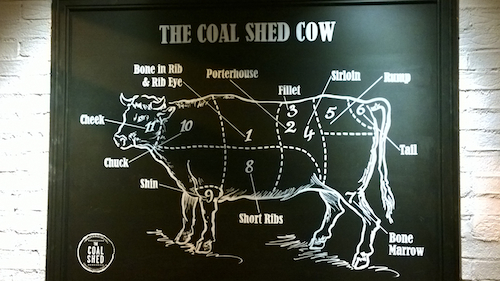 A variety of cuts available at the Coal Shed. Photo: Paul Allen
Back to town and straight to the Coal Shed. Our aim was to pack in as many eateries as possible so the only decision at the Coal Shed was which of their Scottish Highland beef steaks to order. We could have shared a prime rib for two but I like my steak bloody while Paul prefers well-done and compromise wasn't an option. So I decided on a dainty fillet mignon, while Paul tucked into a large sirloin. Satisfied by our last meal of the day, we ventured up the road to the Verdict, our favourite Brighton jazz club, for an evening of experimental electronica.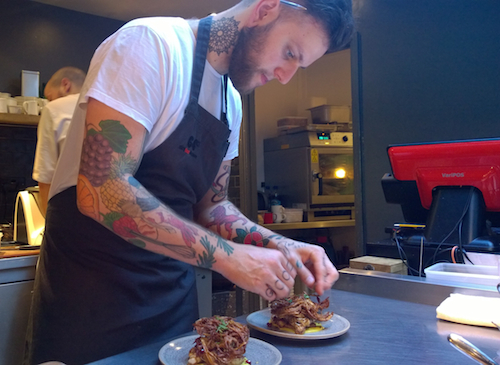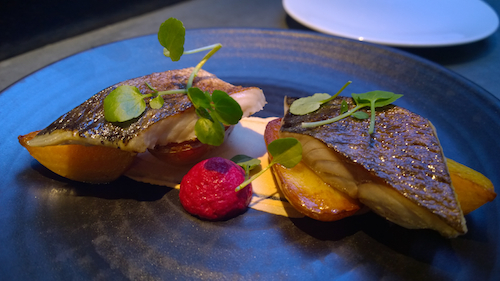 Blair Hammond working his magic at 64 Degrees. Photos: Paul Allen
Our first stop on Sunday was to the tiny 64 Degrees where we perched at the counter and watched chefs prepare small plates of food from a simple menu of four meat, four fish and four vegetable dishes. Our chef, Canadian Blair Hammond, expertly prepared tapas of duck and mackerel and made a cauliflower dish into a work of art, while explaining that all ingredients are locally sourced. The 27 seats were filling fast on our visit and the food on the regularly changing menu is superb so reservations are clearly advised. Chef owner Michael Bremner has opened a second 64 Degrees in Pimlico, London, a welcome addition to an area not known for good restaurants and it will be interesting to see if it lives up to the reputation of his Brighton establishment.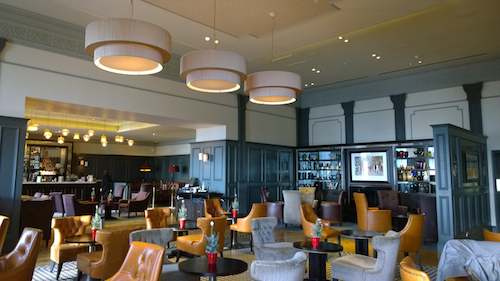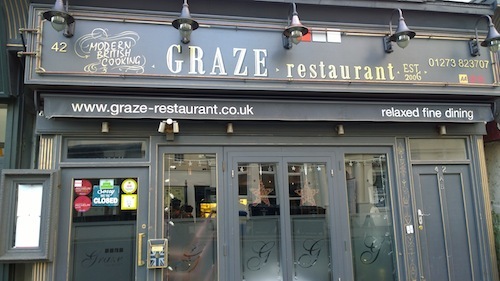 Waterhouse bar/Graze restaurant. Photos: Paul Allen
Back to the seafront to the recently revamped Waterhouse bar at the Hilton where we were served four cocktails each from the new gin cocktail menu. I valiantly tried to drink my Brighton Rocks and the other three tasty concoctions but with only 30 minutes allotted before continuing to Graze for a tasting plate, it was a losing battle.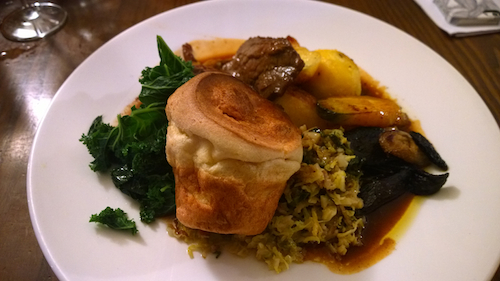 Roast dinner at the Ginger Pig. Photo: Paul Allen
Our final restaurant was the bustling Ginger Pig in Hove where we ate a fine roast dinner with all the fixings while listening to an equally fine soundtrack by Portishead. Along with excellent food, the atmosphere is cozy and the service is super friendly so it is no surprise that the restaurant has won best food pub in Brighton and Hove for the past three years running.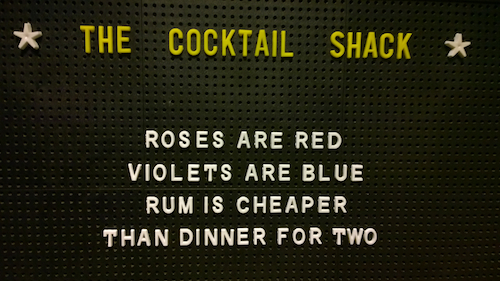 Cocktail Shack. Photo: Paul Allen
We couldn't leave town without a final cocktail (the gin cocktails had worn off!) so
the Cocktail Shack in one of the grand villas on Regency Square was the ideal choice and the price was right too with cocktails starting at £7. From the inventive, often changing drinks menu, I chose a Pineapple Express while Paul settled for a Truth be Told, a delicious mixture of coriander, jalapeño water and absinthe.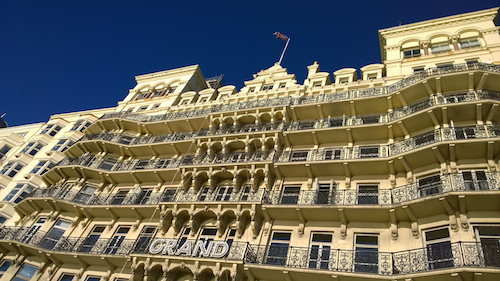 The Grand Hotel on the seafront. Photo: Paul Allen
While we are constantly surprised by our capital's range and quality of places to eat and drink, our visit to Brighton this month far exceeded our expectations, both in terms of food and choice. And with everything within walking distance or a short cab ride, there's no tedious battling with London transport or searching for parking. Now we have another compelling reason to visit London by the sea!