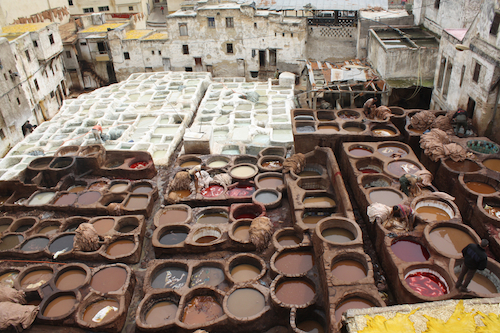 The famous tanneries of Fez. Photo: Paul Allen
A city in North Africa is perhaps not the most obvious destination for a mini-break but at only three hours by air from London, it's certainly doable for a long weekend. Enticed by Fez's fascinating history (the 9th-century university was founded by a woman) and the chance to stay at Palais Amani, one of the city's most beautiful riads, we left our hectic London lives in a quest for relaxation and adventure in equal measure.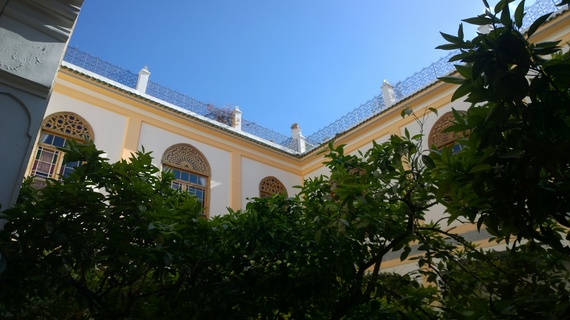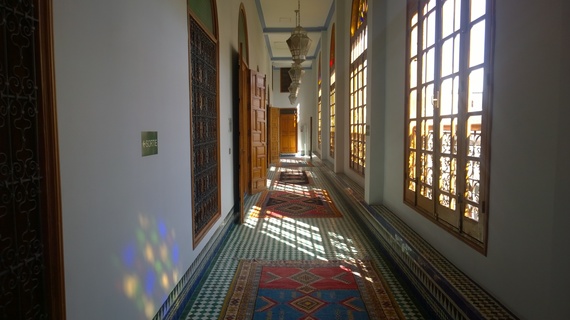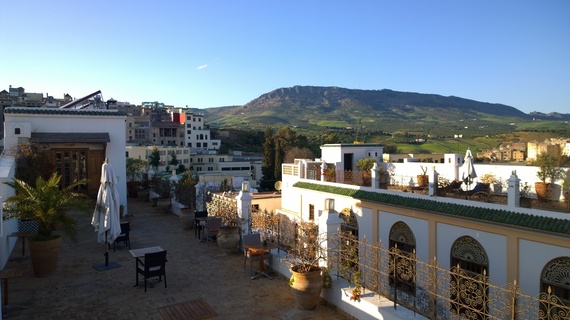 Lush riad - Palais Amani in the heart of Fez's medina. Photo: Paul Allen
A giant wooden door off a narrow alleyway belies the opulent and lush interior of the Palais Amani, a 17th-century riad now owned by charming English woman Jemima and her Moroccan husband Abdelali. Riads (from the Arab word 'ryad' for garden) are traditional Moroccan houses with internal gardens. Once inside, it was tempting to never venture outside into the narrow streets of the bustling medina, Fez's ancient walled old town. All the rooms of the Palais Amani open onto a large central courtyard with an abundance of verdant plants, fragrant jasmine, lemon trees and a fountain. Our 'room' was a spacious mezzanine suite with high ceilings, the ground floor alone of which was a lot larger than our London flat. The mixture of traditional Moroccan and modern décor, is both chic and comfortable, with pristine high thread count Egyptian cotton sheets, colourful ceramic floor and wall tiles and stained glass windows. There is even a second toilet upstairs beside the bed so there's no concern about stumbling down the stairs in the middle of the night.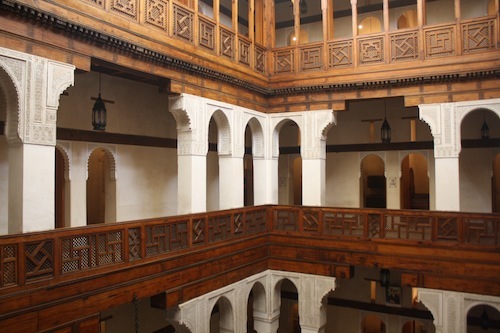 Musee Nejjarine des arts et Metiers du Bois. Photo: Paul Allen
We were relieved that our hotel provided a knowledgeable guide to lead us through the labyrinthine, hectic streets of Africa's largest and oldest medina. Even after spending most of the day with the guide, we still didn't feel confident to find our way around. A viewing of the outside of the university and adjoining mosque (non-Muslims aren't allowed inside) was followed by a visit to Musee Nejjarine des arts et Metiers du Bois, a museum displaying native woods, objects and tools. Best of all was the rooftop cafe with views across the city where we sipped on Morocco's favourite beverage - fresh mint tea.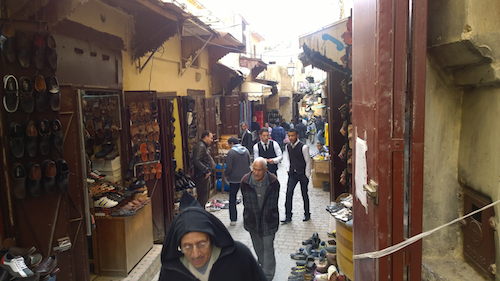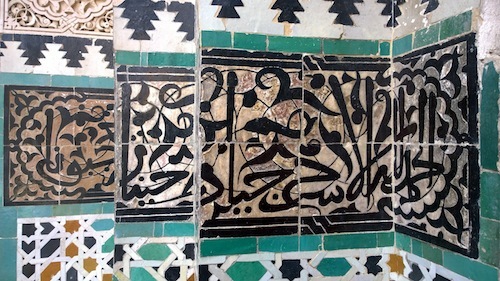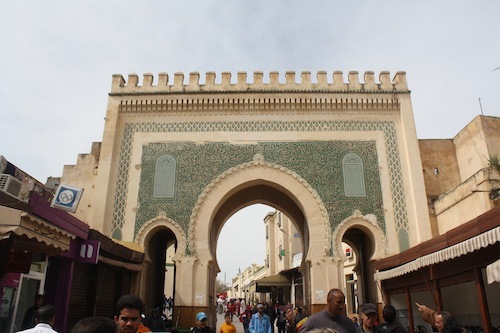 The medina. Photo: Paul Allen
And of course our guide showed us the best bits of the souk, packed with spices, produce, carpets, pottery, and more, all piled enticingly high to invite purchase.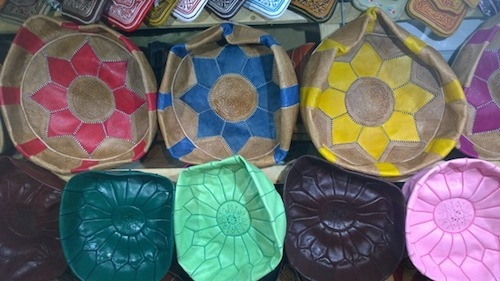 Pouffes in the Tanneries. Photo: Paul Allen
Not to be missed on any visit to Fez are the famous open air tanneries, where the same methods to produce leather goods have been used for centuries, along with the same very smelly materials like animal poop and urine. Visitors are advised to press mint sprigs against their noses to mask the stench from below but the smell didn't seem that bad the day we were there as we attempted to bargain for a leather pouffe and handbag.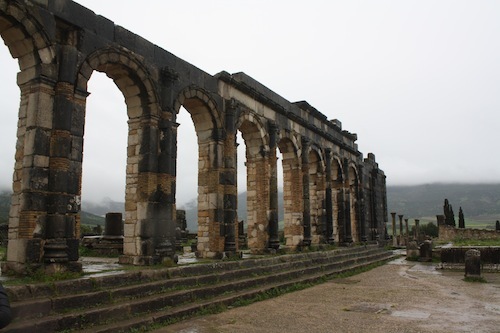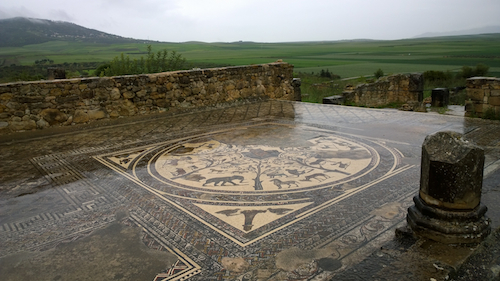 World Heritage site Volubilis. Photo: Paul Allen
Just as it was advisable to have a guide for the medina, it seemed sensible for a daytrip out of town so we turned to the excellent tour company plan-it-fez for our visit to the ancient Roman city of Volubilis. We were stunned by how well-preserved and substantial the remains of Volubilis are, with complete arches to a courthouse and pillars of a temple still intact, along with more than 30 colourful floor mosaics vividly depicting the exploits of Roman gods and goddesses in what would have been large villas in the Roman city.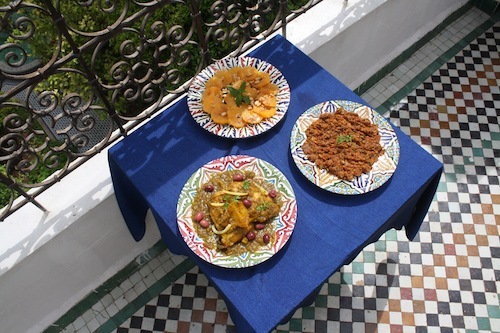 Lunch on the terrace at Palais Amani. Photo: Paul Allen
On returning from our excursion, I was ushered into my first ever Turkish bath, a Hammam, in a series of dark, steam-filled rooms beneath the Palais Amani. The treatment consisted of a deep massage and equally deep exfoliation of every inch of my body with what felt like sandpaper. I was convinced my skin would be a raw mess afterwards but it has never felt or looked so silky smooth and there was no trace of redness anywhere. It seemed a fitting end to a trip which indeed delivered an abundance of relaxation and new experiences.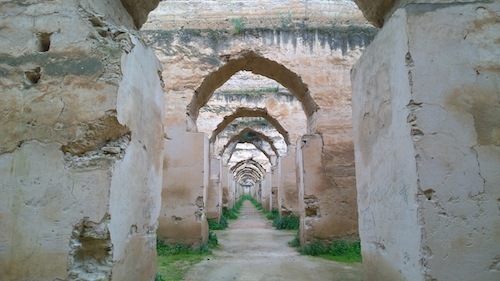 In the historic city of Meknes en route to Volubilis. Photo: Paul Allen
We packed a lot into our weekend in Fez but would love to go back for the famous World Sacred Music festival held annually at the end of May. The festival name is perhaps deceptive as while it covers spiritual music, its eclectic lineup this year includes a South African youth string quartet, Scottish folk singer Julie Fowlis and America's rhythm and blues legends, The Temptations.