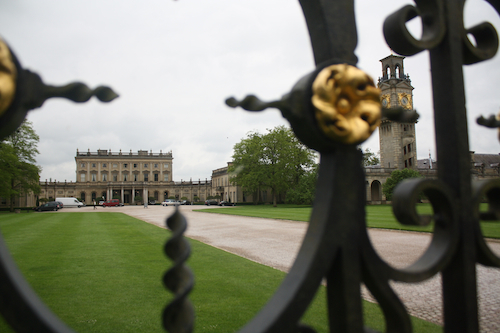 The approach to Cliveden House, Berkshire. Photo: Paul Allen
After recently visiting some excellent hotel spas in London (Four Seasons, Bulgari, St Pancras and Cafe Royal), I decided to travel slightly further afield to find luxury countryside spa hotels with an interesting history. With most Londoners facing a daily work commute of an hour or more, I reckoned that a journey of an hour to a more appealing destination wouldn't be a problem! I wanted to find amazing places that could easily be visited for a short break or even a day trip by train or car.
Three former private stately homes, now luxury hotels with excellent restaurants and spas, took my fancy: Cliveden House, Berkshire, Dogmersfield Park (the Four Seasons), Hampshire and Hartwell House, Buckinghamshire.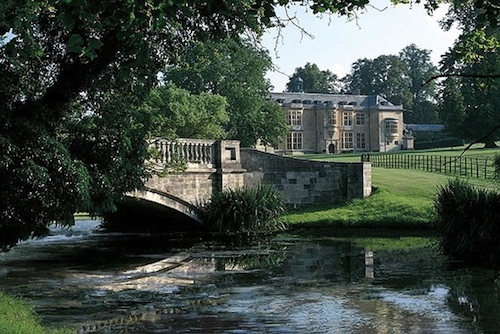 Hartwell House, Aylesbury, Buckinghamshire
Hartwell House, near Aylesbury, Buckinghamshire, is a Grade 1 listed 18th-century building on 90 acres of glorious National Trust parkland. Its discrete location down a long, winding private road made it the ideal place for last year's G7 meeting. Our taxi had to stop at the gatehouse to check in and we entered the grand entrance of the house feeling like members of Downton Abbey's Crawley family. And that feeling continued when we were shown to the Lady Elizabeth Lee bedroom, decorated in an ornate Georgian style with antique furniture and paintings, one of the 30 rooms named after former members of the Lee family who owned the house from 1620 to 1938. The room had a wonderful view of the landscaped park and a gothic bridge over a small lake.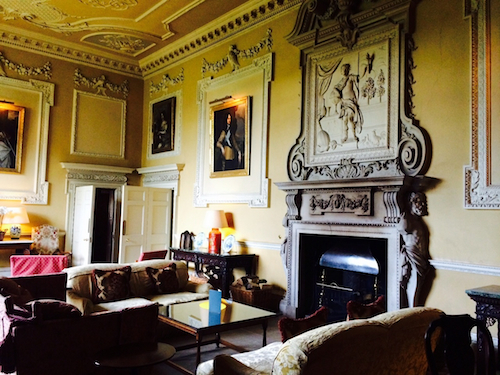 The drawing room, Hartwell House
We had dinner and breakfast in the grand Soane dining room, based on a room at 11 Downing Street, designed by the nineteenth-century architect of the Bank of England, Sir John Soane. While we enjoyed our dinner with fine choices ranging from scallops with caramelised cauliflower, sea bass with braised fennel and the perfectly cooked signature dish, Aylesbury duck, we wondered what Hartwell House's most famous resident, the exiled King Louis XVIII had eaten for his dinner. King Louis lived in the house for five years from 1809 and the bar where we had a nightcap was the former chapel for the King and his court.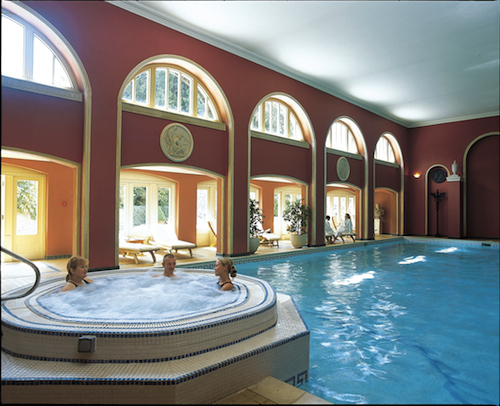 The spa at Hartwell House
The Hartwell Spa is housed in a separate building that was designed as an orangery and boasts a large heated swimming pool, hot tub, steam room and sauna on the ground floor with floor to ceiling windows overlooking the beautiful grounds. There is also a full range of treatments and I had an Aromatherapy rose facial which left me glowing and relaxed.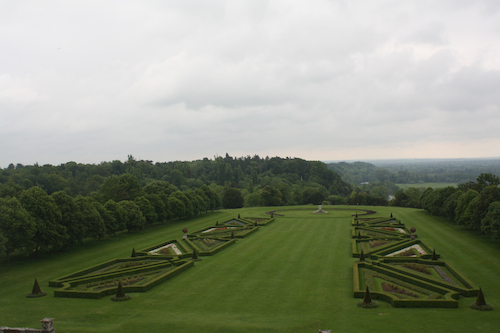 Formal Gardens, Cliveden with a view to the Thames. Photo: Paul Allen
When seeking historic country houses with spas near London, Cliveden House in Taplow, Berkshire, part of the Relais & Chateau group, seemed an obvious choice, especially as the East Wing of the house had just reopened after extensive renovations by the new owners. We drove there in about an hour, or assuming you're not planning to arrive by helicopter, which many of the famous guests do, a train from London Paddington to the nearest station at Burnham, will get you there in 30 minutes. The hotel is situated within impressive grounds and gardens maintained by the National Trust.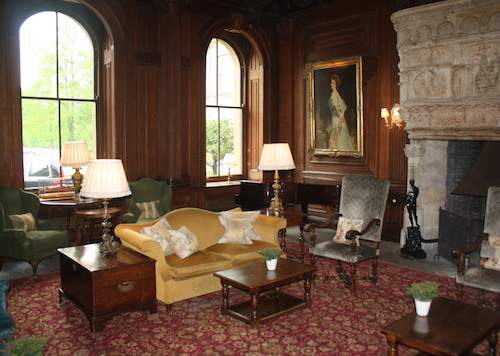 John Singer Sargent portrait of Lady Nancy Astor, Great Hall, Cliveden. Photo: Paul Allen
Cliveden, once the home of the American-born, first female MP in the House of Commons, Lady Nancy Astor, dates back to 1666 when the Duke of Buckingham built Cliveden as a hunting lodge to entertain his friends and mistress. Nearly 300 years later, in 1961, another powerful man, John Profumo, the Conservative Secretary of State, met Christine Keeler, the rumoured mistress of a Russian spy and began the affair which rocked British politics. In between, the house was frequented by Queen Victoria (who stayed nearby at Spring Cottage on the Thames), Gladstone, Churchill, Ghandi and Roosevelt. And when the Astor family bought the house in the late nineteenth century, Nancy Astor turned the place into party central with a constant stream of prominent guests like Charlie Chaplin, George Bernard Shaw, TE Lawrence (of Arabia) and Henry James, to name just a few. The rooms and suites at Cliveden are all named after famous visitors. We stayed in a lavish suite with a four poster bed and separate dressing room, named after George Canning, Foreign Secretary and briefly Prime Minister in the early 19th century.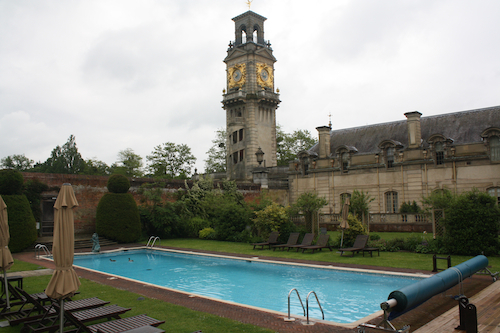 The birthplace of the Profumo Affair - the swimming pool at the spa.
Photo: Paul Allen
Today the attractive outdoor swimming pool, where Profumo and Keeler met, is part of the Pavilion spa complex where I had an excellent Cliveden signature massage with Anne Semonin products, relaxed beside the indoor swimming pool and dipped into the outdoor hot tubs. I will definitely be going back for a day trip as a 1/2 day spa with a 30 minute treatment and a champagne lunch is a reasonable £85 (full day £150).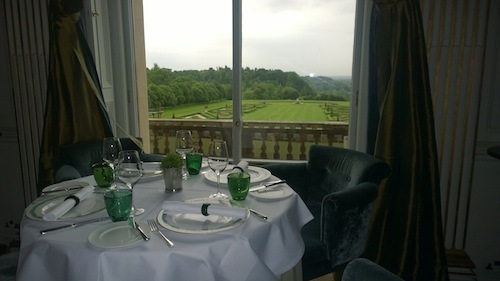 Our table at Cliveden. Photo: Paul Allen
Bliss at the spa was followed by bliss at dinner. Our suite had stunning views and our table beside a window in the dining room also overlooked the landscaped gardens with views to the Thames. The imaginative eight-course tasting menu, from Michelin-starred chef Andre Garrett, included scallops tartare, turbot with courgette flowers, Devon lamb, outstanding seasonal cheeses and a selection of mini-desserts like delicious pistachio cake and marzipan ice-cream.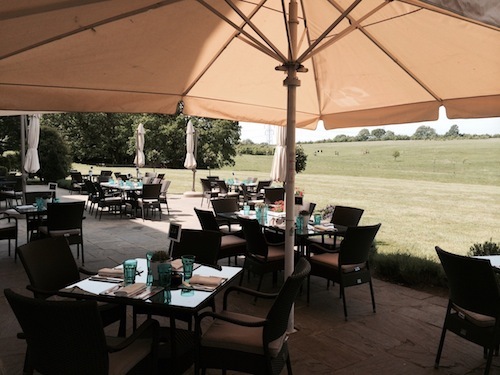 Glorious outdoor dining at the Four Seasons, Hampshire
We also had a table with a view at Dogmersfield Park (the Four Seasons), Hampshire. On a warm evening in May, we dined at the outdoor terrace admiring the rolling hills. We ate seasonal French-European food, from locally sourced ingredients, some from the hotel's own estate. And what's not to like on a menu that includes beef carpaccio, wild monk fish with truffle foam and salted caramel ganache with white chocolate panna cotta?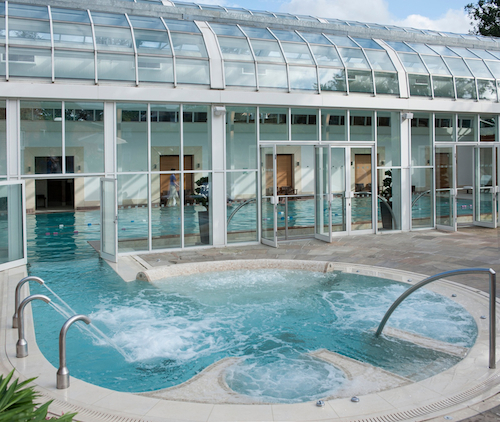 The spa at the Four Seasons
We visited the Four Seasons on the warmest day in May and after spending an idyllic afternoon cycling on nearby country lanes with cycles provided by the hotel, we headed to the Spa which is housed in the former 18th-century stables. And speaking of stables, the hotel has just opened an Equestrian centre where lessons are offered and it is possible for hotel guests to go horseback riding over the 500 acres of the estate. The main pool is indoors but there is a smaller connected pool outdoors with lounge chairs scattered around an attractive patio area. I don't have hay fever but for those who do, the spa has just introduced a new Hayfever rescue facial which claims to treat the system and boost immunity. I had an excellent 60-minute Sodashi signature massage where the emphasis is on healing and relaxation. A day spa package with lunch and one treatment starts at £130, Monday-Friday.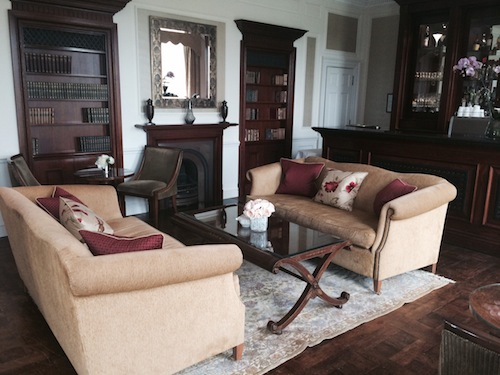 The library at the Four Seasons
The Four Seasons, originally named Dogmersfield Park, like Hartwell and Cliveden also has a fascinating history. The house dates back to the 11th century when the original manor house was mentioned in the Domesday Book and it was there, in 1501, that Henry VIII met the first of his six wives, Catherine of Aragon.
All three destinations offer day spa packages, based on minimum treatments. A visit to the spa could be combined with a walk and picnic in the beautiful grounds of any of the properties, making for an ideal day trip or mini-break.