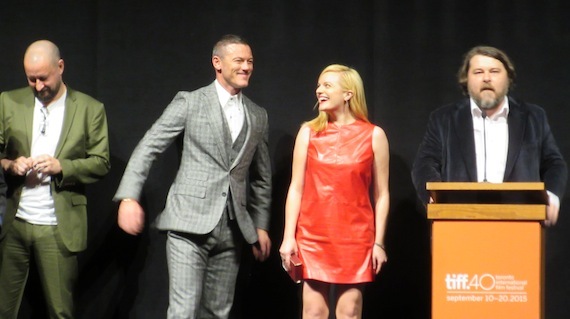 Clint Mansell, Luke Evans, Elisabeth Moss, Ben Wheatley of High-Rise at TIFF
My recent visit to Toronto coincided with the Toronto International Film Festival, now in its 40th year and recognised as second only in importance to Cannes. Personal highlights were the intense, dystopian thriller High-Rise, based on the J.G. Ballard novel and Invention, artist Mark Lewis's first feature-length film - a beautiful, silent excursion through the cityscapes of Toronto, Paris and Sao Paulo.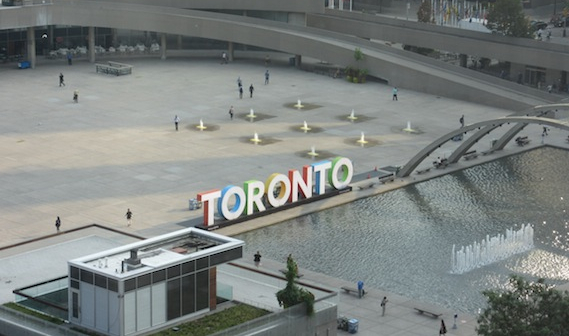 View from my room in the Sheraton Centre
Convenience is key when I travel so I turned to tour operator Canadian Affair who I've been using since they launched in 1995. Canadian Affair sorted my flights and recommended I stay central at the Sheraton Centre, just a few blocks from Union train station. A brilliant new train service has finally provided decent transportation from the airport to town. The Union Pearson Express (UP) opened this summer and connects the airport to Union station in around 30 minutes.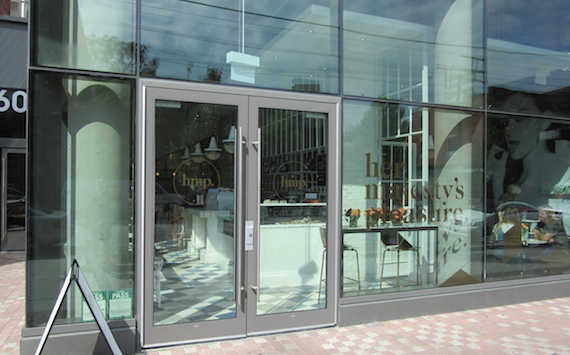 Nail bar, salon, cafe and cocktail bar all in one
Beautification was essential for the film festival and I certainly didn't mind being detained at Her Majesty's Pleasure, a chic, glass-fronted beauty parlour with the added bonus of a cafe and bar. I happily sipped on cocktails while my manicure and blowout were expertly executed.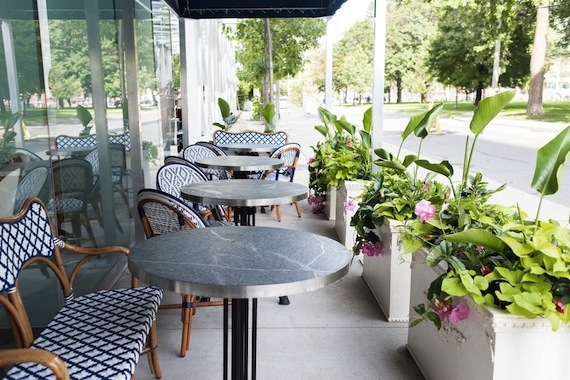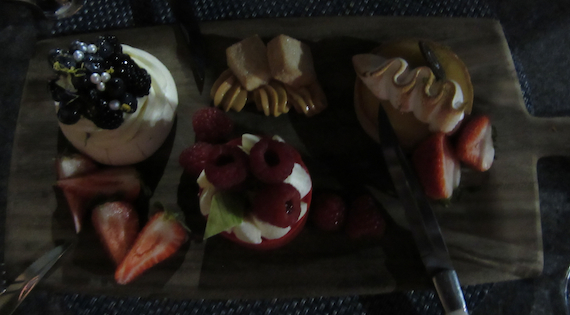 The terrace and divine dessert platter at Colette Grand Cafe
My trip turned into a bit of a foodie extravaganza, ranging from French and Italian to Thai, with a generous helping of comfort food thrown in. September is an ideal time to visit Toronto, both for the film festival and the weather. Virtually every restaurant has an outdoor terrace or 'patio' and my first meal was on the lovely patio at Colette Grand Cafe. Part of the swish Thompson hotel where I attended a TIFF party last year for The Riot Club, Colette's modern French menu provided a fantastic antidote to jet lag. A delicate yellowfin tuna carpaccio was the ideal way to start our feast on a balmy evening, and plump mussels with frites were followed with a decadent dessert platter.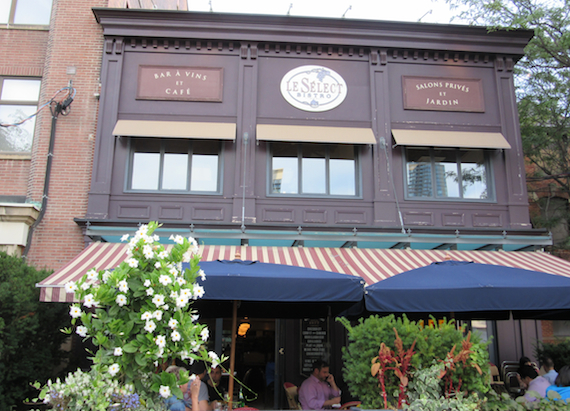 Le Select Bistro
Le Select Bistro is just around the corner from the main film festival venue so it seemed fitting to see Cameron Bailey, the director of TIFF, at a nearby table on the opening night. We couldn't see what Mr Bailey was eating but we were very satisfied with our salmon tartare, french onion soup and steak frites. It's not difficult to see why this Parisian-style restaurant has been a firm favourite with Torontonians for over 30 years.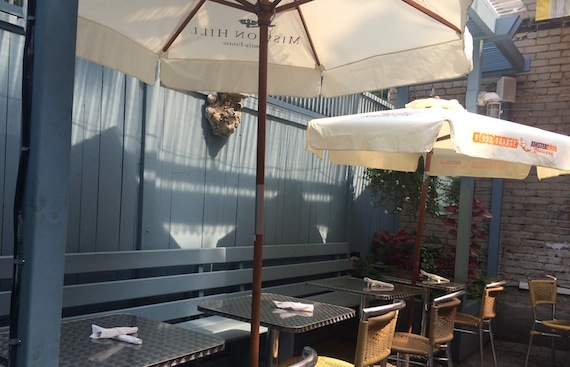 'Secret' patio at Queen Mother Cafe
The Queen Mother Cafe, another Toronto institution, is located on Queen west, a popular shopping area. The 'Queen Mum', as it's known by locals, is loved for its excellent Lao-Thai menu, its delicious array of desserts and its late hours (it's open until 1am Monday-Saturday and 11pm on Sunday). The cheesecakes and carrot cake looked enticing but we were too full from our generous portions of Pad Thai and rice paper rolls to indulge. Naturally, we ate outside on the 'secret' patio, accessed through the basement's back stairs.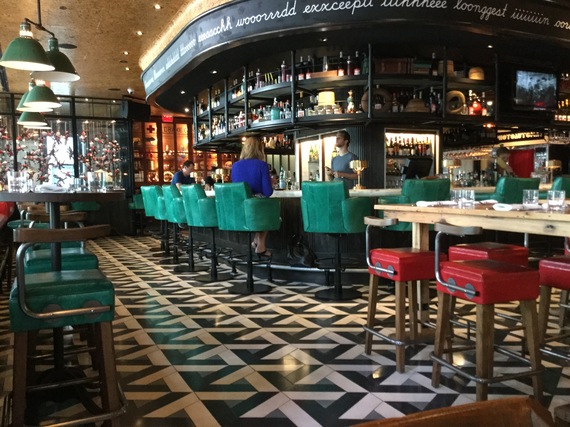 Drake One Fifty
Drake One Fifty, in Toronto's bustling financial district, is slicker and sleeker than its popular sister venture the Drake on Queen west. Drake One Fifty's green leather and chrome banquets and black and white tiled floors must appeal to the banking crowd, along with the hearty menu. We tucked into very tasty tuna cerviche with homemade tortilla chips and guacamole and finished with warm chocolate cake and burnt orange ice-cream - sort of a posh version of Terry's chocolate orange.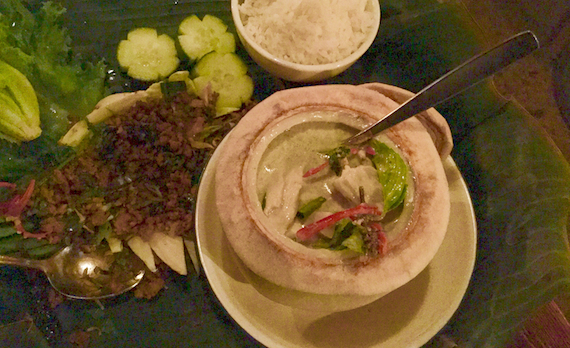 Green Curry served in a coconut at Pai
Also in the business district, but with a more casual vibe than Drake One Fifty, is Pai, a superb northern Thai restaurant. With a studenty atmosphere, I was expecting an average Pad Thai with a chicken satay on the side. I couldn't have been more wrong. This third venture from husband and wife team Jeff and Nuit Regular does feature Pad Thai but its delicate flavours and super fresh ingredients are only matched by another Thai favourite -Gaeng Kiaw Wan (green chicken curry), served in a coconut which the diner is encouraged to eat with the curry. With a steady queue of eager diners and food like this, it's not difficult to see why Jeff and Nuit decided to followup their popular Khao San Road and Sabai Sabai with an even larger restaurant.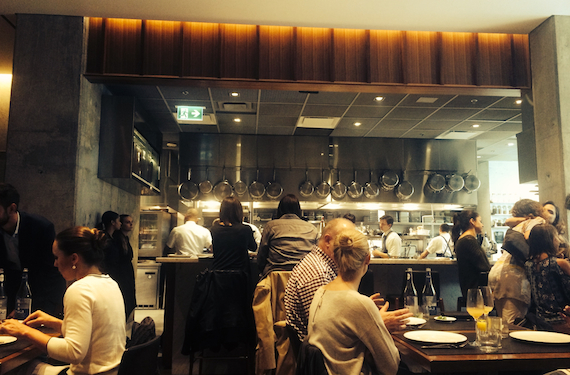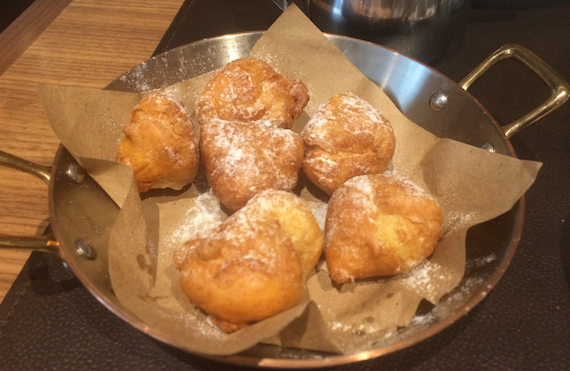 Buca, Yorkville and their legendary dulche leche donuts
The newly launched brunch menu at Buca in Yorkville was a dream. I could write an ode to any of the items on the menu we tried, from fried olives stuffed with veal, aubergine and peaches, to pulled eggs with truffles and moreish mini-donuts filled with dulche leche cream that were surprisingly light and not sickly.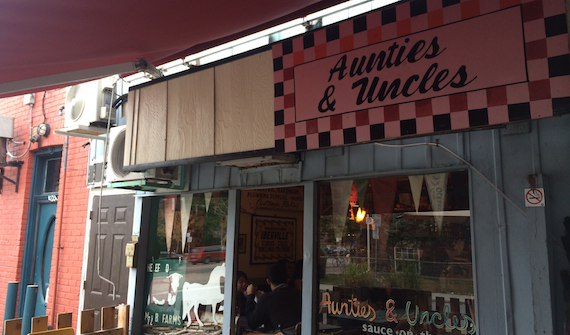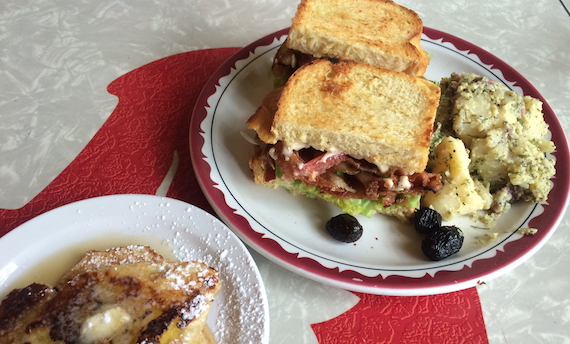 Aunties & Uncles and their comfort food
Aunties & Uncles is a popular breakfast place so it was no surprise that we had to queue to get a table. The omelette with sautéed cauliflower leek collards and havarti was a delicious combination of flavours and for a sweet treat, the peach pancakes rivalled the sinful dulche leche donuts I'd had the day before at Buca.
The final stop on my Toronto foodie tour was at the buzzy and fun Bar Buca for Italian tapas. Tables are shared which can lead to some interesting conversations and the extensive menu of little bites ranges from the sensual burrata di buca (mozzarella stuffed with pesto) and fiori di zucca (fried squash blossoms) to polpette di capra (goat and ricotta meatballs).